Xiaomi Pad 5 Review: Perfectly practical
Qualcomm Snapdragon 860, one of the strongest processors of the 7nm production process with eight cores of the Kryo 485 Gold and Silver class...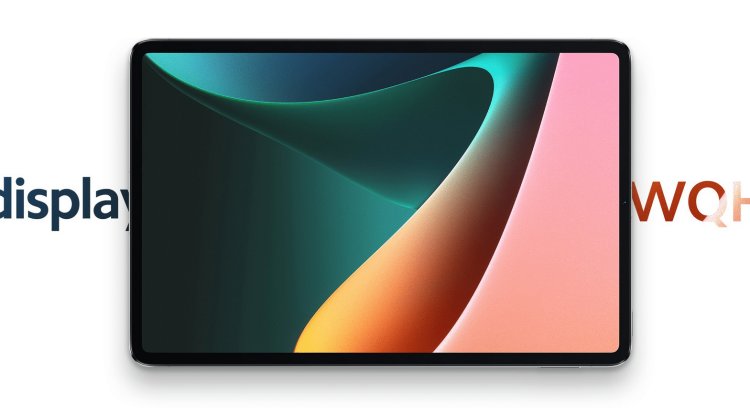 Photo Credits: Xiaomi/Promo
Dimensions
Height: 254.69mm
Width: 166.25mm
Thickness: 6.85mm
Weight: 511g
Display
Size: 11" display
Resolution: 1600 x 2560 (WQHD+)
275 ppi
Refresh rate: 120Hz
Brightness : 500nits (typ)
Over 1 billion colours
Supports DCI-P3
Processor
Qualcomm® Snapdragon™ 860
Camera
Rear camera:
13MP
4k | 30fps
1080p | 30fps
720p | 30fps

Front camera:
8 MP
1080p | 30fps
720p | 30fps
Speaker
4 speakers
Dolby Atmos® supported
Storage & RAM
6GB+128GB, 6GB+256GB
LPDDR4X RAM + UFS 3.1 storage

*Available storage and RAM are less than the total memory due to storage of the operating system and software pre-installed on the device.
Battery
8720mAh (typ)
Connectivity
Bluetooth 5.0Wi-Fi Protocol 802.11a/b/g/n/ac
USB-C
Operating System
MIUI for Pad
Package contents
Xiaomi Pad 5 / Adapter / USB Type-C Cable / Quick Start Guide / Warranty Card
Xiaomi continues with its proven tactics - to offer features and performance at a better price than the competition, thus practically offering an irresistible device to the end-user. This time it's a tablet: the Pad 5 may confuse you and think you missed previous versions of this device, but it's just a marketing mark because the Xiaomi Pad 5 is actually the first model of this manufacturer's tablet for the global market...
There are applications that are much nicer to experience on the big screen of a tablet than on a mobile phone. There is definitely a group of users who will always give preference to a clearer display, easier visibility of content, icons and the work itself, mostly seniors.
There are also creatives who do not want to carry bulky notebooks, but something easier and more convenient with a pen, incomparably more productive than a phone for fieldwork, such as designers, those who arrange outdoor and indoor living space.
That mobile phones are not the only type of mobile device that interests users have been understood by all leading manufacturers and no matter how true the tablet is, not nearly as popular as a few years ago and still has its loyal user group.
Proof of this is that lately, we are getting more and more new models from leading manufacturers. And this is not a new trend but above all an expression of the desire to fill the offer with one model that will meet the core needs of the target group with its characteristics and performance. This is the mission of our current model called - Xiaomi Pad 5. is that it offers a recognizable Android work environment. So, everything you are used to is only as a big screen.
Design and features
And the screen of this Xiaomi Pad 5 tablet is really great. The 11" diagonal uses an IPS matrix capable of displaying a resolution of 1600x2560px, a wide QHD format with an effective display density of 275 pixels per inch. The brightness of the screen reaches 470 nits. Lighting has to be this strong because this is a device that works outside most of the time, and when you enter an enclosed space, a beautiful display with dynamics and colors like those on phone screens comes to the fore even more. That the screen of this Xiaomi covers the DCI-P3 color palette with over a billion shades certainly contributes to that.
The screen in this type of device plays one of the most important roles. In reality, it is crystal clear and readable, which it certainly contributes to and refreshes at 120Hz. Touch sensitivity is excellent. The display is magnificent thanks to the combination of above-average contrast and high refreshment, with no objections. So, at first glance and touch, the Xiaomi Pad 5 promises a lot.
And, in order to stay that way in order to provide a fluid user experience while running applications or "scrolling" the content on the screen, he had to get a powerful "hardware" heart.
Qualcomm Snapdragon 860, one of the strongest processors of the 7nm production process with eight cores of the Kryo 485 Gold and Silver class, was chosen. The graphics part is the Adreno 640 processor. The tablet is equipped with 6GB of LPDDR4X RAM and Universal Flash Storage 3.1 storage space with a capacity of 128GB.
There is no additional memory card expansion slot or option for SIM card and mobile network connection. It has enough hardware to play and record 4K HDR10 + video content in H.265 format and 30 frames per second. When it comes to movies, we have to mention Dolby Vision support for nicer colors and better contrast.
Enjoying movies is complemented by good "quad" stereo sound with Dolby Atmos Surround effects. To make it really work, there are four built-in speakers that actually sound great, better than, say, most similar ones on laptops.
In terms of wireless internet speed capabilities, this tablet uses Wi-Fi 5 802.11 ac standard with BT 5 support, which is a surprise considering the already good availability of faster Wi-Fi 6 routers and the fact that the competition offers a faster Wi-Fi option as standard, which is unexpected.
The front camera, which is usually used for Viber and Skype video communication and selfie photos, has a resolution of 8MP, while the rear camera records in 13MP and uses a dual-LED flash.
A very important moment with the tablet device is its design, dimensions, dimensions and the feeling of lying in the hand. The Xiaomi PAD 5 measures 25.5cm in width or height, as you already hold the tablet, is 16.7cm tall and 7mm thick. The edges are nicely rounded, but you can feel the glassy layer of the screen under your fingers over time, although its surface is pleasantly rounded.
However, the sides are not rounded and slanted as on an iPad, for example, which definitely gives a more concrete feeling when held, but because of that, the rockers and the power button seem less bulging. It definitely holds up nicely with a safer feeling that it won't slip out of your hand.
Although it has a back made of quality ABS plastic, it doesn't look as premium as, say, GalaxyTab or MatePad Pro. After all, he does not try to be the most beautiful, but definitely practical in real everyday situations of use. Although it weighs a respectable 1,102 ib, we would never say that it has so much because it holds fantastically in the hand, probably because of the larger surface of the device, so the weight is better distributed. Basically, the Xiaomi Pad 5 fits great in the hand and deserves high marks in that regard!
And a tablet without good autonomy is not exactly a mobile device... That's why this Xiaomi uses a Li-Polymer capacity of 8720mAh. Although the manufacturer claims this tablet comes with a 22W charger. This means that it will charge half of the stated capacity of the battery in an hour, so it takes two hours to fully charge the battery.
And all that hardware is useless without good software. In order for that part to be flawless, Xiaomi gave the Pad 5 model the latest MIUI 12.5 based on Android 11. We like the beautiful console, that is. Control Center for setting up and quickly calling useful functions, the only thing missing is the "settings" option, which starts directly from the desktop. There is an option of a smart assistant and a slider for dosing the brightness of the screen.
The operating system runs quickly, smoothly and without interruption, as expected. Gaming is without a doubt a perfectly beautiful and fluid gameplay. After all, some options are, as expected, shifted compared to the base version of the Android OS and require a shorter period of habituation.
As for some more specific impressions during testing, this is especially true if you plan to use it with the help of a BT keyboard and mouse to replace a smaller notebook. Another good thing is that it does not heat a lot, which is undoubtedly pleasant in the hands during several hours of use. It doesn't matter that the power button is on the upper, smaller side of the device because we are somehow used to it being located on the longer side. By the way, this tablet uses USB-C as standard and we didn't have any problems with recognizing and using newer external SSD.
Final impressions
Great Android tablet, top performance and pretty affordable prices for what it offers. It is not without flaws, but it is perfectly practical and useful for all those who need such a device. At the moment, you will hardly find anything better with such specifications at a similar price. This is the type of device that is bought with pure reason, and therefore it deserves a recommendation from our side to buy it for purchasing a tablet computer.