Yamaha R-N602: The Perfect Blend of Classic and Modern Audio Excellence
In the world of audio equipment, Yamaha has been a trusted name for decades, known for its commitment to delivering high-quality sound and innovative features. The Yamaha R-N602 is no exception, a powerful and versatile network receiver that seamlessly combines classic analog audio with modern digital technology. In this article, we will explore the key features and capabilities of the Yamaha R-N602 and understand why it continues to be a favorite among audiophiles and music enthusiasts worldwide.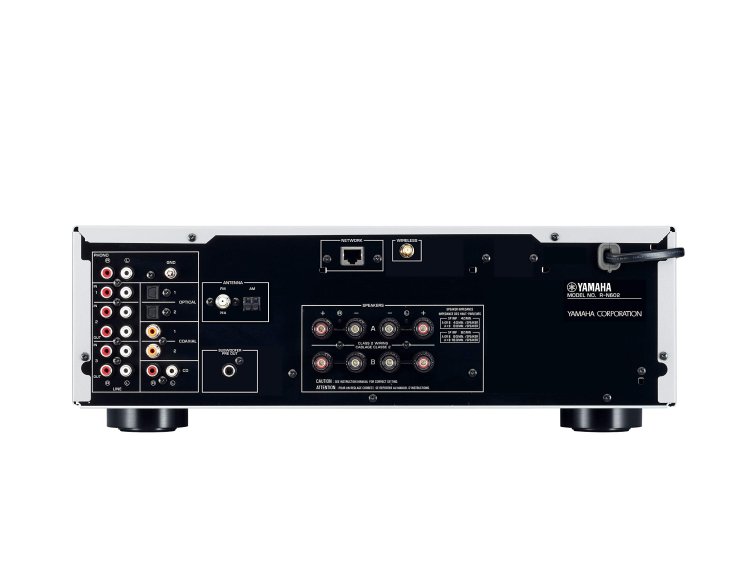 Photo Credits: Amazon.in
Powerful Amplification and Pure Direct Mode
At the heart of the Yamaha R-N602 is its robust amplifier, capable of delivering 80 watts per channel (8 ohms, 20 Hz - 20 kHz, 0.04% THD). This ample power ensures that your speakers receive the necessary drive to produce clear and dynamic sound across all frequencies. Moreover, the Pure Direct Mode feature bypasses unnecessary circuitry, providing a shorter signal path for the audio signal to travel, resulting in even more pristine sound quality.
Versatile Connectivity Options
The Yamaha R-N602 offers a wide range of connectivity options to accommodate various audio sources. It features built-in Wi-Fi and Bluetooth, allowing you to wirelessly stream music from your smartphone, tablet, or computer. The receiver also has AirPlay support, making it compatible with Apple devices for effortless streaming. Additionally, with its built-in DLNA, you can access and play music from your network-connected devices.
High-Resolution Audio Support
As music enthusiasts demand higher audio quality, the Yamaha R-N602 rises to the challenge with its support for high-resolution audio formats. It can handle FLAC, WAV, and AIFF files up to 24-bit/192kHz, ensuring that you can enjoy your favorite music in its purest form, with every detail and nuance intact.
DAB/DAB+ and FM Radio
The Yamaha R-N602 provides access to a wide range of radio stations with its DAB/DAB+ (Digital Audio Broadcasting) and FM radio capabilities. DAB/DAB+ offers digital radio broadcasting, providing superior sound quality and a broader range of stations compared to traditional FM radio. With the receiver's built-in radio tuner, you can easily tune in to your favorite stations and discover new ones without the need for additional equipment.
Yamaha MusicCast Integration
One of the standout features of the Yamaha R-N602 is its compatibility with Yamaha's MusicCast multi-room audio system. With MusicCast, you can connect multiple MusicCast-enabled devices throughout your home, creating a seamless audio network that allows you to play music in different rooms or synchronize audio playback for a party experience. This integration brings a new level of convenience and flexibility to your audio setup, allowing you to enjoy music wherever you go in your home.
YPAO Room Acoustic Optimization
The Yamaha R-N602 comes equipped with Yamaha's YPAO (Yamaha Parametric Acoustic Optimizer) technology, which automatically analyzes your room's acoustics and calibrates the audio settings accordingly. YPAO ensures that you get the best possible sound performance tailored to your specific listening environment, eliminating unwanted reflections and ensuring that the sound reaches your ears as intended by the artists.
App Control and User-Friendly Interface
Controlling the Yamaha R-N602 is a breeze thanks to its intuitive app and user-friendly interface. The Yamaha MusicCast app allows you to control the receiver from your smartphone or tablet, giving you access to all the features and settings at your fingertips. The on-screen display and front-panel controls are also straightforward and easy to navigate, making setup and daily operation hassle-free.
Audiophile-Quality Components
Yamaha's dedication to audio excellence is evident in the high-quality components used in the R-N602. From the high-performance Burr-Brown DACs (Digital-to-Analog Converters) to the meticulously designed power supply, every aspect of the receiver is engineered to deliver the best possible sound quality.
Timeless Design
Beyond its audio prowess, the Yamaha R-N602 boasts a timeless design that seamlessly blends with any home decor. With its elegant front panel, large VU meters, and tactile rotary knobs, the receiver exudes a classic charm that harks back to Yamaha's heritage in audio craftsmanship.
Also Check Deepcool V5 PRO
Final Thoughts
The Yamaha R-N602 is a versatile and feature-packed network receiver that embodies Yamaha's commitment to providing high-quality sound and cutting-edge technology. Whether you are a seasoned audiophile or a casual music lover, the R-N602 offers a compelling combination of powerful amplification, versatile connectivity, and intuitive control options. Its ability to seamlessly integrate with Yamaha's MusicCast system further enhances its appeal, allowing you to create a multi-room audio network that adapts to your lifestyle. With the Yamaha R-N602, you can experience music in its purest form, delivered with precision and clarity, elevating your listening experience to new heights of audio excellence.