EKSA GT1 Cobra
Welcome to our in-depth review of the EKSA GT1 Cobra gaming headset. As avid gamers ourselves, we understand the importance of high-quality audio in enhancing the gaming experience. In this article, we will explore the exceptional features, design, and advantages of the EKSA GT1 Cobra. By the end, you will discover why this gaming headset is a top choice for gamers seeking immersive audio and superior performance.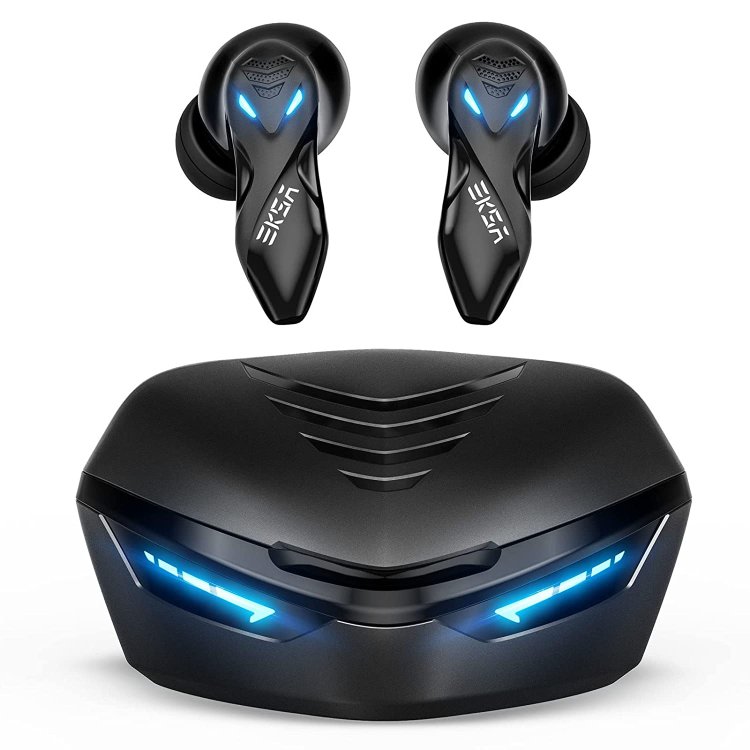 Photo Credits: Amazon.in
Immersive Audio Experience
The EKSA GT1 Cobra gaming headset is engineered to deliver an immersive audio experience that transports you into the heart of your favorite games. Equipped with powerful 50mm neodymium drivers, these headphones produce high-fidelity sound with rich bass, clear mid-range, and crisp highs. Whether you're exploring vast open worlds or engaging in intense multiplayer battles, the GT1 Cobra ensures that every sound detail is reproduced accurately, allowing you to react swiftly and gain a competitive edge.
Comfortable and Ergonomic Design
Comfort is paramount during long gaming sessions, and the EKSA GT1 Cobra excels in providing a comfortable fit. The headset features soft over-ear cushions and an adjustable headband, ensuring a snug and ergonomic fit for gamers of all head sizes. The lightweight design prevents fatigue and discomfort, allowing you to focus on your game without distractions. The breathable ear cushions also help in keeping your ears cool during extended gaming sessions.
Clear Communication
Effective communication is vital, especially in team-based games. The EKSA GT1 Cobra comes with a detachable noise-canceling microphone that ensures crystal-clear voice transmission. The microphone filters out background noise, allowing your teammates to hear your commands and strategies without interference. The flexible design of the microphone enables you to position it optimally for clear and precise communication. Coordinate your team's actions seamlessly and achieve victory with the GT1 Cobra's reliable communication capabilities.
Versatile Compatibility
The EKSA GT1 Cobra is designed to be versatile and compatible with a wide range of gaming devices. Whether you're gaming on PC, PlayStation, Xbox, or Nintendo Switch, this headset has got you covered. The headset utilizes a standard 3.5mm audio jack, ensuring easy connectivity across various platforms. Simply plug in the headset and immerse yourself in your gaming world, regardless of your preferred gaming device.
Durable Construction
Built to withstand the rigors of intense gaming, the EKSA GT1 Cobra is constructed using durable materials that are built to last. The sturdy build ensures the headset can endure the demands of long gaming sessions and occasional travel. The braided cable adds extra durability and prevents tangling, allowing for hassle-free use. Invest in a gaming headset that will accompany you on countless gaming adventures without compromising on performance.
Convenient In-Line Controls
The EKSA GT1 Cobra features intuitive in-line controls that offer quick and convenient access to essential functions. The integrated control module allows you to adjust volume, mute the microphone, and easily control audio playback without interrupting your gameplay. With the in-line controls, you can make adjustments on-the-fly, ensuring you stay fully immersed in your gaming experience.
Also Check ASUS ROG Maximus Z790 Hero
RGB Lighting for a Stylish Look
The EKSA GT1 Cobra comes with eye-catching RGB lighting on the ear cups, adding a stylish touch to your gaming setup. The RGB lighting can be customized using the provided software, allowing you to match it with your preferred color scheme or sync it with other RGB-enabled gaming peripherals. Stand out from the crowd and showcase your gaming style with the GT1 Cobra's vibrant RGB lighting.