A total home sound system-Creative SBS E2900
Testing the Creative SBS E2900 speakers, we found out that Bluetooth speakers can be both cheap and good at the same time.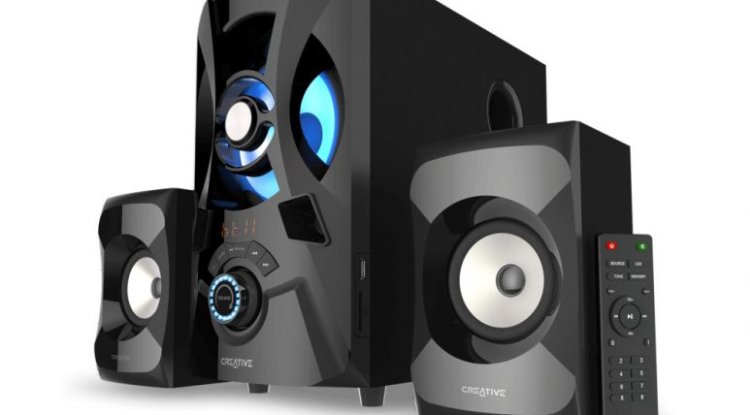 Photo Credits: Creative
Testing the Creative SBS E2900 speakers, we found out that Bluetooth speakers can be both cheap and good at the same time. And do you know what else fits such a description perfectly? The perfect Christmas present, of course!
Creative SBS E2900 is a total home sound system
Although even the manufacturer itself describes it as speakers, this equipment is much more than just that. The Creative SBS E2900 is a full-fledged home audio system that you can connect to your TV or computer via AUX, but you can also use it in other ways. 
The built-in MP3 player allows you to listen to music stored in this format on an SD card or pen drive, and you also have an integrated FM radio at your disposal, so you do not need any media or additional audio source. The analog tuner is able to independently search for radio stations in the frequency range from 87.5 to 108 MHz. 
However, you can also listen to your carefully selected music without any extra cables. This is possible thanks to the built-in Bluetooth 5.0 module. The A2DP wireless transmission profile in combination with the SBC codec ensures high sound quality - almost indistinguishable from that achieved during a wired connection. 
The power you can hear and feel
Now that we've stepped down from the connectivity options on sound quality, let's pause here for a moment. It's worth it because in this respect the Creative SBS E2900 set is hard to fault. it is equipped with good-quality, 3-inch dual-range drivers in the satellite speakers , and each of them has a power of 15 W. 
The "satellites" are accompanied by an external 30-watt subwoofer with a 5.25-inch driver and a bass-reflex port. This woofer provides a surprisingly solid bass that should appeal to lovers of slightly heavier music as well as movie and series enthusiasts. Add it all, and you will quickly find out that the Creative SBS E2900 is a 60W (RMS) set, is a really good result for this category of equipment. 
When the Creative SBS E2900 speakers arrived at our editorial office, we were able to test them for a variety of applications. We checked how they deal with music from files or radio, but also movies and even video games. And what happened to us? They deal with the radio flawlessly, and with music… even better. Especially with a wired connection and high-quality files, it's hard to underestimate the clarity of the sound, deep bass, detailed treble, and clear vocals.
In games and movies, the sound turned out to be very strong. It is truly universal equipment. It was no coincidence that we awarded the 4.5 score on a 5-star scale and the "Dobry Produkt" and "Super profitability" awards. 
There is also a lot to look at. Creative SBS E2900 aesthetics
It's not a rule, and yet the Creative SBS E2900 speakers look as good as they sound. They have a modern and subdued look at the same time, thanks to which they look great both in a teenager's room and in the living room of a married couple in their prime. 
It is worth mentioning that the set also includes a remote control. With it, you can quickly and conveniently switch the played track, adjust the volume, select the playback source, change the equalizer settings, and also ... configure the LED lighting. The woofer can glow red, blue, or purple , more or less intensely, creating an unmistakable atmosphere. 
In addition, this lighting should perfectly fit in with ... the Christmas decor of the apartment. After all, colorful lights provide a unique atmosphere. And when the loudspeakers hear the sounds of carols, then - well - Christmas is in full swing!