AirPods 3 - I bought them and checked so you don't have to
AirPods, i.e. Apple wireless headphones are considered one of the best on the market. Recently, AirPods 3 joined the top rate.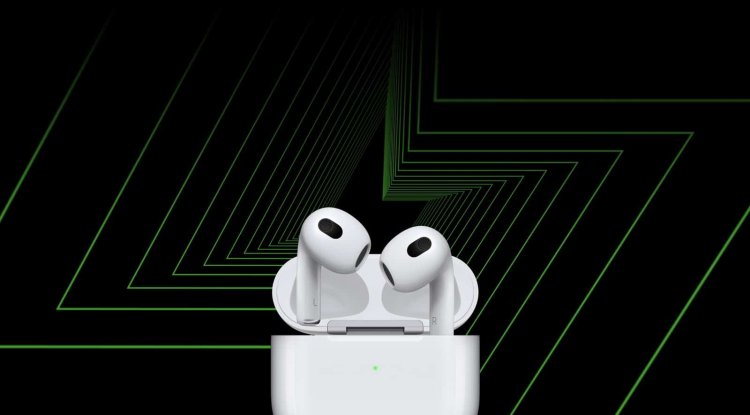 Photo Credits: Apple/Promo
AirPods, i.e. Apple wireless headphones are considered one of the best on the market. Recently, AirPods 3 joined the top rate.
In October, apple's product conference was held, during which the new in-ear true wireless headphones – AirPods 3 – were presented. I have been reading positive reviews of Apple headphones for a long time, but so far I have not been able to decide to buy them. However, after presenting the new model, I was tempted by it. This convinced me that in the vast majority of publications there is information that these are the best headphones that users of more Apple devices can buy. Are they right? Is it worth buying AirPods 3? This Review of AirPods 3 should primarily help you make a purchase decision.
AirPods 3 - first impression
After opening the package, I had a stirring feeling. As a fan of Apple devices, I was excited, because it's probably the only type of Apple device that I've never had before. What first comes to mind after pulling the charging case out of the package is its small size. Compared to other headphones of this type that I have, it looks like a toy. The build quality is very good, but this is not a surprise for Apple products and their price of $180.
A slightly better first impression is made by the headphones themselves. Their size does not differ from competing devices. Charm is added by "chrome" inserts at the ends of the handles.
AirPods 3 sound quality
Now let's move on to the substance, i.e. sound quality. On apple's website you can read that the new headphones are packed with new technologies that make the sound quality stand at a high level. There are, for example, such wonders as adaptive equalization, which thanks to built-in microphones tunes the sound to the shape of the user's ears, an amplifier with a wide dynamic range and support for spatial audio. It sounds very mysterious and a little incomprehensible, but everything becomes clear when you put the headphones in your ears and play the first song.
For me, the sound is definitely above what I expected. What is surprising is primarily the spaciousness of the sound, which some call the width of the stage. One has the impression that the instruments that emit the sounds you hear are placed on a very wide stage. I didn't know what to expect from these headphones, but it really surprised me positively.
AirPods 3 also do a good job with other aspects. High and midrange sounds good, and there is no shortage of low ones. Basses are pleasant, but they are not too intrusive, which just suits my taste. Too many bass tones tire me quickly. Details are also well reproduced, thanks to which it is pleasant to listen to classical music.
Importantly, all this happens at different volume levels. Thanks to these headphones, I understood that you don't have to listen to music very loudly to enjoy it.
What is spatial audio?
A fragment of the review must be devoted to spatial audio. To activate this function, in the Control Center, hold down the volume control and select the "Tracked head movements" option. Not only does the scene expand even more, but after turning your head to the side, you have the impression that the main track is played from the same place. It's like being at a concert where the person singing is on the stage in front of us all the time. It is difficult to describe it in words, but there is a "wow" effect.
Comfort
AirPods 3 are in-ear headphones, which means they don't have silicone earbuds that are pressed into the ear canal. Such inserts have, for example, AirPods Pro. Their advantage is that they isolate from ambient sounds, like earplugs. The disadvantage of this solution is the feeling of compression of the ears. Personally, I am not a fan of this feeling and I can not use headphones with such inserts for a long time. The fact that Apple's new headphones are in-ear was one of those aspects that ultimately convinced me to buy. In my ears, the new headphones lie well. I tested it while going down the stairs - they did not fall out.
Automatic switching has a positive effect on comfort. The feature only works with Apple products, but with it, you don't have to disconnect your headphones from one device to connect to another. Let me give you an example to illustrate who's working: I'm watching a movie on my MacBook while listening through headphones. When the movie is over, I close my laptop and pick up my iPhone to listen to music. The headphones automatically connect to the iPhone without any interference from me. This is a very convenient solution.
On the occasion of the comfort of use, it is worth mentioning the skin contact sensors, which in partnership with the accelerometer detect whether the headphones are in the ear or not and on this basis stop or resume playback. The sensors supposedly work on the basis of measuring the humidity of what they come into contact with, but what is certain is that they work very precisely, which is a nice and useful addition.
The last thing is resistance to water and sweat. So far, it is not important to me, but it is worth knowing that the new headphones have such a feature so as not to worry when the rain catches us on the way and the headphones are splashed.
Battery & Charging
When reviewing true wireless headphones, it's hard not to mention the battery life. Theoretically, it has been extended and amounts to 6 hours. It takes an hour less time to play music with surround sound active, and 5 minutes of charging allows for about 1 hour of listening to music. The times given by the manufacturer rather agree, charging is done quickly, and the battery life is long.
It is worth noting that the AirPods 3 case supports MagSafe technology. If you're wondering how it works, take a look at my article about MagSafe.
Other interesting features
It is particularly worth paying attention to two – background sounds and Live Listen.
The first allows you to play calming sounds, such as the sound of a stream or the sound of rain. There is also "dark noise", which to some extent can replace active noise reduction, because background sounds can be played along with other media. The aforementioned "dark noise" quite effectively suppresses sounds from the environment. AirPods 3 do not have active noise cancellation, which is their big drawback, but this feature at least to some extent can replace it.
Live Listen is a function that changes the device to which the headphones are connected to the microphone so that ambient sounds are amplified. On Apple's support page, you can read that it allows you to hear someone talking in another part of the room. I checked it. Live Listen even allows you to hear someone who is in another room and speaking in a whisper.
Is it worth buying AirPods 3?
Yes, and especially if you use other Apple devices. The sound quality is surprisingly good, and the surround sound and head tracking function deserve special attention. The new AirPods are very comfortable and don't fall out of ears, at least from mine. It is also worth paying attention to the features that make the pleasure of using these headphones great. Auto-switch between devices and skin contact sensors make airPods 3 a pleasure to use.
The only major drawback is the lack of an active noise cancellation feature. Probably all these types of headphones at this price have such. If you do not care about this feature, it is worth buying AirPods 3. If you really want active noise cancellation, consider buying AirPod Pro or headphones from competing brands.
Review of Apple AirPods 3
Pros
automatic switching between Apple brand biases
current information about the battery level,
support for MagSafe,
spatial audio
splash resistance,
Cons
high price,
no active and passive noise cancellation function,
no USB-C port. Need to use Lightning cable,
short handles - it is difficult to control headphones with gloves or when hands are frozen