AMD LAPTOP AND DESKTOP CPU FOR 2022
AMD will bring new Zen3 + models of processors for laptops and desktop machines to the market during the year, and we got to know Zen4 better in action!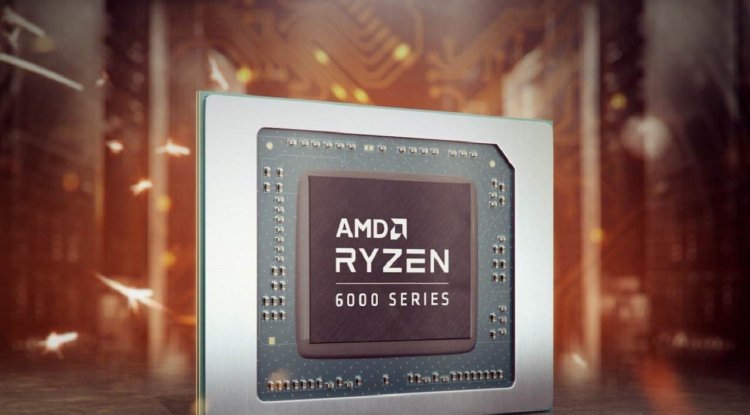 Photo Credits: AMD / promo
AMD will bring new Zen3 + models of processors for laptops and desktop machines to the market during the year, and we got to know Zen4 better in action!
At the Product Premiere 2022 virtual event at CES 2022 in Las Vegas, AMD unveiled a complete line of new Ryzen 6000 mobile processors for business and gaming laptops.
Also, AMD presented an upgraded Ryzen 5000 series desktop with 3D V-Cache technology, and a demonstration of the Zen4 generation of Ryzen processors was held.
The AMD Ryzen 6000 Series Accelerated Processors (APU) is based on Zen3 + processor cores and RDAN2 graphics architecture and is manufactured using TSMC's six-nanometer lithography technology.
The combination of processor and graphics architecture and the mentioned production technology enables AMD Ryzen 6000 series APUs to significantly improve performance and 1080p gaming even in the most demanding AAA titles .
It all starts with Zen architecture, and the AMD Ryzen 6000 series processors are built on the upgraded AMD Zen 3+, optimized to provide better performance per watt. These are the fastest AMD Ryzen processors to date, with speeds up to 5 GHz, up to 1.3 times faster, and up to 2.1 times faster than the 5000 Series. The Zen 3+ core delivers power and efficiency through new adaptive power management features which quickly adjust speed and new states of deep sleep that help save energy.
Compared to previous-generation AMD Ryzen processors, the AMD Ryzen 6000 series processors can use up to 30% less power for video conferencing. This results in longer battery life with Ryzen 6000 series processors that achieve up to 24 hours of single-charge movie playback, all in a cool, quiet laptop.
With up to eight high-performance cores, each capable of performing multiple tasks at once and delivering 16 threads of processing power, AMD Ryzen 6000 series processors deliver better performance to ultra-thin laptops, with up to 11% higher single-thread performance and up to 28 % faster multi-thread performance compared to the previous generation.
GPU of the new AMD Ryzen 6000 series
The GPU part within the AMD Ryzen 6000 series of APUs is based on the RDNA 2 graphics architecture - the same one that runs the Radeon 6000 series desktop graphics cards and new game consoles from Microsoft and Sony. With twice the gaming performance of the Ryzen 5000 series mobile processors, the RDAN2-powered AMD Ryzen 6000 series APUs deliver up to 70% better performance than the competition.
In addition to the new CPU and GPU architectures, the AMD Ryzen 6000 series of mobile APUs also brings a completely new platform with support for a number of innovative technologies:
-Advanced DDR5 memory for notebooks
-Ultra-fast USB4 and PCIe 4.0 connectivity interfacesAI triggered background and noise removal
-Ultra-fast WiFi 6E solutions from partner companies Qualcomm and MediaTek
The AMD Ryzen 6000 series processors are the first x86 processors to fully support Windows 11 advanced security features with an integrated Microsoft Pluto security processor.
A total of 10 processor models make up the AMD Ryzen 6000 series and their consumption ranges from 15 to 45 W, and thus the Boost Frequencies, which for the strongest model go up to 5 GHz:
The first laptops with AMD Ryzen 6000 series processors are expected to be available from February 2022, from ASUS, Dell, and HP. Together with AMD, Lenovo will present to customers this spring the new ThinkPad Z, an ultra-premium business laptop, powered by AMD Ryzen PRO 6000 series processors.
AMD Ryzen desktop gaming procesor
For all desktop enthusiasts and PC gamers, AMD has introduced the new, fastest, AMD Ryzen gaming processor - the Ryzen 7 5800X3D.
This is the first processor in the world to use 3D transistor stacking technology. A chip consisting of 64 MB of L3 cache is vertically mounted on the base of the Zen3 core, which is connected in a single unit with the existing 32 MB of L3 cache, for a total capacity of 96 MB of L3 cache. AMD calls this technology 3D V-cache and it enables performance acceleration in everyday work, especially in games.
Sales of the new AMD Ryzen 7 5800X3D processor start in the spring, and AMD has announced that the new processor will be compatible with existing AM4 400 and 500 series motherboards.
Demonstration of AMD Zen4 architecture
AMD also held a demonstration and announcement of its new Zen4 microarchitecture and processor based on it. AMD received a working prototype of silicon produced in five nanometers from TSMC's factory, and it demonstrated playing a new HALO game, with a processor frequency of 5 GHz, on all cores!
Zen4 based Ryzen processors will come in a new LGA package and will use a new AM5 socket with contact pins - 1718 of them, on the motherboard itself, which will support DDR5 memory and PCI Express 5.0 interface.
At the end of CES 2022, AMD also announced that the new Zen4 processors will arrive on the market in the second half of this year.
https://youtu.be/X-7naMLoTQE