AOC C32G2ZE Review: Affordable 32" curved monitor 240Hz
AOC C32G2ZE is a model of 32-inch monitor that belongs to the lower price category, but the quality of workmanship does not suffer due to lower sales prices.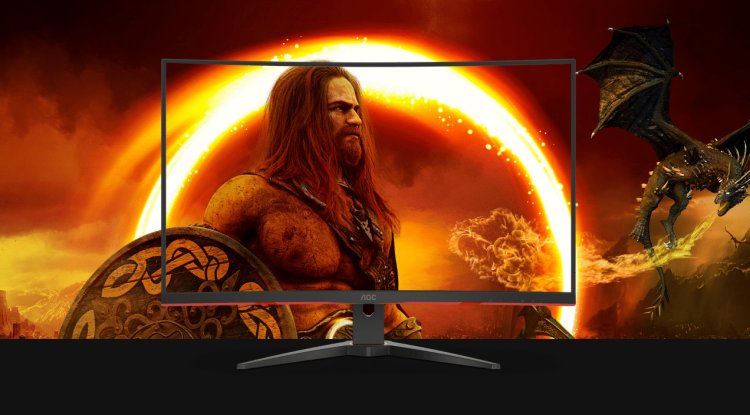 Photo Credits: AOC/Promo
| | |
| --- | --- |
| Monitor diagonal | 80 cm (31.5) |
| Screen brightness (typical) | 300 cd / m2 |
| Screen resolution | 1920 x 1080 pixels |
| Aspect ratio | 16: 9 |
| Response time | 0.5 ms |
| Display technology | LED |
| Backlight type | W-LED |
| Screen shape | Curved |
| Screen curvature value | 1500R |
| Contrast ratio (typical) | 4000: 1 |
| Contrast ratio (dynamic) | 80000000: 1 |
| Maximum refresh rate | 240 Hz |
| Visible angle, horizontal | 178 ° |
| Visible angle, vertical | 178 ° |
| The number of colors that can be displayed on the monitor | 16.78 million colors |
| Panel type | VA |
| Point size | 0.3637 x 0.3637 mm |
| Visible size, horizontal | 69.8 cm |
| Visible size, vertical | 39.3 cm |
| Color depth | 8 bit |
| sRGB coverage (typical) | 123% |
| Adobe RGB coverage | 91% |
| Power consumption (typical) | 45 W |
| Power consumption (standby) | 0.3 W |
| Weight (with stand) | 6.83 kg |
| Connectors | Headphones, DisplayPort 1.2, HDMI 2.0 x 2 |
The curved screen and 240 Hz refresh rate used to be one of the top features of the monitor. Today, it has become more affordable, and even when we say that it is all packaged on a 32-inch screen, this is exactly what the AOC C32G2ZE offers. In fact, that's not all, nor should we forget the customizable FreeSync Premium sync feature. Large screen, high refresh rate, curved gaming monitor at a reasonable price. There must be at least some shortcomings, so let's look together…
The AOC C32G2ZE is a simple and large, gaming monitor with a refresh rate of 240 Hz, making it an ideal monitor for professional and competitive gaming, via PC or popular consoles. The only downside to this monitor is its 1080p resolution, which will be too low for some, but overall this model is ideal for playing games while reclining on the couch.
Design and capabilities
The AOC C32G2ZE follows the simplified aesthetics of the rest of the G2 series of monitors, such as the AOC 24G2 and 27G2 models. The monitor has a matte black body with modern red lines that emphasize its aesthetics. Assembling the monitor is extremely simple and you will not need any additional tools, because everything is provided on a click.
You'll immediately notice that the AOC C32G2ZE is a really great monitor, so it would be better to make sure you have enough desk space first. It's not that hard; its mass is around 6.8 kilograms, but no one would look at it as a portable monitor. The flat model isn't as massive and heavy as the curved versions, but it can't be said to be exactly the lightest monitor we've seen on the market.
AOC C32G2ZE is a model of 32-inch monitor that belongs to the lower price category, but the quality of workmanship does not suffer due to lower sales prices. The plastic used is durable and works firmly and reliably. There are no visual defects on either edge of the board. The stand included with the AOC C32G2ZE offers screen tilt adjustment, which further increases energy efficiency, and as this monitor itself is quite high for a 16: 9 aspect ratio screen, there was no need to install a screen lift mechanism. Otherwise, you can replace the bracket with a VESA bracket, but you will pay extra.
It should also be said that this monitor model comes with a very decent set of slots for different devices, including two HDMI 2.0 and one DisplayPort 1.2, plus the always welcome, mini-slot that is the headphone output. However, there is no USB hub, which is obviously an area where AOC wanted to save with this monitor. Another way to save money is certainly the lack of built-in speakers, although most monitors are usually so muted, which means you would probably want to use them only in exceptional cases.
As this monitor comes with a refresh rate of 240 Hz and a curved plate of 31.5 inches, you will still get a lot at an affordable price. Let's find out below exactly what you'll get.
Although the AOC C32G2ZE doesn't have speakers, that's fine, because it's still an affordable model. Plus, most of today's, especially younger players prefer to use headphones anyway.
Image display and performance
The AOC C32G2ZE boasts a 32-inch VA panel with a resolution of 1920 x 1080, a refresh rate of 240 Hz and a response time of an excellent 0.5 ms. The backlight is estimated at 300 cd / m2, while the contrast ratio is 4000: 1 which is more than what most VA monitors offer. This model does not have an HDR feature, but this is acceptable, as these features are only useful if the monitor is equipped with special backlighting that will make it more expensive.
The 1080p resolution on the 32-inch screen looks quite stretched, which means the dots will be visible if you're sitting close to the monitor and if the monitor is set to desktop settings. I recommend moving a little further away from the screen to avoid low pixel density.
What should also be noted is that this model is capable of 100% sRGB and about 91% DCI-P3 coverage, which are excellent ratings for an affordable 240-hertz monitor. Its default accuracy doesn't need help at all, as the deltaE average is 2.18, which is already fantastic for a monitor of this price range. The screen already looks balanced and ready at the factory, so before use, you just need to adjust the backlight to a comfortable level and that's it. Calibration of the AOC with a C32G2ZE device can reduce the average dE to 1.54, but this is not necessary for its primary purpose.
The backlight reached as high as 349 cd / m2 at 100% brightness, but that's too high for regular use. However, that is enough to create a deep black color and rich saturation, which is perfectly fine in these settings. The uniformity of the panels for the AOC C32G2ZE as a whole is decent as there are no significant problems with backlight deviations and color uniformity.
The OC C32G2ZE is a FreeSync Premium monitor but also works with Nvidia's G-Sync compatible mode, when activated via Nvidia's control panel. It's always nice to be able to use any VRR technology because the graphics card market is always changing. The input delay at 240Hz is a little over 3 ms, so there's no need to worry about out-of-sync cases or gameplay delays.
Conclusion
The AOC C32G2ZE is a great choice if you want to have a large 1080p screen with excellent color quality and contrast. Its refresh rate of 240 Hz makes it suitable for competitive gaming. The monitor will serve very well if you are, (or if you plan to be), a player who likes to play games reclining on your armchair, via the controller, but you will have to move away from it a bit due to the size of the screen.
Of course, the monitor also comes with certain limitations, such as a stand with limited tilt, but all this is expected from monitors that come from lower price ranges. AOC C32G2ZE is an excellent choice for both "writers" and "consolers", and it is also a very tempting offer, offering a pretty good value for money. Enjoying a 32-inch curved monitor is certainly guaranteed, especially for fans of FPS games, but it is also more than good for everyday activities.
Some people may be bothered by the low resolution of the Full HD screen due to its size, but this monitor will still allow you to refresh the image extremely high while playing games. Combined with the customizable FreeSync Premium sync, you can be sure to make the most of its 240Hz image refresh rate, with curvature, which further offers a sense of "immersion" in the game.
Some may be disadvantaged by the fact that this monitor does not have a built-in USB hub, or that it does not have built-in speakers, although we believe that most experienced gamers do not use speakers from the monitor. It's worth mentioning, since Microsoft's Xbox also supports FreeSync, this monitor would work great with that console, so Xbox owners get a quality monitor for their console.
I would also like to mention that this monitor has a limited tilt back and forth and that there is no possibility of adjusting the height, but this is not a surprise considering the dimensions and curvature of the screen. We also noticed that the screen gives better results when calibrated, which in the test led to a decrease in the average Delta E level from 2.2 to 0.90, with the latter result being excellent for a monitor of this class.
In short, as a screen primarily used for FPS games on a computer or in combination with Microsoft's Xbox consoles, we can say that it is a very good value for money. It may not be full of features, but it still contains all the important core features, which makes this a very capable and fast monitor with high levels of a refresh.