AOC GH401 review: cheap and good
The company shows its goal to offer us high-quality peripherals without giving up basic qualities such as design, comfort, or durability.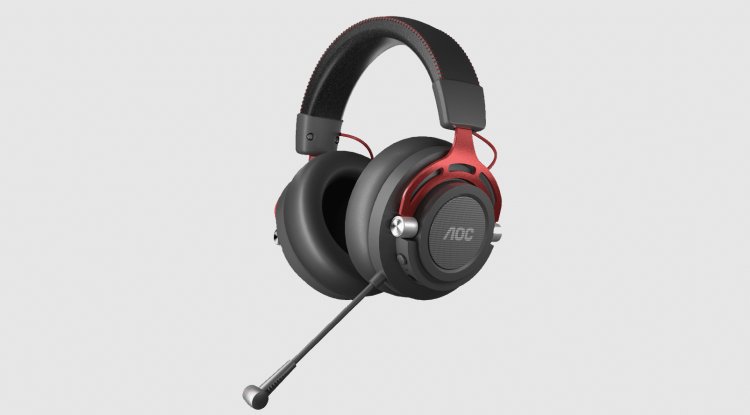 Photo Credits: AOC/Promo
Known for its Gaming monitors, AOC seems to have decided to gradually expand its horizons towards creating an unbroken line of gaming peripherals, in which they certainly seem to have brilliant success. And that's with products like the new AOC GH401 wireless headphones. The company shows its goal to offer us high-quality peripherals without giving up basic qualities such as design, comfort, or durability.
With leather and red metallic colors, the pins that connect both headphones to the headband are made of aluminum. This gives them greater robustness, resistance and durability compared to other models that opt ​​for plastic materials.
Around the headband, on the inside, we find a viscoelastic foam band covered with synthetic leather. It will help to rest and comfortably place the headphones on your head. On the outside, we have a firmer leather strap, decorated with the AOC logo in inverted relief. As well as the last layer that connects both parts of the skin with red nylon thread.
Going down to the pillows, we find an already standardized design, with synthetic leather materials covering the viscoelastic base. However, it should be noted that tightening the terminals of these headphones provides great comfort, without being too tight or heavy even after the longest gaming sessions. Thanks to the base and this lighter design, we can avoid the effect of "floating glasses", as well as traces of pressure from the flaps behind the ears.
The absence of RGB lighting shows that AOC opted for a more sober and elegant design. To whom only a small touch of the color of the metal construction itself stands out.
Audio
Thanks to Stereo 2.0 sound, AOC GH401 headphones create multidimensional sounds that enhance the feeling of immersion during the game.A flexible microphone that is detachable allows you to quickly communicate with teammates in seconds. In addition, this microphone has an omnidirectional sound pickup pattern.And in fact, although the brand has G-Menu software for its peripherals, it never ceases to amaze us that the AOC GH401 does not have this ability to customize or equalize. A quality that, if added later in the app, would undoubtedly be a significant point in favor of headphones.
Connection
Although these headphones stand out mainly for their wireless part, with a USB key that will allow us to easily connect them to any computer or both generations of PlayStation and Xbox consoles, that there is another way of cable connection with 3.5 mm output gives these headphones much greater versatility, making them compatible with almost all other devices such as Nintendo Switch or smartphones and tablets.
The battery will not be a problem, because we will have up to 17 hours of autonomy for each charge, which is more than enough to withstand several complete gaming sessions. Another great advantage lies in the way of charging with a cable, which allows you to continue using it without the need to interrupt the game.
Conclusion
Off-road headphones, excellent workmanship, high comfort and pleasant sound. While without a doubt one of the biggest advantages of these headphones is the ability to use them both wirelessly and analog, adding a common connector and a socket, and tremendous ease of installation and use.