Blue Yeti Nano USB Mic Vivid Black
In the world of content creation, streaming, and virtual communication, having high-quality audio is essential. The Blue Yeti Nano USB Microphone in Vivid Black is a compact and powerful microphone designed to help you elevate your audio game. Whether you're a content creator, streamer, podcaster, or simply someone who values clear and professional-sounding audio, the Yeti Nano has you covered. In this article, we'll explore the features, advantages, and the transformative impact of the Blue Yeti Nano USB Microphone on your audio setup.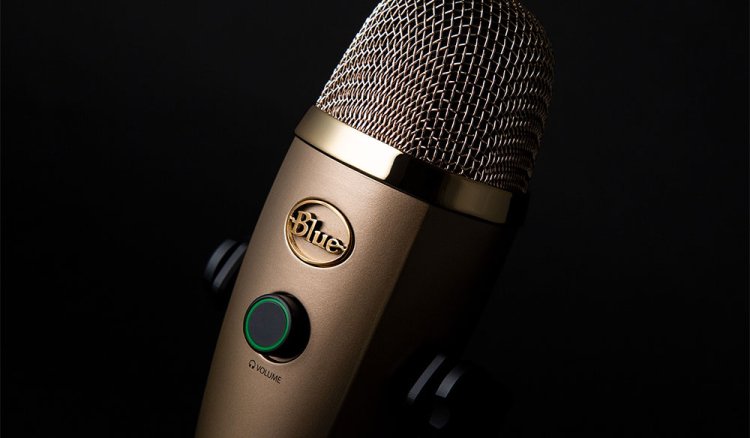 Photo Credits: premiumbeat
Stellar Sound Quality
The most critical aspect of any microphone is its sound quality, and the Yeti Nano delivers exceptional audio performance. It features Blue's proprietary condenser capsule technology, which captures rich and detailed sound with clarity. Whether you're recording vocals, musical instruments, or voiceovers, the Yeti Nano reproduces your audio with precision.
Cardioid Pickup Pattern
The Yeti Nano utilizes a cardioid pickup pattern, focusing on sound capture from the front while minimizing background noise. This pattern is perfect for single-person recording scenarios, such as podcasting or streaming, as it ensures that your voice takes center stage while reducing unwanted ambient sounds. The result is a clean and professional audio output.
Plug-and-Play USB Connectivity
Setting up the Yeti Nano is a breeze, thanks to its plug-and-play USB connectivity. Simply plug the microphone into a USB port on your computer or compatible device, and you're ready to go. There's no need for additional drivers or complex setup processes. This convenience allows you to focus on your content creation rather than technical configurations.
Compact and Stylish Design
The Yeti Nano's compact design doesn't just save space on your desk; it also adds a touch of style to your setup. The Vivid Black finish exudes elegance and professionalism. Whether you're recording videos, participating in virtual meetings, or live streaming, this microphone not only sounds great but also looks great on camera.
Versatile Mounting Options
Flexibility is key when it comes to microphone placement, and the Yeti Nano offers versatile mounting options. It includes a standard 5/8-inch thread for compatibility with most microphone stands and boom arms. You can easily position the microphone at the optimal distance and angle for your recording needs, ensuring the best possible sound capture.
Headphone Monitoring
Monitoring your audio in real-time is crucial for ensuring quality recordings or live broadcasts. The Yeti Nano features a 3.5mm headphone jack that allows for latency-free monitoring. Plug in your headphones, adjust the volume with the dedicated control on the microphone, and listen to your voice or instrument as it's being recorded. This feature ensures that you can make on-the-fly adjustments for the best results.
Multi-Purpose Functionality
While the Yeti Nano is exceptional for vocal recordings, it's also versatile enough to handle a variety of audio sources. Whether you're recording vocals, acoustic instruments, gaming commentary, or voiceovers, this microphone excels across the board. It's an excellent choice for content creators who want a single microphone that can do it all.
Blue Sherpa Software
To further enhance your recording experience, Blue offers the Sherpa software, which is compatible with the Yeti Nano. This software allows you to fine-tune your microphone settings, including adjusting gain, headphone volume, and selecting between different sound modes. It also provides firmware updates to keep your microphone up to date with the latest features and improvements.
Portability and Durability
The Yeti Nano's compact size makes it highly portable. Whether you're on the go or working from different locations, you can easily pack it into your bag or backpack. Despite its portability, the microphone is built to last, with robust construction that can withstand the demands of regular use.
Also Check Audioengine S8 Powered Subwoofer White
Conclusion
The Blue Yeti Nano USB Microphone in Vivid Black is a game-changer in the world of audio recording and content creation. With its stellar sound quality, cardioid pickup pattern, plug-and-play USB connectivity, compact and stylish design, versatile mounting options, headphone monitoring, multi-purpose functionality, Blue Sherpa software, portability, and durability, it offers a comprehensive solution for anyone looking to improve their audio setup.
Whether you're a YouTuber, podcaster, musician, gamer, or remote worker, the Yeti Nano elevates your audio to a professional level. It ensures that your voice or instrument is heard with clarity, making your content more engaging and enjoyable for your audience.
In an age where audio quality can make or break your content, the Blue Yeti Nano USB Microphone Vivid Black stands as a symbol of excellence. It's not just a microphone; it's a tool that empowers you to create exceptional audio experiences. So, whether you're recording your next podcast episode, streaming your gameplay, or engaging in virtual meetings, let the Yeti Nano be your audio companion, and witness the difference it makes in your audio game.