ASRock RX 6600 XT Phantom Gaming
Amd's new video card arrives as the most affordable RDNA2-based solution to date, focusing on full HD gaming. The first model that came to us is signed by ASRock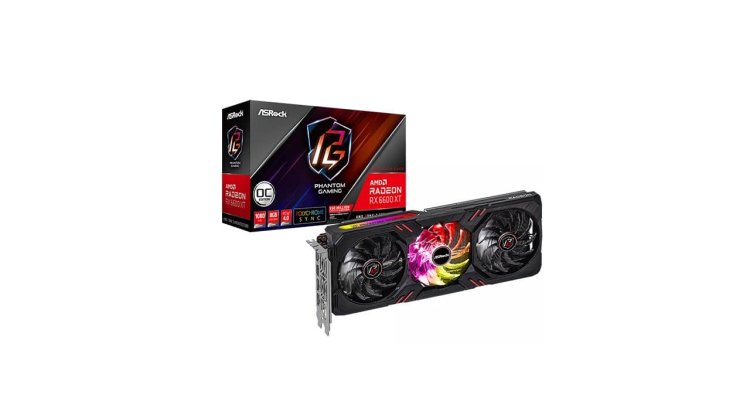 Photo Credits: AMD/Promo
Amd's new video card arrives as the most affordable RDNA2-based solution to date, focusing on full HD gaming. The first model that came to us is signed by ASRock

ASRock RX 6600 XT Phantom Gaming
AMD Radeon™

RX 6700 XT
AMD Radeon™

RX 5700 XT
Architecture
RDNA™ 2
RDNA™ 2
RDNA™
Production Process
7 nm
7 nm
7 nm
Number of transistors
11.6 billion
17.2 billion
10.3 billion
Chip Size
237 mm²
336 mm²
251 mm²
Compute Unit
32
40
40
Ray Accelerator
32
40
-
Stream Processor
2.048
2.560
2.560
Game GPU cadence
Up to 2,428 MHz
Up to 2,424 MHz
Up to 1,755 MHz
Boost GPU cadence
Up to 2,607 MHz
Up to 2,581 MHz
Up to 1,905 MHz
Peak FP32 performance
Up to 10.6 TFLOP
Up to 13.21 TFLOP
Up to 9.75 TFLOP
ROP's
64
64
64
Fill-rate peak pixel
Up to 165.7 GP/s
Up to 165.2 GP/s
Up to 121.9 GP/s
AMD Infinity Cache
32 MB
96 MB
-
Memory
8 GB GDDR6
12 GB GDDR6
8 GB GDDR6
Peak memory bandwidth
256 GB/s
384 GB/s
448 GB/s
Memory interface
128-bit
192-bit
256-bit
Card peak spending
160 WATTS
230 WATTS
225 W
Credits: bug.hr
After a long wait, AMD finally decided to introduce the Radeon RX 6600 XT, the weakest and cheapest card based on the RDNA2 architecture, which covers the market segment in which Nvidia's GeForce RTX 3060 has been located since the beginning of the years. Just like Nvidia's card, the new Radeon is promoted as an ideal replacement for the GeForce GTX 1060 or equivalent Radeon (RX 580). But while the recommended price of the aforementioned RTX is $329, AMD values its new card at $379.
In both cases, prices are significantly higher than the cards they replace since the recommended price for gtx 1060 was 249 and for RX 580 $ 229. It is also worth remembering that these old cards, just like these new ones, were intended for players who want an excellent ratio of invested and obtained and possess a Full HD resolution monitor. Today, four years later, we have cards that target the same segment of users, but cost significantly more.
However, if we take a look at the specifications of the new card powered by the GPU developed under the codename Navi 23, in terms of physical specifications we see an exception similar to the Radeon RX 5700 XT. This Radeon was once very popular, targeting a resolution of 1440p and partly 4K, and based on a combination of the first generation OF RDNA architecture and the 7-nanometer process. The new Navi 23 is slightly smaller in area, but has more transistors (due to the use of the newer generation of the 7-nanometer process) compared to the old card, the recommended price of which was $ 399.
Although it has fewer Compute Units, the new card offers more computational performance, supports ray tracing, and has the same memory capacity (8 GB), albeit lower performance due to a 128-bit memory interface. The PCIe interface is also down – instead of 16, we have8 channels in PCIe 4.0 standard. There is also lower consumption – up to 160 watts, while the 5700 XT could pull up to 225.
ASRock RX 6600 XT Phantom Gaming
AMD didn't send its reference cards to the test this time, only partner models. Nas is actually ASRock's Phantom Gaming, with the company offering both slightly cheaper Challenger and Challenger ITX models. The card that came to us is an acceptable 305 mm long, and in the computer due to a thick cooler will take up to 2.4 slots. It needs one 8-pin PCIe connector to power and offers three DisplayPorts 1.4 and an HDMI 2.1 in terms of video connectors. The printed circuit board itself with components is significantly shorter than the length of the complete card so that almost a fan and a half of the three that are mounted on the cooler blow through the heating pad and holes in the card backplate to the other side.

The heating pad of the cooler is made of soldered ribs that connect three hot water pipes to the base. The base is made of copper, and its frame sits on four memory chips. The cooler also has contact with the voltage unit of the card, which consists of 8 voltage phases based on 90-amp DrMOS elements. The two side fans are made of darker transparent plastic while the central one is made of completely transparent plastic. RGB lighting is inserted into it, just like in the tile on the top edge of the card. Fans rest when the card is under low load. Despite being a relatively expensive card, Phantom Gaming does not have two BIOS and an associated active chip selection switch.

The Navi 23 GPU cadence on this card is somewhat higher than AMD's standard specifications. The maximum Boost is 2,607, while the standard value is 2,589 MHz. Memory performance remained at the same level because chips with a speed of 16 Gbps, or a crude cadence of 2,000 MHz, are used. The overclocking options are modest – we managed to raise the gpu peak beat up to 2,690 MHz, and the memory from 2,000 to 2,250 MHz.

ASRock also offers its own overclocking app called ASRock Tweak 2.0, but basically, you don't need it since it doesn't offer any additional functionality compared to AMD drivers.
Test

Asus ROG Strix RTX 3060 12GB OC
ASRock RX 6600 XT Phantom Gaming
Red Dead Redemption 2 / DX12 Max. Quality
1080p
76 fps
70 fps
1440p
60 fps
55 fps
Bordelands 3 / DX12 Badass
1080p
76 fps
91 fps
1440p
56 fps
62 fps
TW: Troy / DX11 Ultra
1080p
83 fps
77 fps
1440p
61 fps
51 fps
AC: Valhalla / DX12 Ultra High
1080p
72 fps
82 fps
1440p
60 fps
61 fps
Godfall / DX12 Epic
1080p
80 fps
96 fps
1440p
61 fps
68 fps
GR: Breakpoint / Volcano Ultimate + Textures High
1080p
100 fps
104 fps
1440p
74 fps
73 fps
Metro Exodus / DX12 Ultra
1080p
57 fps
53 fps
1440p
42 fps
37 fps
Dirt 5 / DX12 Ultra High
1080p
86 fps
95 fps
1440p
67 fps
73 fps
Horizon Zero Dawn / Ultimate Quality
1080p
95 fps
100 fps
1440p
77 fps
75 fps
Credits:bug.hr
We tried the new card in combination with the Ryzen 9 5900X and 16 DDR4 3600C16 and compared it with the Asus model ROG Strix RTX 3060 OC. Unfortunately, neither card is currently available on the market, but their price should be similar because they are more expensive models on offer. In general, the price of the RTX 3060 and RX 6600 XT when it comes to models with better cooling ranges between $680 to $750– enough when we consider that these are cards that aim to play at Full HD resolution.
As we see in the attached table, the performance of the two cards is very similar in most titles. In some games, GeForce has a bigger advantage, in others Radeon, but it's all around. Until a few months ago, Nvidia's cards had the advantage of DLSS technology to accelerate performance, but now Radeon has similar technology, although it is not yet so widespread. Despite the named purpose for Full HD, both cards also cope well with a resolution of 1440p. If you are not looking for more than 60 fps, in many titles the performance of the hardware will be enough to enjoy the maximum quality settings (of course, not counting ray tracing).
Nvidia's card has an added advantage in terms of memory capacity, but only from the perspective of a very narrow circle of users who intend to use the card to process high-definition video. From the perspective of players, 12 GB of memory on a chip of this class does not make much sense in the context of increasing performance. Why? Because the GPU is too slow for resolutions in which memory capacity higher than 8 GB comes to the fore. Limitations of the narrower PCIe interface on the RX 6600 XT will come to the fore when used on older platforms that do not have a PCIe 4.0 controller. In other words, if you don't have a Ryzen 3000 series or later, or the latest 11th generation Intel processor, the RX 6600 XT will work with reduced performance due to the PCIe 3.0 interface. The drop in performance, in this case, is up to 5% in most titles, but there are also games where it will be bigger.
Radeon RX 6600 XT's main problem, just like the competitor from Nvidia's camp, is the high price. These are cards that target owners of Full HD monitors, but which at the same time cost significantly more than their predecessors. Yes, GTX 1060 and RX 480 or 580 owners can get significantly higher performance with new cards, but they will pay significantly more than the price of old cards. On the other hand, who has previously purchased a card in the Radeon RX 5700 XT price range, there is not much reason to give equal money (we are looking at the recommended price) for the new RX 6600 XT – the expected growth in performance that would justify the upgrade is simply not there.