ASRock Z590 Steel Legend Review - Tough as steel
Steel Legend is a classic mainstream series of boards within which ASRock tries to offer boards of respectable capabilities at the best possible price.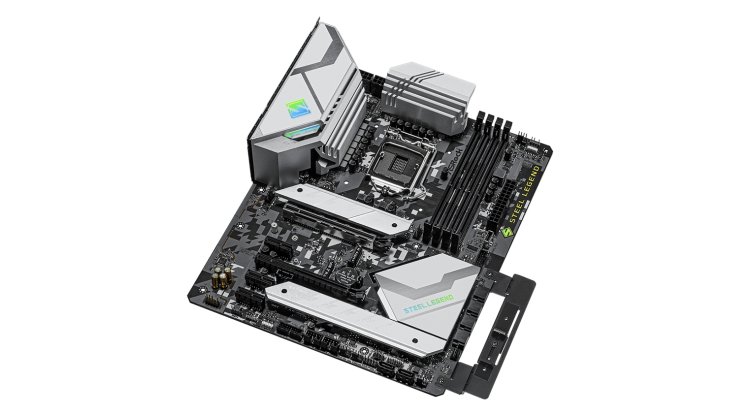 Photo Credits: ASRock/Promo
Powerful mainstream
ASRock's mainstream Z590 board brings official support for Intel's Rocket Lake processors, which includes support for PCIe 4.0 on Intel's platform. It is a good choice for all those who are looking for an affordable Z590 board with excellent features.
Intel unveiled its latest 11th-generation Core desktop processor known as Rocket Lake in late March. However, motherboards with the new Z590 chipset appeared on the market earlier in the year. The 11th generation of Intel's Core processors still uses the LGA 1200 socket, and officially the new Rocket Lake processors only support the Z490 and the latest Z590 chipset.
Ready for Rocket Lake!
All the most famous motherboard manufacturers already had more or less ready Z590 boards at the beginning of the year. As expected, ASRock offers a fairly large number of boards based on the Z590 chipset. The model we will deal with in more detail here is the Z590 Steel Legend. The Steel Legend series is a classic mainstream series of boards within which ASRock tries to offer boards of respectable capabilities at the best possible price. It is known that Z590 boards are not cheap, so we can say that the Steel Legend Z590 board is very competitive in price. In addition, thanks to the unique "camouflage" design, it is certainly one of the most visually attractive panels. This board features a very capable 14-phase voltage regulation, which is not unimportant considering the nominal power consumption of some of Intel's Rocket Lake processors.
The arrangement of the components on the board is quite common and with no major surprises. The upper part is dominated by the corresponding VRM coolers, and it is worth mentioning the two 8-pin EPS12V additional connectors. Here, ASRock relies on 14-phase Dr.MOS voltage regulation, which in principle should be more than enough for all modern processors. Let's also mention that this board is equipped with three M.2 ports, one of which supports PCIe 4.0 x4, and two have the appropriate passive coolers. Support for PCIe 4.0 is certainly one of the key innovations brought by Intel's Rocket Lake processors. There are 5 PCIe ports on the board, as well as 6 SATA III ports. A special feature is the special LED for CPU, Boot, RAM and VGA, which are used for diagnostics in case of problems with certain components.
This board comes with a pre-installed back panel that includes HDMI, USB-C and DisplayPort ports, but also a total of only 6 USB ports. This is a big drawback for us because you will fill this number quickly, especially if you use external drives.
Finally PCIe 4.0!
As for the audio codec, here ASRock relies on Realtek's ALC897, which supports 7.1-channel audio, but certainly does not belong to the most optimal solutions. Overall, in terms of equipment, this board does not excel, but it has more or less everything you need. However, some additional features were missing, such as support for flashback BIOS, which clearly shows the mainstream orientation of the board.
Speaking of the UEFI interface alone, ASRock has remained fairly consistent here with what we are used to seeing on their boards. The interface may not be particularly visually refined, but it is clear and easy to use. It is divided into Easy and Advanced usage, although all slightly more experienced users will immediately use the Advanced option.
The performance that the Z590 Steel Legend can offer us is certainly more than good, whether you use the 10th or 11th generation of Intel's Core processors. Many options are available, both for overclocking and for additional performance optimization. Especially in memory performance. With the new boards, Intel brings Gear 1 and Gear 2 options related to the clock ratio between memory and memory controller.
ASRock's Z590 Steel Legend board certainly offers a great price-performance ratio. If you will make certain compromises, this very capable board can be a great basis for a modern powerful gaming computer. Rocket Lake processors are finally bringing support for PCIe 4.0, as well as slightly better IPC, which certainly makes Intel's platform somewhat more competitive compared to AMD's latest-generation AM4 Ryzen.