Patriot Viper Elite II 4000 MHz - Elite speed
Patriot Viper Elite II 16 GB kit supports XMP 2.0, which allows you to easily set the memory to a high 4000 MHz with one click inside the BIOS...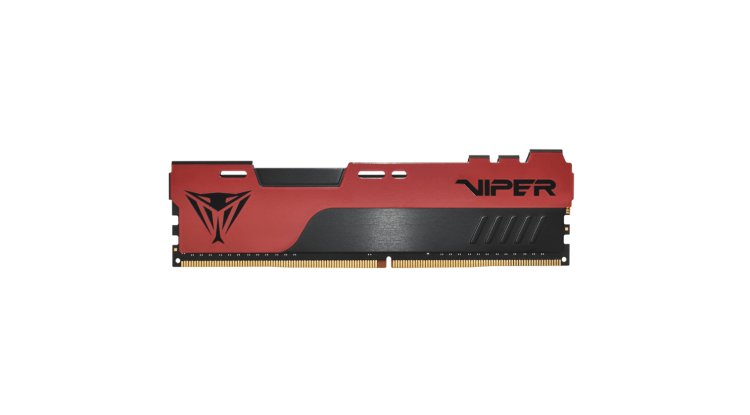 Photo Credits: Patriot/Promo
| | |
| --- | --- |
| Model | PVE2416G400C0 |
| Type | 288-pin DIMM DDR4 |
| Speed | DDR4-4000MHz |
| Size | 16GB (1 x 16GB) |
| CAS Latency | 20 |
| Timing | 20-26-26-46 |
| First Word Latency | 10ns |
| Voltage | 1.4V |
| Heat Spreader | Yes |
| ECC Support | No |
| Color | Red/Black |
The new generation of Patriot's Elite series memory modules brings a new attractive design, and the tested version with a speed of as much as 4,000 MHz enables the top performance of your gaming computer.
The Patriot series of memory modules called Viper Elite has been on the market for many years and is a safe choice from the very beginning if you wanted a reliable DDR4 memory with the right speed and stability at an affordable price. Recently, the Patriot introduced the refreshed Viper Elite II series, which is now available in capacities up to 64 GB (kit), but also at speeds that now reach a staggering 4000 MHz. Thanks to the Patriot, 16 GB Viper Elite II memory kit with a speed of 4000 MHz. At first glance, it is clear that the Viper Elite series has experienced a kind of "facelift".
The new Elite II memory modules look extremely attractive thanks to the refreshed design of the aluminum heatsinks, which now include a combination of red and dark gray, with a special Viper logo. There may be no RGB lighting here, but take our word for it that this memory will fit perfectly into any modern gaming computer in terms of appearance. Of course, in addition to looking good, these aluminum heatsinks also provide adequate cooling for memory modules.
Technical specifications
As for the techniques themselves, there aren't too many surprises here. Here, too, the Patriot uses a 10-layer printed circuit board, which ensures the best stability and longevity. The tested Elite II 16 GB kit supports XMP 2.0, which allows you to easily set the memory to a high 4000 MHz with one click inside the BIOS, whether it is Intel or AMD hardware platform. Latencies at this speed are 20-26-26-46, which is acceptable given the high operating clock.
Keep in mind that you'll need a newer hardware platform to reach 4000 MHz, specifically some of AMD newer Ryzen 3000 and 5000 series processors or Intel Core 9, 10 or 11th generation processors. Stability during testing was at the highest possible level, which is what we expect from a Patriot-signed memory. It is a premium memory for gamers and enthusiasts that offers exceptional performance with attractive design and compatibility with all newer hardware platforms.