Bowers & Wilkins PI7 headphones review
The English brand Bowers & Wilkins has earned the rightful reputation of being a renowned manufacturer; its speakers are frequently among the models that have been spoken about for many years and that shape contemporary hi-fi trends. This is an excellent result for a company that does not offer unique high-end innovations, but rather rational and universally accepted things. However, in recent years, B&W has focused on headphones, ranging from classic high-end to in-ear truly wireless devices.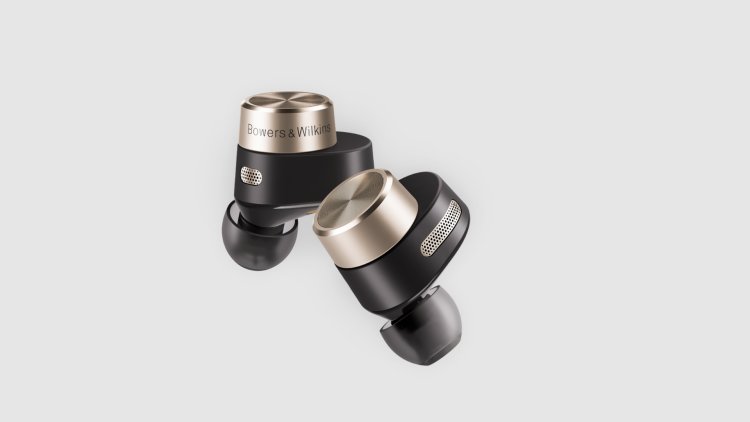 Photo Credits: BowersWilkins/Promo
The active PI7 model, totally wireless in-ear headphones with noise suppression technology and a sleek rechargeable case, is at the top of the line.
The PI7 are available in gray / gold or white/gold color palettes, they are slightly larger headphones, but they nevertheless fit well in the ear canal (due to a wide range of terminals), and they sit in the earlobe area thanks to a beautifully curved body made of quality material. For rapid control, only a gold circular tip with touch pads protrudes from the ear.
On the body of the headphones, there are gracefully recessed holes for microphones, which are utilized for both calls and capturing ambient noise, which the headphones subsequently filter using adaptive noise cancellation. Except for particularly intense gusts of traffic, everything is muted as if behind a thick wall.
The case is particularly worth noticing because it functions not only as a rechargeable one (thanks to recharging, the typical four-hour endurance lasts virtually all of your listening) but also as a retransmission station.
In other words, you connect the case to your computer through USB, and it acts as an external audio device, sending the signal to the headphones.
It's an excellent alternative for anyone who doesn't want to connect headphones to a computer via Bluetooth. The case itself can be charged wirelessly and via USB-C.
The PI7 is built around a pair of drivers, one of which is a classic "tube" Balanced Armature tweeter and the other a more traditional woofer with a diameter of 9.2 mm. The maker says nothing else, which is very normal in this market.
However, you will learn about Bluetooth 5.0 support with aptX Adaptive and aptX HD technology (as well as all the necessary codecs and profiles), as well as the frequency range of 10 - 20,000 Hz and total harmonic distortion of less than 0.3 percent (1 kHz / 10 mW).
It's also worth talking about the associated application; you don't necessarily need it, but it's worth noting. It's called Headphones, and it's quick and clear.
After connecting headphones, you simply tap, the app connects, and you can set it. To begin, you can view the condition of charge of the headphones and the case, and then you can activate noise suppression, its automatic superstructure (which adapts to the ambient level), or the degree of ambient noise passage (so that you do not run over the car).
You may also control which devices the headset connects to, as well as request a firmware update or (de)activate the wear sensor.
The application's third page is unusual in that it includes six "ambient sounds": a waterfall, rain behind the window, sunset by the sea, wind in the autumn forest, a campfire, and a lush stream in the mountains.
You can control how long a certain background sound plays, and it's quite fantastic; you can disconnect from the world around you without even being online. We can testify from personal experience that this provides a really comfortable setting for focus.
Technical parameters
Body material plastic, metal
Dynamic converters, 9.2 mm
Active noise reduction
The frequency range is 10 to 20,000 Hz
Harmonic distortion <0.3% (1kHz / 10mW)
Water resistance IPX4
Bluetooth 5.0
Bluetooth codecs SBC, AAC, aptX, aptX HD, aptX Adaptive 24-bit
USB-C charging and wireless charging
Battery life 4 h + 20 h with case
Bluetooth 5.0 compatibility , codecs SBC + AAC + aptX Classic + aptX HD + aptX Adaptive
Weight

7 g headphones, 47 g case
Post by: Bryan C.