Primare A35.8 – flexibly configurable 8-channel power amplifier
Primare has been making amplifiers with switching power amplifiers for a long time in southern Sweden and has a lot of experience with it. In addition to the existing Primare A35.2 stereo power amp (3,200 dollars), an 8-channel edition with four pairs of power amps - and a number of ingenious detailed features - is now available.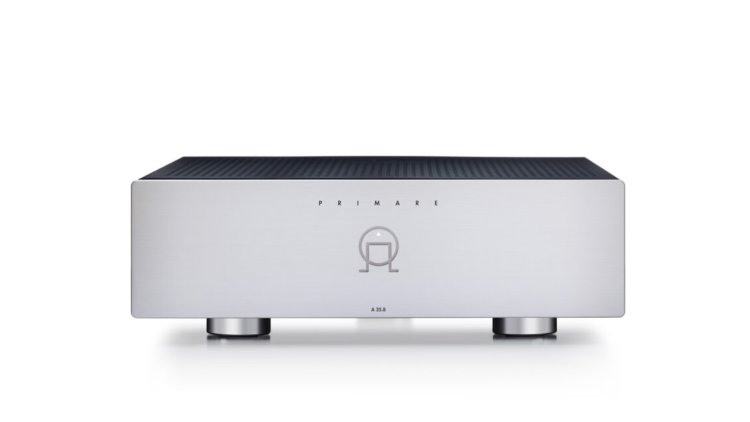 Photo Credits: Primare/Promo
The icy device plug tells the expert that the Scandinavians are serious about performance. In place of the standard chamfered 16-ampere variety, they use a rectangular version that transports up to 20 amperes. The car would otherwise require two main hookups in 110-volt countries.
You can scarcely complain about a power amplifier having more features: It can be activated by a 12V trigger with a loop-through option or by sending a music signal through a house control system via a serial interface.
Each pair of channels can have either a cinch or an XLR input. In bridge mode, each pair of channels can be controlled independently, and the sensitivity can be varied.
This paired pattern is carried over into the interior structure. Two Hypex nCore HC500 switching power amplifier modules are stacked in a double-T heat sink. As a result of the distinct thermal behavior of the two paired output stages, there is no drift in bridge operation.
The power amplifiers are operated conservatively and fairly "coldly" by the developers, with a maximum of 150 watts at 8 ohms per channel. At 4 ohms, that seamlessly doubles to 8 x 300 watts.
The amplifiers in a bridge circuit may output up to 750 watts at 4 ohms and are stable up to this low impedance. So, if you require actual power for your stereo speakers, bi-amping can deliver two times 1.5 kilowatts.
Naturally, performance is not everything. The entire design is optimized for the smallest cable lengths and, according to the manufacturer, audiophile tuned.
The switch-on button is now hidden in the lower section of the engraved emblem, in addition to the normal Primare characteristics and the safe-like workmanship, tilt-free installation with three large damper feet. The solid fronts are available in black anodized or titanium grey finishes.
| | |
| --- | --- |
| Technical concept: | 8-channel power amplifier, bridgeable |
| Performance: | 8 x 150 watts at 8 ohms / 8 x 300W at 4 ohms |
| Bridge circuit: | up to 4 x 750 watts at 4 ohms |
| Inputs: | 8 x RCA / 8 x XLR balanced |
| Outputs: | Banana compatible isolated screw terminals |
| Power-on control: | 12V trigger (in/out), music signal, RS-232 |
| Dimensions (WxHxD): | 430x145x400mm |
| Weight: | 15 kilos |
Post by - Bryan C.