BULGARI HAS REVIVED GÉRALD GENTA
Bulgari rescues the Gérald Genta signature to commemorate 50 years of the myth of contemporary watchmaking design.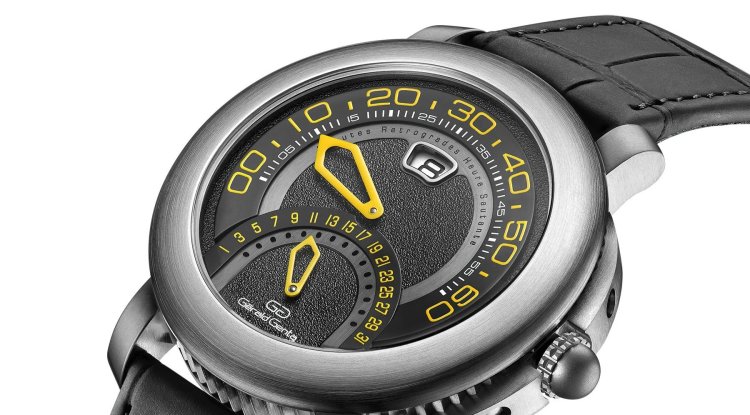 Photo Credits: bulgari.com
Bulgari rescues the Gérald Genta signature to commemorate 50 years of the myth of contemporary watchmaking design. And it does so with this sand platinum model and vibrant blue lacquered dial. A special edition of jumping hours and retrograde minutes.
But let's go back to the year 2000. That year, Bulgari acquired Gérald Genta, a brand founded in 1969 by this designer and master-watchmaker. 50 years later, its experience, its essence and most of the company's best watchmakers have been integrated into Bulgari's most avant-garde manufacturing center located in Le Sentier, Switzerland. The launch of this watch, featuring the original Gérald Genta logo on the dial, pays tribute to the key role this brand has played in the success of the luxury house's watchmaking over the past 18 years. In fact, much of the success of his calibers comes from the acquisition of Gérald Genta, such as Finissimo, his line of ultrafines that have earned him four world records to date. Or the Solotempo caliber, with a simpler automatic base.
Guido Terreni, CEO of Bulgari Watches, said: "This is a tribute to Gérald Genta and who we are today. We preserve their legacy by giving work to their watchmakers, recovering their savoir-faire. His watchmaking heritage is invaluable ". And continues. " Thanks to his know-how, we launched several of our own calibers in 2013, such as the Octo Finissimo collection, which has already accumulated several records. We have also developed a great chime and seven calibers for women, among others. The Gérald Genta brand has been key for Bulgari to be what it is today in watchmaking, "he says.
The Gérald Genta 50th anniversary commemorative watch is presented in the famous thick oval sandbox with a smooth, wide, curved bezel in polished platinum. The jumping hours are shown by a display next to 12 o'clock, and the minutes can be seen in an arc that runs along the top of the dial that the minute hand travels, which returns to zero every 60 seconds. The date is displayed in the same way: on a smaller arc next to 6 o'clock. This complex mechanism, powered by the BVL 300 Bi-retro caliber with a two-way self-winding movement and a 42-hour power reserve, it's visible through the transparent sapphire case-back. The case measures 41mm and has a blue crocodile strap with a platinum folding clasp.
Fabrizio Buonamasa, a Bulgari watch designer, has respected the famous watchmaker's DNA. Terreni confirms: "Buonamassa has given a nice touch to one of Gérald Genta's most iconic designs. The 50th-anniversary model is a pure design, respecting the iconic jumping hours of the horological genius and the bi-retro caliber. It is the best tribute we could pay him ".
This collector's watch will only be sold in 30 of Bulgari's boutiques around the world.