CES 2022 Gadgets: The Future of Technology
A lot of these won't be ready until the second half of 2022 - some may never see the light of day, but don't worry, these are most interesting representatives.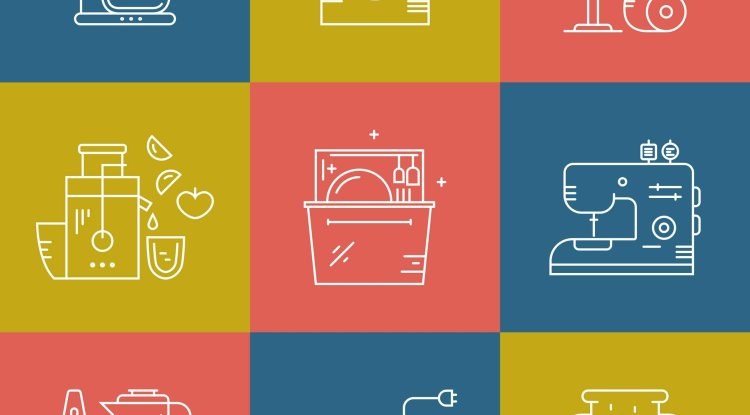 Photo Credits: DepositPhotos
Every year, CES enables brands to showcase their latest advances in technology. Some of the biggest players weren't this year, so that left room for spotlights to illuminate some truly unique devices. A lot of it won't be ready until the second half of this year - some may never see the light of day, but don't worry! We have singled out the most interesting representatives who have the potential to improve everyday life in the future.
Withing body scan scales
Any scale can tell you how heavy you are, some a little better can even give a few extra measurements at the end, but Withing's new body scan scale, which the company introduced at CES 2022, seems to do it all. The system is designed to monitor body composition and heart rate using a smart scale connected to a retractable handle, which also consists of sensors and electrodes for analysis. Thanks to the attached handle on the scales, you can scan your torso, arms and legs to get an even more accurate picture of your body status and overall condition.
This means that you can see how much fat you have in your torso, the muscle mass of your left arm and much more. Although this is already a very specific measurement, the scales go a step further: you can estimate your vascular age and estimate your nervous activity through the armrest. How can Withings measure it all? We will have to wait for it to appear on the market to see how it works.
Although this is still a prototype and not available for purchase, it seems to be one of the most complete health assessment tools. Especially with the appropriate and accompanying application in which all your health data can be collected in one place. Scheduled app updates will gather feedback on nutrition, sleep, exercise and stress management and provide access to a medical professional within the app. It is expected to appear in the second half of 2022 and is currently awaiting approval from the US FDA.
Colorsonic and Coloright
You may be wondering what hair care has to do with the Technology Fair. L'Oreal's research and innovation Tech Incubator has introduced an innovative hair coloring device called Colorsonic. The hand tool is designed to provide personalized, precise blends that can be easily dosed and applied at home. Developed in response to new consumer needs and refined over a five-year period, Colorsonic uses a custom blending mechanism to combine a precise amount of hydrogen and dye to create hair color. The device then determines the right dose of dye and applies it to the hair via an oscillating nozzle and bristles as they zigzag to distribute it evenly across the hair, in five steps.
On the other hand, Coloright is a hair coloring system connected to artificial intelligence for stylists and hairdressers in the salon that uses virtual testing to design the desired shades and an algorithm that leads to custom hair color on-demand, with more than 1500 options of custom shades. The machine has a reader that analyzes the client's hair, measures factors that affect color efficiency, including hair color, gray percentage, length and density, and a dispenser containing dry beads consisting of hair dye, followed by base cream cartridges, developers and thinners. Together, these components create a personalized recipe for hair coloring. The ultra-precise machine deploys all the components of the formula and, in total, Coloright can provide more than 1500 customized possibilities. It is expected to hit the market in early 2023.
Masonite M-Pwr smart door
Does your front door just open and close? This is what Masonite is trying to change with the M-Pwr smart door. As part of a collaboration between Masonite, Ring and Yale, this door has integrated power, lights, sensors, a video bell and a smart lock.
Specifically, it means Ring's video doorbell, Wi-Fi and Bluetooth Yale's smart lock and PIR motion sensor. The door also has its own built-in smart hub with a spare battery in case the power goes out. These smart doors have every device you need to control the main access point to your home in one place. Video doorbell, smart lock, smart motion-activated lighting, even the ability of the door sensor to alert you when left open. And it powers your home, not the hundreds of disposable batteries you have to replace every six months.
Although they are not perfect (who wants to use three applications to control their front door?), They have what is the essence of CES: a lot of potentials. This is just the tip of the iceberg. A lot can be imagined from here and that is mainly because M-Pwr is a collaboration between three companies to create a really useful solution for a smart home. This is an interesting project, and in essence, Masonite simply combined all the existing technology into one integrated door. However, this is a good sign that the world of home IoT is rapidly improving and we can imagine that smart doors will experience huge improvements in the next few years.
Cooperation and interoperability are key to creating smart homes in which we could one day live. Currently, M-Pwr is only available for new homes, so you won't be able to buy them any time soon. Even without "smart", front doors are expensive, but this type of integrated solution is something that a smart home is heading towards. Sensors, connectivity and power built into our walls and doors, it is the home of the future.
Smart faucet with motion control
Building on the existing Moen smart faucet, the brand now has multi-layered motion controls on a new handleless design. This faucet has the ability to voice control via Amazon Alexa and Google Assistant and provides the ability to dose precise measurements of water by voice only. Users will also be able to search for certain temperatures, say, two cups at 100 degrees.
What is particularly interesting is the announced integration of smart taps and other smart water products - including water pump monitor, flow monitor, valve, leak detector and smart shower controller - via Moen's smart water network. Smart devices will soon be able to communicate with each other to prevent potential damage caused by leaking or bursting pipes. It has been announced that the new faucets will be available for purchase in April 2022, with a starting price of $ 675, and will vary depending on the style and finish.