Cyberpunk 2077: A mere amount of money for new T-2077 wristwatch based on blockchain
For a mere 440 euros, buyers can purchase a simple, but bulky-looking retro wristwatch made of titanium with a digital display that includes a certificate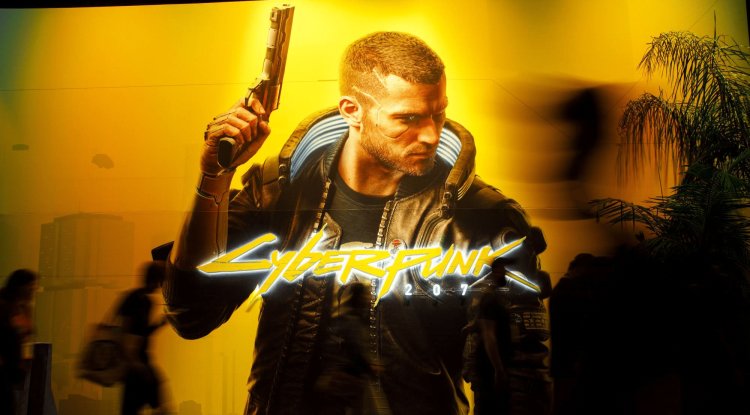 Photo Credits: Bloomberg / promo
CD Projekt Red has introduced new gaming merchandise for Cyberpunk 2077. For a mere 440 euros, buyers can purchase a simple, but bulky-looking retro wristwatch made of titanium with a digital display that includes a certificate of authenticity based on blockchain.
The sci-fi RPG Cyberpunk 2077 and gaming merchandise already has a certain history behind them. Just mention the reversible jackets with a cyberpunk look that were once given away at E3 2019 and then ended up on eBay for many hundreds of dollars. Now CD Projekt Red has a new titanium wristwatch on offer with its own merchandise label for a mere 440 euros.
T-2077 wristwatch: A retro wristwatch of the particularly simple kind
The merchandise label CD Projekt Red Gear and the Polish NFT watch brand Błonie have presented the T-2077 wristwatch. It appears as a limited edition in a correspondingly limited edition. Scoffers could argue that the equipment also seems quite limited. Because instead of numerous displays for, for example, the date, seconds, temperature, or the Ethereum rate, the T-2077 is limited to the plain display of the hours and minutes of the day via a retro digital display in neon yellow.
The digital display can at least be changed from 12-hour mode to 24-hour mode. But it is not a gadget or a smartwatch. After all, a quartz movement works inside and the clunky casing, as well as the bracelet with butterfly clasp, are supposed to be made of pure grade 2 titanium.
Perhaps the really special thing about the T-2077 wristwatch is the use of the Ethereum blockchain and the authentication of the watch as a non-fungible token (NFT). So she has a blockchain-based passport that serves as a digital certificate of authenticity. For this purpose, with the help of the partner, Piksel.art was brought on board.
But the T-2077 has a hefty price: in the official shop, it can be purchased for a mere 440 euros (excluding shipping costs) with a 2-year guarantee. Even if not everyone will like the style, maybe you can use the watch to count the hours and days until the next Cyberpunk 2077 update or the next-gen version.