Dakota Johnson painted the hot scenes from '50 Shades of Gray 'with rainbow colors
Hot sex scenes and going in front of the camera in lingerie is nothing new to Dakota Johnson, however, it was a surprise for everyone when they saw who joined her on the bed!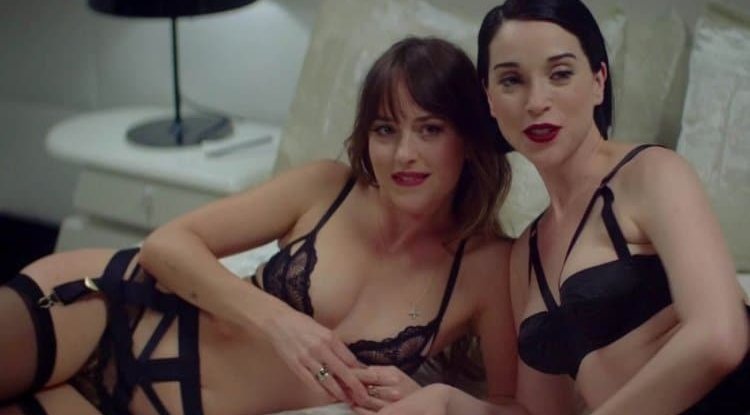 Photo Credits: Profimedia
Photos of the 31-year-old beauty in black lace lingerie, stockings, and high heels appeared on Thursday, in which her hair is flowing, and with pink lipstick on her lips, she goes into action with the singer St. Vincent.
Dressed in a lacy black bra and panties, reinforced with black halters, Dakota kneels and lies on the bed along with St. Vincent, dressed similarly, but a little less transparent.
In the scene, Dakota and musician who once dated 'Twilight Saga' star Kristen Stewart are rolling around in bed, looking for a documentary filmmaker, played by Carrie Brownstein, to film their party.
St. Vincent revealed how they ended up in bed in an interview for Variety, talking about her film project, the psychological thriller
'The Nowhere Inn'
.
'I think I asked her if she wanted to play my girlfriend,' said St.Vincent, to which Carrie added, "She didn't say something like 'will you wear underwear and come hang out.'"
The plot of the film focuses on pop star St. Vincent, real name Annie Clark, who tries to make a documentary about her music and experience of fame before everything goes wrong.
"It was supposed to be a music documentary, concert recordings, interviews ... I wanted people to know who I really was," says St. Vincent into the camera, in a trailer she posted on Instagram on Thursday.
'One of the reasons I wanted to make a documentary at all was that I would finally have control of the story,' the singer said, adding: 'A small part of me has started speculating about myself. All I can say is that it was somewhere along the way that things have gone wrong '.
Musician Toko Yasuda will also appear in the film.
'From real-life friends, Annie Clark (also known as Grammy-winning singer St. Vincent) and Carrie Brownstein (Portlandia) comes a metafictional depiction of two creative forces teaming up to make a documentary about the music of St. Vincent, traveling through life and her public persona. But they soon discover unpredictable forces lurking within the subject and filmmakers threatening to jeopardize the friendship, project and creative life of the two, 'reads the official synopsis of the film, directed by Bill Benz, which should be released in the US on September 17 this year.
By: Amber V. - Gossip Whispers