'Dune' is a masterpiece according to the critics, but what do they say to those who don't like it?
Denis Villeneuve has fascinated everyone with his adaptation of Frank Herbert, but there are a few who resist.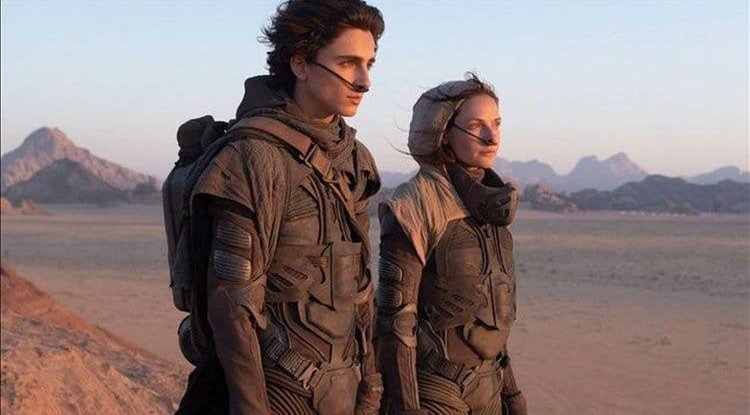 Photo Credits: Promo
Dune got marked by great critics as one of the films of the year and almost a masterpiece. The general opinion is that it has been liked. And a lot. But there is always someone out there who steps away from what the majority says and has their own vision.
Most bad ratings have to do with the ending. In case you haven't heard, Dune was always designed as a two-movie project. What is currently in theaters is its first part and, although it has not yet been confirmed, it should continue with a second feature film. Many did not like that it is an unfinished story.
This is what Mark Hanson writes in Slant Magazine: " Dune ends up looking like an extended prologue from which one can only hope for a sequel that clarifies its parables and paradoxes. " An opinion added by Princess Weekes of The Mary Sue: "Ultimately, the big problem is that the narrative is incomplete. It's all composing and creating a world with some cool fight scenes, but it all leads to something that We don't see in this movie, and maybe we won't see if the sequel isn't made. "
"Eventually, Dune only resembles a dream in the sense that it cuts itself off on such a flat, unresolved note that you can't believe someone purposely picked it, "says David Ehrlich in his review for indieWire.
For others, what they have not liked about Dune is its relationship with the Frank Herbert novel. There are those who believe that it has many details of the book that serve as references for the fans, but not for the rest of the public. "Part hero's journey and part survival story, the film continues to shed arcane details that may thrill Herbert fans but will distract everyone else, " writes David Rooney in The Hollywood Reporter.
There are also those who assure that the director's adaptation does not have any personal touch. "Possibly Denis Villeneuve has overcome a series of bad omens, in cinematic terms, by making the most impersonal adaptation possible, " says David Katz on The Film Stage. Variety's Owen Gleiberman agrees with his partner that the film doesn't connect with the viewer: "It's not just that the movie loses its pulse. It loses any sense of where we're excitingly involved."
If you want to see for yourself if you are a defender of Dune or the opposite, you can see the feature film in cinemas. Timothée Chalamet, Jason Momoa, Zendaya, Rebecca Ferguson, Oscar Isaac, or Josh Brolin are some of the names that are part of the cast.
By: Olivia J. - Zexron