EPOS Gaming GSP 602 Gaming Headset
In the world of gaming peripherals, audio quality plays a pivotal role in creating an immersive and competitive gaming experience. The EPOS Gaming GSP 602 Gaming Headset is a formidable addition to the gaming landscape, offering exceptional sound, comfort, and versatility. In this article, we will explore the features, design, and performance of the EPOS Gaming GSP 602 and how it can enhance your gaming sessions.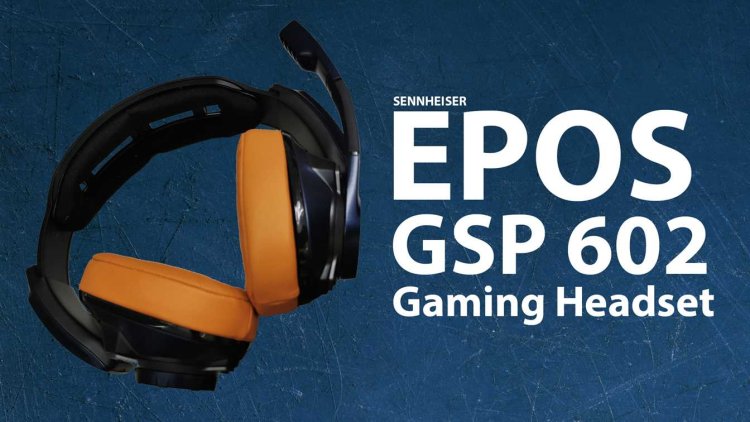 Photo Credits: play4.uk
Superior Audio Quality
One of the standout features of the EPOS Gaming GSP 602 is its superior audio quality. Equipped with EPOS' renowned audio technology, this headset delivers crisp, clear, and detailed sound that allows you to hear every footstep, gunshot, and in-game dialogue with precision. Whether you're engaged in fast-paced shooter games or exploring immersive open worlds, the GSP 602 ensures that you don't miss a beat.
EPOS' Proprietary Driver Technology
At the heart of the GSP 602's audio prowess lies EPOS' proprietary driver technology. These high-quality drivers are tuned to provide a balanced audio experience with rich bass, clear midrange, and sparkling treble. This means that you'll enjoy a well-rounded and immersive soundscape, whether you're gaming, listening to music, or watching movies.
Closed-Back Acoustic Design
The GSP 602 features a closed-back acoustic design, which helps in isolating you from external noise and keeps your gaming audio immersive. This design choice enhances the gaming experience by providing an uninterrupted audio environment, allowing you to concentrate fully on the game at hand.
Broadcast-Quality Microphone
Effective communication is crucial in multiplayer games, and the GSP 602 doesn't disappoint in this regard. It comes with a broadcast-quality, noise-canceling microphone that ensures your voice comes through crystal clear. Whether you're coordinating strategies with your team or engaging in banter with opponents, the GSP 602's microphone ensures that your voice is heard with clarity.
Comfortable and Adjustable Design
Extended gaming sessions demand comfort, and the GSP 602 is designed with this in mind. It features an adjustable headband and plush memory foam ear cushions that provide a comfortable fit, even during marathon gaming sessions. The ear cushions are designed to reduce pressure on your ears while maintaining an effective seal for noise isolation.
Durability and Build Quality
EPOS is known for its commitment to quality and durability, and the GSP 602 is no exception. The headset is built to withstand the rigors of gaming, with robust materials and a sturdy construction. The foldable design makes it easy to store and transport without worrying about damage.
Multi-Platform Compatibility
The GSP 602 is a versatile gaming headset that works seamlessly across multiple platforms. Whether you're gaming on a PC, console, or even a mobile device, this headset is designed to adapt to your gaming setup. This flexibility ensures that you can use the GSP 602 for all your gaming needs without the hassle of switching headsets.
On-Ear Volume Control
Convenience is key during gaming sessions, and the GSP 602 incorporates an on-ear volume control for quick and easy adjustments. You can fine-tune the audio volume without having to reach for external controls, allowing you to stay focused on the game.
Stylish Design
The GSP 602 boasts a stylish and modern design with a sleek black finish and subtle red accents. Its minimalist aesthetic fits well with any gaming setup, adding a touch of sophistication to your gaming rig.
Customizable Earcup Plates
EPOS offers a unique customization feature for the GSP 602. You can replace the standard earcup plates with plates of your choice to personalize your headset's appearance. Whether you want to match your headset to your gaming personality or simply add a personal touch, this feature lets you do it with ease.
Also Check ADATA Legend 710 PCIe Gen3x4 M.2 1TB SSD
Conclusion
The EPOS Gaming GSP 602 Gaming Headset is more than just a headset; it's a powerful tool that can elevate your gaming experience to new heights. With its superior audio quality, proprietary driver technology, closed-back acoustic design, broadcast-quality microphone, comfort and adjustability, durability, multi-platform compatibility, on-ear volume control, stylish design, and customizable earcup plates, it offers a comprehensive package for gamers and audio enthusiasts.
Whether you're a competitive gamer seeking a competitive edge or someone who values immersive audio experiences, the GSP 602 has something to offer. It's not just a gaming headset; it's an audio companion that brings games to life, allowing you to hear every detail and communicate with clarity.
In a world where audio quality can make or break your gaming performance, the GSP 602 stands as a testament to EPOS' commitment to delivering top-tier gaming peripherals. It's a headset that not only meets but exceeds the expectations of gamers, providing an audio journey that enhances every gaming session. So, gear up, immerse yourself in the virtual world, and communicate with precision using the EPOS Gaming GSP 602 Gaming Headset.