Quick review: JBL Clip 4 - Everything You Need
This small speaker plays much better than you would expect for its size, but don't expect it to replace more advanced and more expensive sound systems.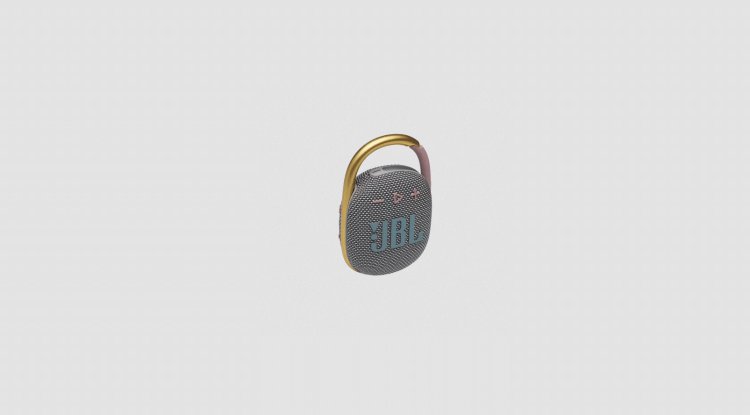 Photo Credits: JBL/Promo
The first three generations of this portable speaker had a circular design. But for the fourth-generation Clip, JBL had other plans. The case has been given an oval shape, it has become more robust, and the dimensions themselves have increased - they are now 8.6 x 4.6 x 13.4 cm. Also, it is slightly heavier than its predecessor. JBL Clip 4 weighs 240, while the predecessor weighs 220g. This change in shape and a slight increase in weight make the speaker "more serious". Device seems more durable, and the speaker diaphragm and electronics are so well placed in the case that the speaker acts "indestructible".
Of course, Clip 4 also sounds better. It is louder, reproduces a clearer sound, and feels a little stronger bass line. This is not surprising, since the new model is 1.7W more powerful - its output power is 5W. Like its predecessor, the JBL Clip 4 speaker reproduces higher volume and better sound than you would expect. But he also has his limitations. The bass is appropriate, and the speaker will sound quite "decent" with less demanding songs. It also works very well to provide richer sound for movie playback than your phone or tablet speakers are capable of. It is interesting to note that such small speakers play acoustic melodies very well, as they play well in the middle range.
The overall impression of this new speaker is very positive
In general, compared to Clip 3, we can't talk about a significant shift in performance here, because the previous model was also very good. But the overall impression of this new speaker is very positive - it can be said that this is a quality upgrade of the Clip 3.
There are five control buttons on the speaker body - three on the front and two on the left. A trio of buttons on the front controls playback and volume, but there's no way to rewind the song. Rear, multiple side buttons are used to pair and turn the speakers on / off. While not everyone may like JBL's aesthetics, the look and definition of the buttons are great. It is very easy to find and distinguish controls without looking at the speaker. Add to that the large JBL logo on the front under the three buttons.
The JBL Clip 4 Bluetooth speaker is available in several colors
It is designed to play in a vertical or horizontal position, and no matter how you set it, the sound quality will be the same. JBL has paid a lot of attention to the safety of this device. So its back has a set of rubber ribs so if you place the speaker on a smooth surface, it will not move. Since at higher volumes the bass, but also the whole speaker vibrates a lot, you will quickly be convinced of the purposefulness of the rubberized back.
In terms of connection, Clip 4 uses an upgraded Bluetooth version 5.1. Just connecting speakers and devices is more than easy. Turn on the speaker and turn on Bluetooth. Find JBL Clip 4 on your smartphone or computer, connect and that's it - you're ready to listen. Its range is 10 meters, although JBL suggests that the range grows up to 15 meters if you are outdoors. It may be called a drawback, but it's a shame that JBL Clip 4 doesn't support JBL PartyBoost or JBL Connect +. This means there is no way to pair with other speakers, which ultimately gives a better sound. JBL, according to current information, has no plans to upgrade Clip 4 with this option in the future.
The battery on this device should last for 10 hours
The battery is charged using a smartphone charger, connected with a USB-C cable and charger for about three hours. Unfortunately, Clip 4 does not support fast charging. These 10 hours of battery life can vary, depending primarily on the volume level. Note that the estimated battery life is based on continuous sound reproduction at 50% volume. So the louder the Clip 4, the more power it will consume.
Interestingly, unlike its predecessor, the Clip 4 is not completely waterproof. Its IP67 water resistance rating gives it resistance to strong water splashes, but not immersion in a pool, stream or sea. However, it is completely dust resistant. Compared to the Clip 3, the new model no longer has a headphone output. But it is also understandable - this speaker is your companion through nature and adventure, not an audiophile center.
JBL Clip speakers have always been reliable to recommend to someone
Because they have always provided very high-quality sound for their small size, and their "clip" design makes it easier to attach to a backpack or bike and carry with you. All of the above also applies to the JBL Clip 4, which has a nicely upgraded design and slightly better sound than its predecessor. In short, this small speaker plays much better than you would expect for its size, but don't expect it to replace more advanced and more expensive sound systems.
JBL Clip 4 - features:
Frequency range: 100Hz-20kHz
Signal-to-noise ratio:> 85dB
Bluetooth: yes, 5.1 (A2DP 1.3, AVRCP 1.6)
Battery: lithium-polymer 3,885Wh
Battery charging: 3 hours (5V / 500mA)
Battery life: up to 10 hours
Water resistance: yes, IP67 (water spray, dust)
Dimensions: 86.30 x 134.50 x 46 millimeters
Check video bellow:
https://www.youtube.com/watch?v=VUFgwfbaX_k&ab_channel=JBL