Review: Tronsmart Studio Wireless Speaker
You can pair it on your smartphone via Bluetooth and control it, and you will also like that it supports voice assistants.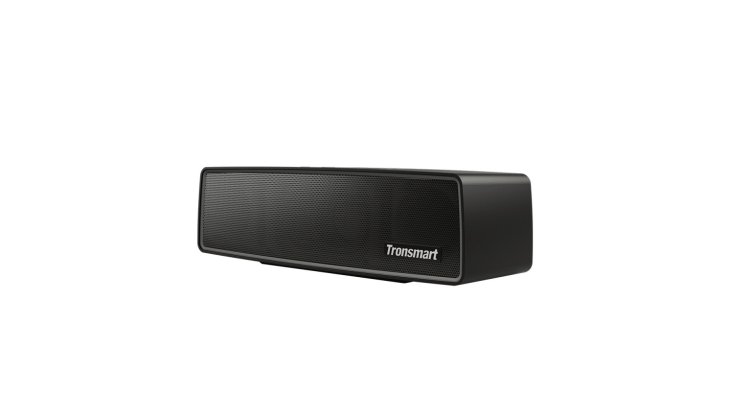 Photo Credits: Tronsmart/Promo
Unboxing
I love when the boxes are neatly and compactly stacked. The speaker itself is located in the middle, on one side there is mandatory paperwork such as a warranty card, user manuals and a card that explains how Sound Pulse technology works.On the other hand, there are two cables - standard 3.5mm audio on both sides and a USB Type-C cable to charge the battery in the speaker. In the box, you can find all the most important information about the speaker itself.
What is TWS?
I have already explained on several occasions what TWS is, but as repetition is the mother of knowledge, we will briefly repeat it. TWS (True Wireless Stereo) is a technology that allows two devices to be connected wirelessly via Bluetooth - first, they will connect to each other, and then to your smartphone, tablet, laptop or any other Bluetooth device. In other words, if you have two speakers like this the total power will double and everything will sound twice as good.
Design
Unlike other Tronsmart speakers, the body of this model is made of light and solid aluminum so it looks firmer and more robust and is black. Three speakers are installed and they are all turned to one side, while the other side are passive radiators. The speaker control commands are located on the top, it is a rubberized and waterproof surface (IPX4), and between the buttons, there are LED lights that show the battery status and in which "mode" you are. I can't help but get the impression that LEDs can be seen better, they are almost invisible on a sunny day, they are very discreet at night.
At the bottom, there are four rubberized "feet" so that the speaker will not slide on a flat and smooth surface. Also, the front and back are protected by a metal mesh so that no speaker damage can occur. There are three slots on the back - 3.5mm audio (AUX) through which you can connect it to another audio source, USB Type-C for charging the battery and microSD for memory cards that you can also control via the buttons on the top of the speaker.Weight can also tell you the quality of the sound. Namely, Tronsmart Studio measures only 206.5 x 70 x 58 millimeters, but it weighs as much as 961g, which suggests that the speakers could be really high quality
Sound quality
Although the manufacturer explains that they managed to accommodate more power in a smaller case, this is partly true. Namely, things can be reduced and compacted on the case, but the speaker itself is something else, it has its own dimensions that define power.
Of course, technology has advanced in this area as well, so that the layout of the speakers is cleverly made, and in order to get a richer, stronger and deeper sound. The total power of the speakers (2 tweeters + 1 bass + 4 passive radiators) is 30W RMS (constant power).Although it may seem small and weak, when it plays it is a completely different story. It is set to normal mode by default, but the real richness of the sound comes only when you turn on the Sound Pulse technology, then my smile will spread from ear to ear. Of course, you can also use it outdoors, we have tried it and it is quite enough for pleasant listening and enjoying the music.
Of course, you can pair it on your smartphone via Bluetooth and control it, and you will also like that it supports voice assistants (Siri, Cortana, Google). Also, if you receive a phone call to your smartphone, you can also download it via this speaker.Tronsmart Studio also supports the new Bluetooth 5.0 standard, which enables faster wireless connectivity without loss of quality and latency, and with lower battery consumption. I already mentioned that this model also has a microSD card slot so it can work completely independently and without an external sound source.
Battery
And this speaker boasts a durable battery. A dual 2x 2000mAh battery (3.7V) has been installed, so it will last up to 15 hours of operation (with 50% gain), it will last up to 24 months on standby. The battery is charged via the USB Type-C port, and up to 100% will be charged in just over 3 hours. Of course, you can charge it via any charger, even via a power bank battery (DC 5V / 2A).If you are wondering how to see how much battery capacity is still left in the speaker you can see this on your smartphone in the Bluetooth settings, you will be told that number in percentages. The same is true while charging the speaker, you can see the charge status in the same place.
Check video bellow:
https://www.youtube.com/watch?v=h4PtxuJnuVg&ab_channel=Tronsmart