Xiaomi JIMMY H8 Review - simple and lightweight
The JIMMY H8 vacuum cleaner has a special intelligent system that controls its functions, you can also follow them on the LED screen itself.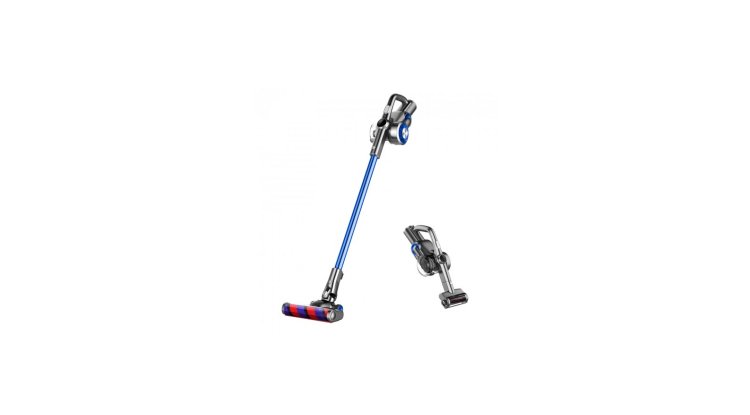 Photo Credits: Xiaomi/Promo
Unboxing
In the neat folded oblong white box, in addition to the vacuum cleaner itself, we also got a few extensions and additional little things, each of which is very important, so we will list them all in detail. In the box you will get the following:
metal pipe (blue, light aluminum)
additional attachment for cleaning corners
additional attachment for cleaning various impurities
detachable battery (7x 2500mAh)
floor battery charging socket
wall-mounted battery charging socket
How does it work
As with some previous Xiaomi models we writted, this is a so-called "self-propelled" vertical vacuum cleaner with an electric motor and a dirt container at the very top of the metal pipe so that it is easier to use. And it is very light - it weighs only 1.49 kg, so children can use it without any problems.
The design itself is very beautiful and attractive, but it is much more important to mention that it is ergonomic, which means that your hand will be minimally tired when cleaning, both because of light weight and the way it is held in the hand. Also, while the vacuum cleaner is running it is very quiet, vibrations are minimal, which also contributes to a more pleasant cleaning.
Also, the JIMMY H8 vacuum cleaner has a special intelligent system that controls its functions, you can also follow them on the LED screen itself, which works very technologically and modernly. In addition to the operating mode, you can also see the filter maintenance system (the vacuum cleaner will warn you if necessary) as well as any errors that may occur, which you can study in the instructions for use. What I find very handy is that the JIMMY H8 can intelligently recognize the surface you are cleaning (carpet or hard floor) so it will automatically adjust the operation of the vacuum cleaner to be more efficient and energy efficient.
Here is a suggestion of which surface to clean in which operating mode:
Eco mode - for hard floors
Max mode - for heavily soiled surfaces
Auto - will automatically adjust the cleaning to individual surfaces
You will especially like this vacuum cleaner if you have pets, such as dogs or cats, because it is very effective in cleaning both animal hair and human hair. If you thought the hair would catch on the circular cleaning attachment - it won't. And to make things even better, you can throw the dirt in the 0.5L tank into the rubbish bin with a simple stroke of your hand, it's incredibly practical!
What is a great advantage of this vacuum cleaner is its versatility. You don't have to use a hose to clean the furniture, just connect the lower piece of furniture and with a very "short" vacuum cleaner cleaning will be much easier. Also, there are a few extra extensions available so you can combine them as you see fit. You can easily use it to clean stairs, ventilation outlets, spider webs on the ceiling and corners, as well as cars.
What is a big problem on many vacuum cleaners is maintenance. With the JIMMY H8 you will not have these problems because all parts and filters can be washed in ordinary water, they are made of quality materials and are very durable. You can also easily remove and wash the attachments or rotating brushes, everything is very simple.
Some of the techniques include a 500 watt motor that spins at as much as 110,000 rpm and has a retraction power of 160AW or a pressure of 25,000Pa. The vacuum cleaner uses a specially designed system of horizontal dirt removal without unnecessary bends so that only cleaning is more efficient. The "double cyclone" technology, which separates air from dust and reduces losses that can occur during suction, also contributes to this.
Battery
A built-in 7x 2500 mAh battery is quite durable. There are three modes or battery life - Eco mode (up to 60 minutes), Turbo mode (up to 25 minutes) and Max mode (up to 15 minutes). Of course, you can adjust the modes to the surface you are cleaning or the amount of dirt. You can keep track of how many batteries are left on a special screen on the vacuum cleaner itself, which shows the remaining percentage of the battery.
What is very interesting is how the battery can be detached so you can charge it yourself on a special charger or via a wall mount, as you prefer. Of course, both filling extensions are in the box.