Adata SE770G review - fast external SSD with RGB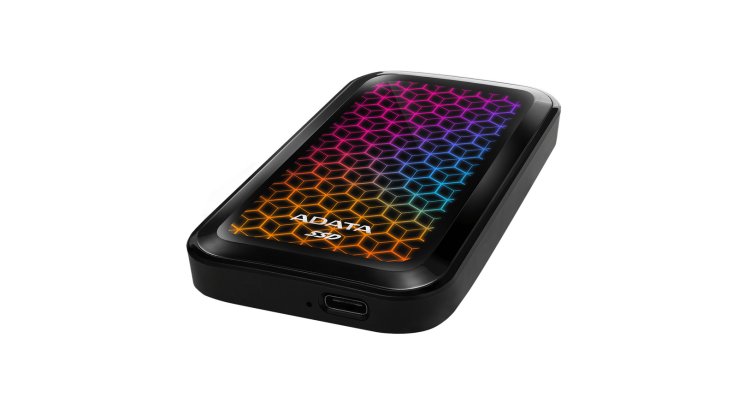 Photo Credits: Adata/Promo
It looks too good!
What pleasantly surprised us was the metal case on all sides except the top where the RGB lights are. It's only slightly heavier than I expected, but that's why it's a lot firmer and more robust, and the metal is also better for cooling. It is otherwise black, the bottom is gray, the frame is black as well as the top surface with the Adata SSD logo until you turn it on because then everything is in color. At the bottom is a USB Type-C port with LED notification.
Because of its versatility, it is intended for everyone, no matter what you do or what you will store on it. Whether you are a fan of video games, whether you want to store your own music, photos and videos or use it for business purposes. However great it will serve you.
When we talk about the small dimensions, they are really small, only 99.5 x 57.5 x 18 millimeters and despite the metal case it weighs only 136 grams, less than the lightest smartphones.
Techniques
It is an SSD that supports the USB 3.2 Gen 2 Type-C standard and as such supports very fast data transfer. Or more precisely - it can read at a speed of up to 1000MB / s or write data up to 800MB / s. As far as I know it comes in two versions with capacities of 512GB and 1TB. It's fast enough for everything you need. For example, video in 4K resolution of about 10GB will switch in about 20 seconds.
As I mentioned earlier, it supports virtually all devices so you can connect it to a computer (Windows 8 / 8.1 / 10, Mac OS X 10.6 or later, Linux Kernel 2.6 or later), then next-generation game consoles like the PS5 and Xbox Series X / S, and you can also connect it to smartphones and tablets with Android 5.0 or later, of course, if your device supports USB OTG (On-The-Go) data transfer.
It's worth having!
Definitely. True, it costs me a bit more because of the RGB lighting, but whoever I showed it to told me he would love to have it. This is no ordinary disk, this is also a practical glowing decoration on your desk that will positively affect your mood.
Check video bellow:
https://www.youtube.com/watch?v=VP811gahThM&ab_channel=ADATA
Specification:
Capacity:
512GB / 1TB
Dimensions (L x W x H):
99.5 x 57.5 x18 mm / 3.92 x 2.26 x 0.7 inches
Weight:
136g
Interface:
USB 3.2 Gen 2 Type-C
Sequential Read (Max*):
Up to 1000 MB/s
Sequential Write (Max*):
Up to 800 MB/s
Operating system requirements:
Windows 8 / 8.1 / 10
Mac OS X 10.6 or later (reformatting required for use)
Linux Kernel 2.6 or later
Android 5.0 or later
Op. Temperature:
0°C (32°F) to 35°C (95°F)
Op. Voltage:
DC 5V, 900mA
Accessories:
USB 3.2 Type-C to C cable, USB 3.2 Type-C to A cable, Quick Start Guide