Xiaomi Viomi SE review: doing jobs you don't like
Xiaomi Viomi SE robotic vacuum cleaner has 12 different sensors that can detect different complex environments, quickly and easily get avoid obstacles.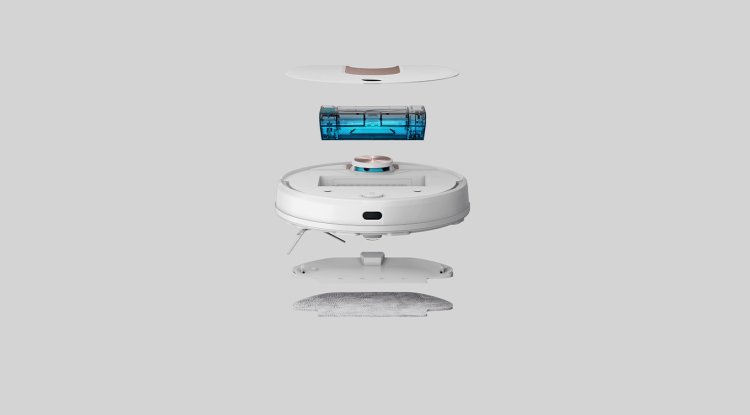 Photo Credits: Viomi/Promo
Design
The first thing we noticed when we got this robotic vacuum cleaner is that nowhere in the box or on the device is the name Xiaomi mentioned. The reason for this is that Viomi is one of Xiaomi's separate brands, such as Redmi or Poco smartphones and Amazfit smartwatches. The box contains Xiaomi Viomi SE robotic vacuum cleaner, wet wash attachment, two wet wash cloths, two side brushes, lower rotating brush, cleaning brush, user manual.
Viomi SE is available for purchase in white with gold elements on top of the housing in the laser navigation system, and to us, this combination of white and gold seems quite elegant and likable. If we talk about the quality of workmanship, then we can say that, as with other products from Xiaomi's ecosystem, everything is made at a fairly high level, and we have no objections to this. The housing of the Xiaomi Viomi SE robotic vacuum cleaner is made of high-quality glossy plastic and will easily fit into any space with its design. Although the Viomi SE looks good, take care of where you place it in your space, because the manufacturer recommends that there should be 50 cm of free space on the left and right side of the charging station, while 1.5 m of free space is recommended on the front.
The dimensions of this robotic vacuum cleaner are standard as with most competing products, and they are 350 x 350 x 94.5 mm, while its weight is about 4.4 kg, which is slightly more than average because most other robotic vacuum cleaners on the market come with weighing between 3.5 and 3.6 kg.
As for the controls, there are two illuminated buttons on the top - one to start and one to return the vacuum cleaner to the charging station. Under the lid, there is a 2-in-1 tank for dry and wet cleaning and an additional brush for cleaning the filter. The dry dust tank has a volume of 300 ml, while the volume of the water tank is 200 ml. This tank contains a HEPA filter that filters 99.99% of allergens and dust larger than 0.3 microns.
The bottom of the Viomi SE robotic vacuum cleaner has two main drive wheels that use quality Japanese KOSEN-NBR tries to ensure a powerful grip and overcome obstacles up to 2 cm in height so that vacuuming various carpets is no problem. In the central place on the underside of the device is the main rotary brush, while an additional side brush is on the edge of the underside of this vacuum cleaner.
How it works and what it can do
Artificial intelligence is finding increasing application in everyday life, and robotic vacuum cleaners are an excellent example of this. LDS laser mapping navigation can quickly create more accurate room maps and easily deal with complex environments and obstacles in space, and according to the company, is up to 30% more efficient than conventional types of navigation. Navigation can automatically identify the room and guide the vacuum cleaner correctly without having to repeatedly enter and exit the same room.
We used the Viomi SE robotic vacuum cleaner to clean space of about 50 m2, which includes a living room, a hallway and two bedrooms. When first used with standard mode, it took him about an hour to vacuum all the rooms. It took less time with each subsequent use, because the first time Viomi SE maps the space, which can be clearly monitored in the corresponding application in real-time.
Xiaomi Viomi SE robotic vacuum cleaner has 12 different sensors that can detect different complex environments, quickly and easily get to know the terrain and easily avoid obstacles.
All sensors in Viomi SE:
anti-collision panel sensor
water tank induction sensor
Viomi SE has a suction power of 2200 Pa and a rotation speed of the main brush of 15000 rpm. Compared to competing models of robotic vacuum cleaners from 2020, the suction power of 2200 Pa is approximately the average value. The autonomy of the Viomi SE robotic vacuum cleaner is ensured by Samsung's 3,200 mAh lithium-ion battery, which, according to official data, is enough for maximum cleaning of about 200 square meters of space or up to two hours of continuous cleaning. It should be considered that the autonomy can differ significantly depending on the intensity, mode of operation, dimensions of the space and the obstacles that this robotic vacuum cleaner will overcome. For example, in our case, with a space of 50 m2 with maximum suction power and parallel floor washing, Viomi SE provided about an hour of autonomy, after which it cheated on the charging station.
The time of full charging was about 3 hours, which is not bad for a cheap robotic vacuum cleaner. If there is a sudden loss of power during the cleaning process, the robot will automatically charge and continue to complete the non-suction area after charging without repeating the cleaning of already passed areas.
The Viomi SE robotic vacuum cleaner supports four suction modes - Quiet, Standard, Medium and Strong, which could be translated as quiet, standard, medium and strong, maximum mode. Each of these suction methods is suitable for a particular job. For example, for normal cleanings on a hard surface, such as parquet or laminate, the standard mode is quite sufficient, but when cleaning carpets, the maximum mode is optimal. An important aspect of robotic vacuum cleaners is the noise they create, and we were more than satisfied with the Viomi SE mode because the amount of noise it generates is less than 72 dB.
With the Viomi SE robotic vacuum cleaner, the user has access to several modes and intensities and their combinations. Thus, Viomi SE can only be used for vacuuming, vacuuming, and washing, or only for washing floors.
When washing floors, the user has a choice between S or Y type of washing. The Y-type floor wiper integrates smart algorithms that can simulate manual and two-way cleaning with greater cleaning coverage, while the S-type wash uses less movement, but also consumes fewer batteries.
Viomi SE uses a precision electronic water pump. This prevents poorer washing and unnecessary water leakage from the robotic vacuum cleaner, as the electronically controlled water tank automatically stops the discharge of water.
Application and connectivity
The Viomi SE robotic vacuum cleaner connects to the Mi Home application. It is a kind of universal application for connecting various types of Xiaomi devices with smartphones.
Connecting the vacuum cleaner to the application is very simple and intuitive. The app brings many smart and well-thought-out features that allow for more efficient and faster cleaning. With the Mi Home application, it is possible to remotely control the robotic vacuum cleaner and compile a cleaning schedule according to your wishes and needs. For example, cleaning the living room in the morning, cleaning the kitchen in the afternoon or cleaning the entire house. Up to 5 different folders can be stored, which can meet the needs of large houses and complex apartments, and it is possible to merge, divide and name partitions on a map.
In addition, it is possible to place on the map certain areas of prohibition or a virtual wall with which it is possible to restrict the movement of the robotic vacuum cleaner where we do not want it. We have noticed that when scheduled cleaning, when we schedule cleaning for several days in advance, the Viomi SE robotic vacuum cleaner does not respect pre-defined areas of prohibition or virtual walls but crosses all available areas of the room. For this reason, if you use pre-scheduled cleaning, we recommend you close the doors to rooms where you do not want the Viomi SE robotic vacuum cleaner to enter.
Xiaomi Viomi SE - key features:
Possibility of climbing: 20 mm
Charging speed: 180 - 240min
Dimensions: 350 mm x 350 mm x 94.5 mm