Micron discontinues Ballistix gaming memory
DDR5 RAM already exists, but since it is only supported by Intel's Alder Lake, DDR4 is still relevant for the market. Most enthusiasts decide between two.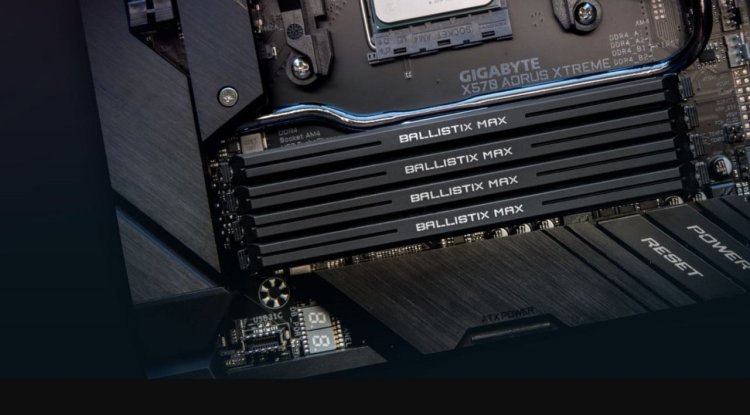 Photo Credits: Crucial / Promo
DDR5 RAM already exists, but since it is only supported by Intel's Alder Lake, DDR4 is still relevant for the market. Here, most enthusiasts decide between two memory variants. Samsung's well overclockable B-Dies are used e.g. B. installed on G.Skill modules, while the Micron E-Dies, which are also recommended, are used on Crucial Ballistix modules. Now Crucial has announced the end of this series.
As a brand, Crucial is mainly known for its SSDs and memory. The brand belongs to the memory giant Micron, which also supplies many other manufacturers as an OEM. The Ballistix series with Micron E-Dies is probably one of Crucial's best-known products and has a reputation for being inexpensive memory with good overclocking potential.
It is therefore all the more surprising that Micron is now discontinuing the Crucial Ballistix line, which consists of Ballistix, Ballistix Max, and Ballistix Max RGB models in various capacities and colors. The company has not yet provided an exact reason for this. A press release said only that "they are concentrating on developing DDR5 memory for the client and server roadmap while looking to expand Crucial's memory and storage portfolio."
The Ballistix series has existed since DDR memory and was the only line of gaming RAM Crucial offered. The plans to discontinue the player series also explain why Crucial has not yet presented any Ballistix DDR5 modules but has only included standard memory according to the JEDEC standard in its portfolio. It lacks the fancy LEDs and heat spreaders that have distinguished the Ballistix series.
However, this change should only affect the main memory, the SSDs for enthusiasts such as the P5 Plus or the entry-level model P2 should continue to be produced. The portable SSDs X6 and X8 also remain. Going forward, the company wants to focus primarily on NVME and portable SSDs that PC and console gamers can use. For mainstream gamers, however, memory modules corresponding to the JEDEC standard are still provided.
In other news, Kingston KC2500 Series drives offer customers superior performance complemented by additional security features that professional users will enjoy.
Kingston's high-end offering comprises the KC2500 series NVMe PCie 3.0 M.2 SSD, which is upgraded from the original KC2000 series. Users are offered the superior performance that the PCIe 3.0 standard can provide, and on top of that, the drive comes with advanced support for disk encryption so data doesn't end up in the wrong hands. The series of disks ranges from 250 GB up to 2 TB for those who need the maximum amount of high-performance storage.