Ferrari releases a new car model
FERRARI has introduced the third model of the limited series Icona, which includes Monza SP1 and SP2. The model is named the SP3 with the addition of Dayton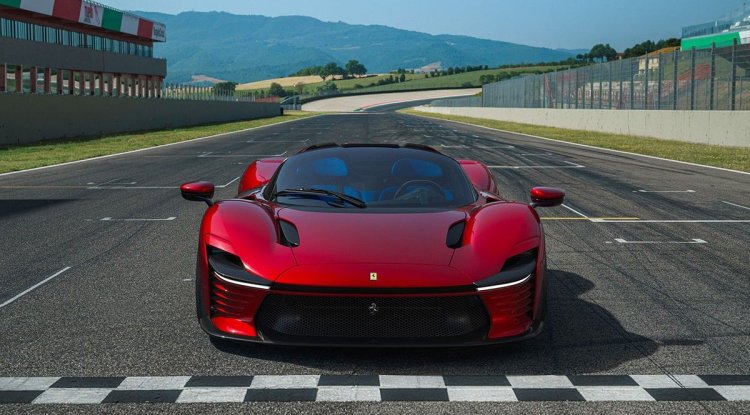 Photo Credits: ferrarl
FERRARI has introduced the third model of the limited series Icona, which includes Monza SP1 and SP2. 
The new model is named the SP3 with the addition of Daytona and was created in honor of Ferrari's historic "1-2-3" victory in the 1967 Daytona 24 Hours race.
Suffice it to say that this model is powered by the most powerful petrol engine Ferrari has ever produced. It is located centrally, and it is a 6.5 V12 atmosphere with cylinders at an angle of 65 degrees known from the 812 Competizione, but with numerous modifications. It gives 840 hp and 679 Nm and spins to celestial heights with a red field starting at 9500 rpm. The drive is rear-wheel drive, via a seven-speed F1 dual-clutch transmission. 
The Daytona SP3 reaches 100 km / h in 2.85 seconds, up to 200 km / h in 7.4 seconds, and does not slow down until 340 km / h. Just to know what this special Ferrari can do. 
And now back to the design. The Daytona SP3 brings a new design expression inspired by the P3 / 4, P330, and 412P racing models that dominated Daytona in the 60s, but still with a far more aggressive performance. The front is looking forward to the return of a kind of pop-up lights with retractable shutters and rear-view mirrors placed far ahead on the fenders. 
The exotic look is most radical at the rear with a horizontal LED strip integrated into the carbon elements, with a high-mounted exhaust and a metal V12 gem cover. Record aerodynamics will complete the impression of this fascinating car. 
The cabin has two fixed seats and a 16-inch digital cockpit with a steering wheel equipped with a Manettino wheel to control most functions.
And such a wheel will be able to spin only 599 lucky people who have captured their specimens. 100 Ferrari SP3 Daytonas were offered to Ferrari collectors, and the remaining 499 were sold out in advance, at a price of two million euros. 
https://www.youtube.com/watch?v=bA66mWhznVs