Gaming keyboard with Kalih-BOX switches
Sharkoon Skiller SGK60 is the new mechanical keyboard that will top the list of the brand in performance. The Kailh BOX switches have been chosen for it.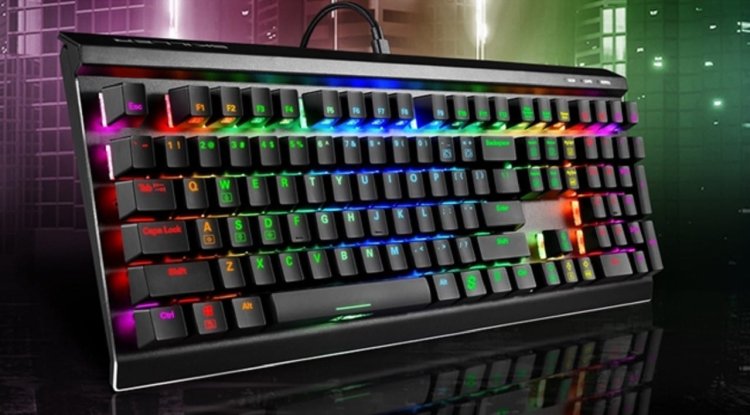 Photo Credits: Sharkoon / promo
Sharkoon Skiller SGK60 is the new mechanical gaming keyboard that will top the list of the brand in performance. The excellent Kailh BOX switches in Red, Brown, and White variants have been chosen for it, including a set of specific PBT keys for the area most used by gamers.
Its spacious design is combined with an elegant aluminum base and full A-RGB lighting both on the keys and on the front of the device. To improve versatility a bit, a removable cable with a USB-C port is used, being manageable from the software with a capacity of up to 391 macro inputs.
High-end construction at an affordable price
The Sharkoon Skiller SGK60 is the keyboard with the best build quality and, incidentally, the one with the highest performance of the brand. A full-format unit with plenty of room thanks to forgiving edges and a three-block key layout designed to offer great comfort of use with overall dimensions of 450mm wide, 165mm deep, and 38.4mm high without the legs extended.
We are facing high-level finishes at least in terms of structure, using an aluminum base with a bevel around its edge. It is true that this level can still be improved by seeing some patterns in the cut and small burrs in certain areas. The surface under the keys has a matte black finish with slight roughness similar to more expensive keyboards.
But it is not its only relevant aspect, since we have a front with a rather original raised area where the indicators for Num Lock, Caps Lock, and Scroll have been placed. Just below a large area has been enabled that integrates independent RGB lighting to the key area and gives us an even more gaming look. The USB-C port is located in the central area, using a 180 cm cable with a fairly rigid but high-quality outer mesh .
Unfortunately, no wrist rests have been included for the Sharkoon Skiller SGK60, and instead, the bottom edge has been slightly extended by about 20mm to allow a portion of the hands to be slightly supported. On the one hand, it is useful in the absence of a larger element, but consequently, the integration of an individual wrist rest will be worse. At least we noticed that the comfort is pretty good especially for gaming.
We continue with the keyboard base, which will be made of rigid plastic with a rough matte black finish. Stability and firmness are ensured by a lower non-slip rubber band that runs along the entire lower edge, together with two supports on the front. The two legs that will tilt the keyboard could not be missing, increasing its front height by 10 mm.
Kailh BOX switches and gaming features
The Sharkoon Skiller SGK60 uses Kailh BOX switches in a total of three different variants for all available language layouts. These are improved performance level switches, providing a box-type anchor for the key that provides better stability.
We have a white base for the switches, with a transparent housing and integrated A-RGB LED that will provide quite a powerful lighting. They offer a lifespan of at least 80 million clicks, a figure that has nothing to envy of more expensive keyboards. The available variants will be Brown, Red, and White.
The model we reviewed uses Brown switches, a bit more focused on typing due to their higher actuation force of 60g. This model provides a linear journey with a tactile sensation with a distance of 1.8 mm to the actuation point and no click point (no sound).
We can say that the stability of the keys is magnificent, providing very good sensations of use both in writing and in games as they are very little noise. Although it is true that they are the switches that require more force, so for very long gaming sessions the Reds will be more recommended. The truth is that there is little to object about it if we take into account its adjusted price, but the Razer, Cherry, and Logitech are at a higher level as usual.
The RGB lighting system of this keyboard is integrated into both the keys and the front panel, offering customization on-board or through the brand's software. The good news is that it has individual addressing capacity for all the keys, being able to apply a different color to each one.
Along with this mode, it supports 15 more effects that should be applied generically across the entire key panel. We just lacked being able to apply layers of effects like iCUE or Razer Chroma does, but the level is still really good and other brands like SteelSeries or Asus are comparable.
We continue with more features of the Sharkoon Skiller SGK60, because not only will the switches be important. We have a keyboard with N-Key Rollover capability and Anti-Ghosting on all its keys, along with a polling rate of 1000 Hz to provide very low latency in games. It has the capacity to store up to 391 macro entries in its 64 KB internal memory, being able to regulate each entry separately.
Final words and conclusion about the Sharkoon Skiller SGK60
The Sharkoon Skiller SGK60 represents a level up in all respects in the list of keyboards of the brand, enough to consider it within the high or medium premium range. Its design leaves us with quality sparkles with the aluminum base, RGB front, and USB-C connection with a removable cable, lacking only one wrist rest.
The Kailh BOX switches used are the best of the brand, with excellent stability on the keys, impeccable performance, and in this case with Anti-Ghosting on all the keys. Sharkoon has had the detail of including a set of PBT keys for the most used controls, which stand out and are recommended for their greater durability.
The control functions that it offers us are totally designed for gaming, many of them manageable directly on-board with a multitude of combinations. The software for Windows also adds the ability to create and store macros, create profiles, customize the functions of the keys, and the lighting system with individual addressing of keys.
The base price of this Sharkoon Skiller SGK60 will be € 105 on Amazon. Taking advantage of offers of this type we will get a very good keyboard for a sensational price, and that meets the demands of almost any gamer.
| | |
| --- | --- |
| ADVANTAGES | DISADVANTAGES |
| KAILH BOX SWITCHES WITH GOOD PERFORMANCE | DOES NOT INCLUDE WRIST RESTS |
| ELEGANT AND ORIGINAL DESIGN | IMPROVED BASE BEVEL EDGES |
| POWERFUL AND ADDRESSABLE RGB LIGHTING | |
| A LARGE NUMBER OF FEATURES AND MACROS SUPPORT | |
| VERY COMPLETE SOFTWARE, ALTHOUGH BASIC IN DESIGN | |