HELA 2050 Platinum: Silverstone packs 2,050 watts in ATX format
Silverstone has announced a new power supply unit, the HELA 2050 Platinum, which is supposed to bring 2,050 watts into the ATX format.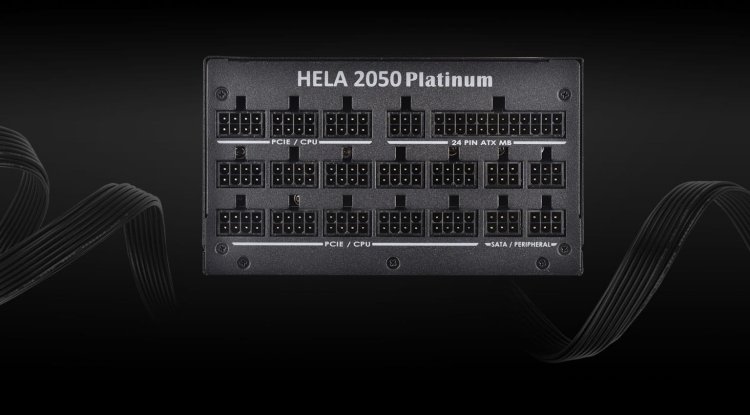 Photo Credits: silverstone / promo
Most people design PC power supplies on the market for outputs (well) below 1,000 watts. But there are also ATX models for systems with significantly higher consumption. So far, the performance leader has been the Super Flower Leadex Platinum with 2,000 watts. Silverstone now wants to surpass that with a new power supply unit: The HELA 2050 Platinum should be able to deliver an impressive 2,050 watts.
https://www.youtube.com/watch?v=DmjjI14QLs4 Multi-GPU im Focus
According to Silverstone, this power is in a classic ATX power supply housing with a length of 180 mm. The HELA 2050 Platinum is therefore relatively compact in view of its high performance. In addition, Silverstone advertises with support for continuous operation as well as with optional semi-passive cooling, through which the built-in fan only starts up from consumption of over 800 watts.
The company also promises the usual protective circuits, as well as platinum certification and an, included 12-pin GPU power connector. This should also make the power supply suitable for future GPUs. For the operation of individual graphics cards, however, hardly anyone is likely to buy the HELA 2050 Platinum, because even extremely hungry models such as AMD's old Radeon R9 295X2 were far from four-digit consumption.
Instead, the focus is probably on multi-GPU systems, because Silverstone includes enough cables for 18 GPU power plugs with eight pins with the HELA 2050 Platinum. However, with the demise of Crossfire and SLI, such a configuration has no relevance for gamers. Instead, people will likely use the new power supply mainly for workstation or mining applications. This is also supported by the price because with an MSRP of 600 US dollars, the HELA 2050 Platinum is too expensive for conventional gaming PCs.