Hisense 55A7GQ TV Review: Affordable QLED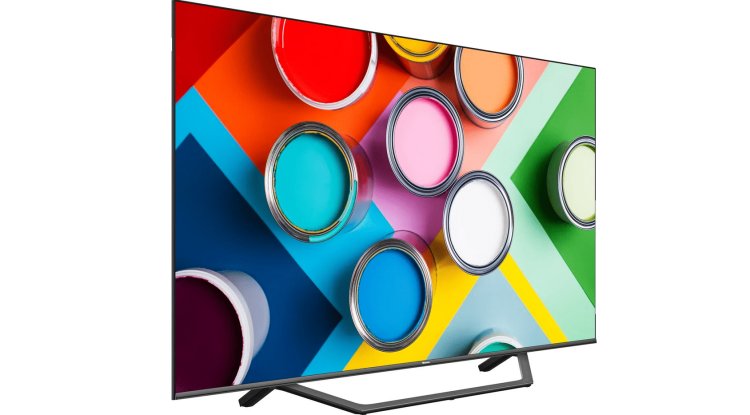 Photo Credits: Hisense/Promo
A versatile mainstream TV that makes all the benefits of QLED technology available to a wide range of users. It features very good image quality and support for state-of-the-art technologies, such as HDR 10+ and Dolby Vision.
Hisense is another manufacturer that offers quite affordable QLED TVs in its offer this year. Hisense's 55"A7GQ TV has appealed to as many users as possible who are looking for a newer, larger TV with the right support for state-of-the-art technology.
Attractive design
First, this TV brings support for the most modern HDR standards such as HDR 10+ and Dolby Vision. It is equipped with HDMI ports that bring some of the more advanced HDMI capabilities, such as support for ALLM and VRR. Finally, Hisense's QLED mainstream trump card is also an attractively designed TV. It is quite compact and relatively thin for a 55-inch LED TV.
First, this is because of the very thin edge around the screen itself which is kept to a minimum. The included stand is relatively common in this price range, although it requires slightly more space to accommodate the front of the TV.
All connectors are usually grouped on the back left. This Hisense mainstream TV is pretty well equipped. It has a total of three HDMI ports, two of which support some of the more advanced technologies we connect to the HDMI standard (VRR, ALLM). Classic remote control for today's slightly larger dimensions. We have no major objections in terms of functionality, and we point out numerous separate buttons for easy access to streaming services.
Support for Google Assistant and Amazon Alex is available, noting that you will need to connect a separate speaker to the TV. Also, a Vidaa Voice control assistant is at your disposal. This TV is not compatible with Apple's AirPlay 2 or HomeKit. The built-in speakers are the usual 2 x 10 W power and will not provide a powerful or well-defined soundstage.
QLED for a better picture
A key advantage of this Hisense mainstream TV is certainly the use of QLED technology to display the image. Specifically, in this case Hisense uses an 8-bit IPS matrix with Direct LED backlighting and Quantum Dot technology for enhanced color rendering. Choosing IPS technology brings some quite opposing pros and cons.
The good sides certainly include a very high quality picture with faithful and sufficiently precise colors, as well as a wider viewing angle, which means that this TV is suitable for use in larger living rooms. In contrast, the contrast is unfortunately quite low, and the maximum brightness level is not particularly high, which of course affects the display of HDR content, which is quite unconvincing, with loss of detail in the brightest and darkest parts of the image.
As for the predefined image display templates, the following are available: Standard, Dynamic, Day Cinema, Night Cinema, Sport and Automatic. Cinema templates may be best for everyday use, but they are not an ideal choice for many content. The TV correctly recognizes Dolby Vision content and Bright and Dark display templates are available here.
For gaming capabilities, our test PlayStation 5 is properly recognized and low latency mode is automatically turned on. As a gaming TV this Hisense model works pretty well. Except with games with a lot of dark scenes where because of poorer contrast everything together doesn't look good.
Hisense uses its own VIDAA software interface on its TVs. The interface is clear and easy to use. The number of applications is quite small, and for example, there is no support for Apple's AirPlay 2.
Mainstream best buy?
In the end, it can only be concluded that this Hisense mainstream TV is a very versatile TV with a lot of emphasized good and bad sides. We welcome the use of QLED technologies in the mainstream model, which brings better image quality and better color rendering. Support for HDR10 + and Dolby Vision is certainly also a big plus.
The equipment is also very good with respectable gaming capabilities. Unfortunately, low contrast and low levels of maximum brightness cause a not at all impressive display of HDR content, and the built-in 60 Hz panel is not ideal for gaming and sports content display.