HP Chromebase: Smart Chrome desktop for office
Elegantly designed small computer, mostly made of white plastic, with a 21-inch screen attached to a wide, solid cone-shaped base.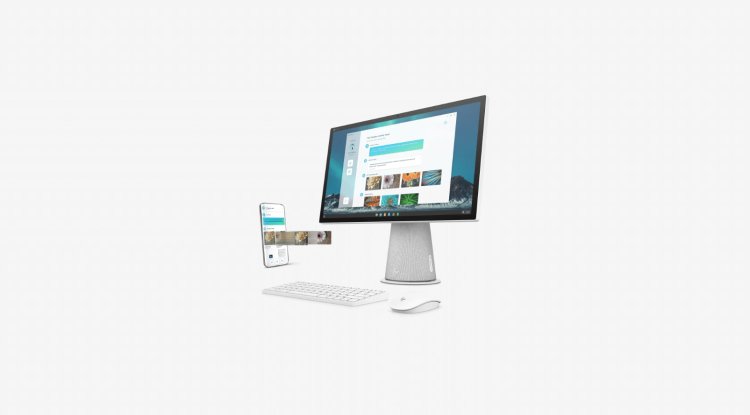 Photo Credits: Hp/Promo
Chrome OS isn't just for Chromebooks. There are also desktop mini-computers called Chromebooks, and today there are all-in-one computers called Chromebases. It's a smarter concept than the Chromebook we think, because Chrome OS has become so focused on touch interfaces in recent generations, and manufacturers can then ensure that your computer has a good touch screen.
This model from HP works. It's simply called HP Chromebase and is the first manufacturer of its kind. It is available in two models, cheaper with a Pentium processor and slightly more expensive with an Intel Core i3.
Elegantly designed small computer, mostly made of white plastic, with a 21-inch screen attached to a wide, solid cone-shaped base. The whole foot, besides the computer with a series of connectors on the back, is also a surprisingly powerful speaker that gives you actual pressure and detailed sound.
It may not be in the class with a real standalone Sonos speaker or similar, but it is good and powerful for sitting at a computer. Two things complicate the verdict. Neither Chrome OS nor HP itself allow you to control the equalizer; it would be good to be able to push with a little more treble. Stereo spread is also half. Speakers are a big plus for Chromebase.
Extra pixels in a good camera
Above the screen is a webcam that can be covered with a lens cap, which also reportedly turns off the built-in microphone. Surprisingly, this is one of the best webcams we've seen built into a computer. It has a full five megapixels and you can get almost 4k resolution in images and video.
It usually runs in 1080p mode and then you get uniform colors, beautiful skin tones and good light control in the image without a trailer. The microphone is not so convincing and the busy voice becomes a bit disturbing, with shortened high tones. It is suitable for everyday use, but does not have the same high class as the camera.
The monitor has a resolution of 1080p, which is slightly pixelated on the desktop screen. It provides vivid colors in the class and good viewing angles. The brightness is set at 250 cd/m2, but we think it can handle more than that. In the bright room near the window, we still get a clear picture.
The screen does not turn sideways or raise and lower, but you still have tilt control. First of all, it can be rotated 90 degrees so that it is on the vertical edge, the so-called rotation function. Then you would get an extra good overview if you surf the long web pages. The screen has a full multi-touch function and there is nothing to complain about. It's not fast enough for precision jobs - but it doesn't work.
After all, fast enough
There was little concern that this would be difficult for the computer's processor and graphics, but it turned out to work well. Here, a fast 256 GB SSD, 8 GBRAM and a fast Wi-Fi 6 connection help make the experience fast. Despite the limited graphics performance, nothing in the interface works smoothly, even when switching between horizontal and vertical mode and when moving thin windows in a hurry. Also, the dual-core Pentium processor works better than expected.
Surfing heavier websites in several tabs at once. As well as streaming movies, launching video chats and more it does without the expected problems. Of course, there is an upper limit. If you were running a very demanding web or google play application for editing pictures and videos. It would be hard to keep up a good pace. But as a surfing computer, office work, and streaming media computer, it would do well.
The package includes a wireless mouse and a wireless keyboard, which have already been paired from the beginning. At least when we remember to put batteries in them. Both are plastic to use, but they do their job and fit in stylishly with the computer.
HP Chromebase charms and convinces. Nothing is noticeably bad, and HP is positively surprising in several respects. What can be a problem in this low price range, a moderate processor combined with two high ambitions, they also handle well. This is successful in every way.
You can watch the video here:
https://www.youtube.com/watch?v=dCrZTwB36V0&t=17s&ab_channel=HP