Hyundai - SUEV concept with hygienic features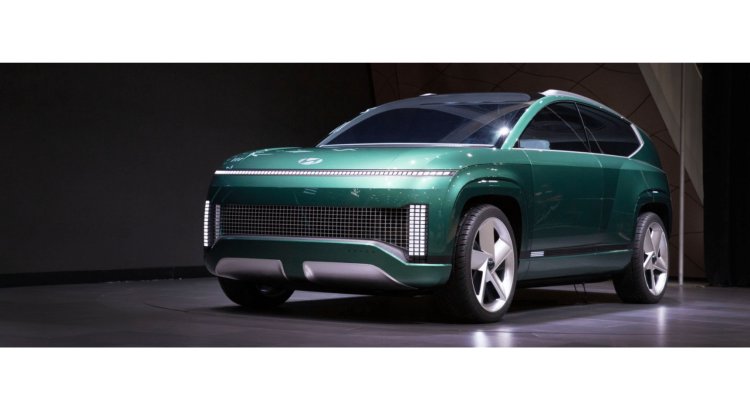 Photo Credits: Hyundai/Promo
Hyundai debuted a new sport utility electric vehicle (SUEV) concept at the Los Angeles Auto Show that features a number of contemporary features, some aimed at providing a more hygienic and safer ride. 'SEVEN' is intended to be a continuation of the car brand's expanding lineup of EVs, using mechanical components similar to the Ioniq 5 but boosted by the comforts of a standard SUV, as well as some futuristic bells and whistles.
Following in the footsteps of its reinvention of classic vehicles as modern electric cars, this is Hyundai's second showing of an EV concept this month. The company has also had other prominent concepts in the past – namely the 45 in 2019 and the Prophecy in 2020 – but this is the first that highlights functionality and design that will thrill SUVs and EV aficionados. The SEVEN is spacious, with a planned wheelbase of nearly ten and a half feet. Components from the future Ioniq 5 are also incorporated, such as a Tron-inspired Parametric Pixel lighting design and a dedicated electric vehicle structure with a large-capacity battery promising over 300 miles of range on a single charge.
What makes SEVENOne a promising electric SUV is its airflow management that adjusts vertically and horizontally, taking a cue from how today's passenger plane ventilation system is designed. Considering pandemic-era concerns about cleanliness and safety, its most important hygienic feature is how the airflow inside the car can be independently controlled. Whether the vehicle is moving or not, the system isolates air circulating in the front seat from shared air in the back seat, dramatically reducing the potential for cross-contamination. Once all passengers have left the vehicle, SEVEN's integrated UVC lights will activate and sterilize the interior, cleaning all surfaces of bacteria and viruses in the process. Furthermore, SEVEN comes equipped with sanitizing storage compartments on its bench to ensure passengers' belongings are kept germ-free. Copper finish and fabric with hygienic and antibacterial treatment are also used throughout the vehicle to ensure 24/7 cleanliness inside the car.
The electric vehicle also has a number of noteworthy features that will make the comfort and coziness of home carryover. SEVEN's pillarless bus doors are designed to easily open to reveal a flat floor and a user-friendly, customizable three-row seating arrangement that includes swivel captain's chairs as well as a curved bench seat that allows for better passenger interaction.
It has a fully retractable control handle that disappears when not in use, a built-in mini-fridge, and a panoramic OLED screen on the roof that can show the content defined by the passenger or enhance the relaxing atmosphere inside the vehicle. Furthermore, in line with Hyundai's commitment to achieving carbon neutrality by 2045, The South Korean automaker emphasized sustainability through SEVEN's overall design, using bio-paint for the car's exterior and renewable and recycled materials such as bamboo, bio-resin, and mineral gypsum for the interior. The interior paint used is based on renewable resources that can reduce pollution during production.
Hyundai had concepts that didn't go according to plan before, so it's important to consider the possibility of producing the SEVEN as is with a grain of salt. Expect any future EV car model based on it to eliminate some of its proposed features by the time it goes into production. According to a Forbes report, the Ioniq 5 slated for release later this year is based on the Hyundai 45 concept that was initially unveiled at the 2019 Frankfurt Muto Show. If the previous trend is to be believed, chances are high that Hyundai will be able to produce a near-concept model around 2024 or 2025. Whether the final product will include the hygienic features proposed by SEVEN that will make it an incredible choice as the car during a global pandemic remains to be seen.