Kingston Fury Renegade SSD-not only for games
Kingston again came up with a novelty, this time a lightning-fast SSD for gaming computers, as well as a new generation of consoles.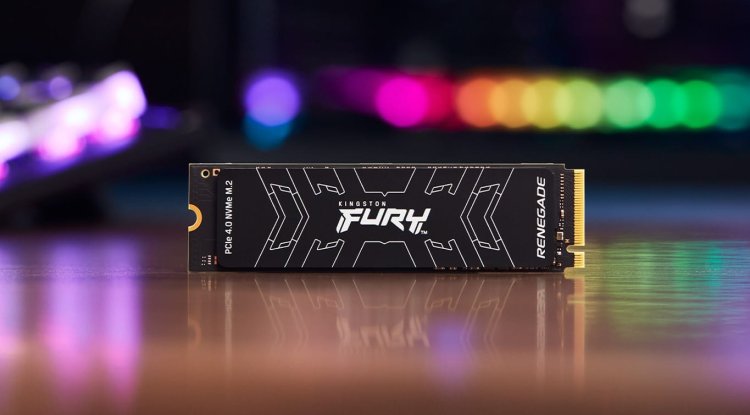 Photo Credits: Kingston/Promo
Kingston again came up with a novelty, this time a lightning-fast SSD for gaming computers, as well as a new generation of consoles.
If you browse the Internet from time to time, you may have come across a black-and-white photo of a computer the size of an American refrigerator, weighing almost like a car. It was the first computer with a hard disk from IBM with a capacity of 5MB. If you wanted to put it in a computer, your box would have to be as big as a washing machine. Today, however, everyone already knows the term M.2 SSD, where we can cram up to 4TB of data and at the same time has the size of a pack of chewing gum. The technology simply doesn't stand still, so we can take a look at the increasingly cumbersome hardware every year.
And right now, Kingston, with its M.2 SSD Fury Renegade, in our case the 2 TB version, wants to show us how much performance the next-generation drives can do. For those who do not know exactly how big such an SSD is, take a ruler in your hand and measure 80 × 22 x 2.5 / 3.5 mm. In addition, the SSD is covered with a black, low-profile, graphene-coated aluminum heatsink to keep the SSD cool. The heatsink also has a stylish cut edge design created by drawing white lines. Fury Renegade memory owners will certainly appreciate this detail.
Technical Specifications
Interface : PCIe 4.0 NVMe
Format : M.2
Controller : Phison E18
NAND : 3D TLC
Capacities : 500 GB (CZK 3,219), 1 TB (CZK 5,269), 2 TB (CZK 11,790), 4 TB (CZK 29,590)
Sequential read / write : 7300 / 3,900 MB / s (500GB), 7300 / 6,000 (1TB), 7300/7000 (2TB) 
One of the things that makes this disk the next generation is the PCIe 4.0 × 4 interface. As a result, the disk gains read/write accelerations of up to 7,300 / 7,000 MB / s and performance of up to 1,000,000 IOPS. If you are unlucky that you only have PCIe 3.0 on your motherboard, you don't have to worry, the disk can also be connected to this interface, where the maximum speed is slightly reduced, which fortunately does not always play such a role in video games and therefore depends very much on how you intend to use the SSD. If you are one of the rare owners of Playstation 5, you may be happy to hear that this SSD can be officially connected to it as well, increasing its capacity while still reaching speeds of up to 6,000 MB / s.
But speed is obvious in any case. If you have a system on it, you can count on a lightning boot and the only thing that will stop you is booting the motherboard as such. The system then manages to quickly load what you need, but you have to reckon with the fact that if you want to drag something from your old slow disk, it will be limited by its speed and you won't force it to work faster.
But you are definitely interested in the game performance if it can load the map for you before you even choose it. Unfortunately, no disc can handle that yet, but Renegade can also shine. In single-player games, you will definitely notice the difference and you won't have to spend time staring at your reflection on the monitor while loading. But you have to reckon with the fact that whether you have a faster drive, sometimes you have to wait for the game itself to count everything, or in multiplayer battles, you will probably wait for your slower teammates and the internet connection as such. In any case, the new Kingston will give you the biggest advantage you can have on the current gaming SSD market. Everything else is up to you.
Verdict
The Kingston Fury Renegade 2 TB is a really fast SSD that will not disappoint you. Thanks to its large capacities, it offers players the comfort of downloading games of all sizes and its design fits nicely into your box. It will definitely please every player, whether they own a PC or a PS5. And that damn extra space is needed on that console!
https://www.youtube.com/watch?v=VjGscxMB66E