Lenovo IdeaPad 5 14" Review: Cheap and good
Ryzen 4300U really well exceeded our expectations and this processor is in some cases as fast as Intel's Core i5 1035G1...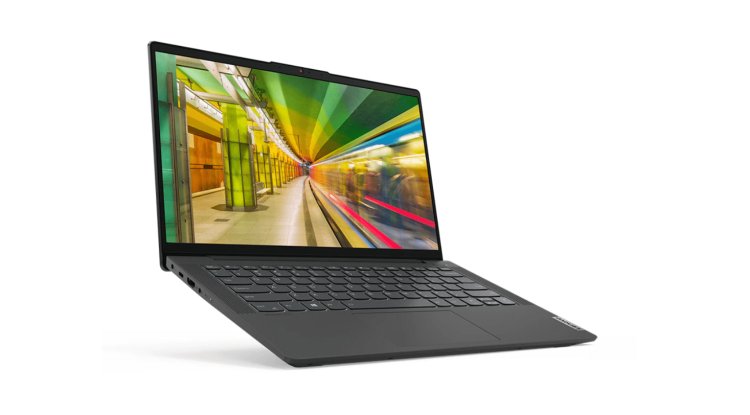 Photo Credits: Lenovo/Promo
| | |
| --- | --- |
| Processor | AMD Ryzen 4300U |
| Operating System | Windows 11 |
| Display | 14" FHD (1920 x 1080) IPS, |
| Memory | 8 GB DDR4 3200MHz |
| Battery | Up to 14 hours*, with Quick Charge 2.0 |
Surprisingly fast
Lenovo IdeaPad 5 14" budget mainstream laptop is based on AMD's Ryzen 3 4300U processor, which is nominally the slowest solution within AMD's next-generation mobile processors. Therefore, in terms of performance, we did not expect too much. However, we were pleasantly surprised. It is a quad-core processor without SMT support that is based on the Zen 2 architecture and can run at a turbo boost clock of 3.7 GHz.
Along with four Zen 2 cores, this processor features an integrated Radeon RX Vega 5 graphics chip. The performance we recorded with the Ryzen 4300U really well exceeded our expectations and this processor is in some cases as fast as Intel's Core i5 1035G1. The integrated graphics chip proved to be significantly faster than Intel's.
It should be noted that the surprisingly good results achieved by this processor within Lenovo's budget 14-inch IdeaPad 5 are largely due to the use of 3200 MHz memory in dual channel mode. This showed us once again how a well-balanced hardware configuration is very important for overall performance.
We can say that the hardware built-in processor is ideal for this kind of budget notebook. Overall, Lenovo's IdeaPad 5 series notebooks are very well designed and generally offer great value for money. Here, however, we must certainly point out the excellent equipment. In this case, we can talk about better equipment than with much more expensive laptops. Especially because here, for example, you have three USB 3.1 ports (one USB-C), as well as an SD card reader.
Budget ultraportable
The keyboard and touchpad are also very well executed, although the keyboard has no backlight, unlike some more expensive models. As for the design itself, it's hard to find bigger grievances. This laptop is not one of the thinnest and lightest 14-inch laptops, but it is compact enough and we can consider it easily portable.
Everything written so far indicates that this could be a kind of best buy laptop in the mainstream category. Unfortunately, the whole story is largely marred by the built-in screen. It is a rather poor TN screen with a very narrow viewing angle and below-average color reproduction. We are aware that Lenovo also offers models with a better screen within this series, but in the case of the models we tested, this was not the case.
Too bad, because this is potentially a really good budget notebook. The performance is more unsatisfactory, the design is modern enough, the battery life is long enough. However, a very bad screen greatly spoils the positive impression. If you can find this or a similar model of IdeaPad 5 in a 14-inch version with a slightly higher quality screen, it is definitely advisable to choose this model.
In any case, if we look at performance and equipment, this model can easily be compared to far more expensive laptops of a higher class.