Lenovo Tab P11 Pro Review: Power productivity
The case of the tablet is made of aluminum, and simply put, it gives a premium look to the tablet, as well as a firm feeling when held in the hand.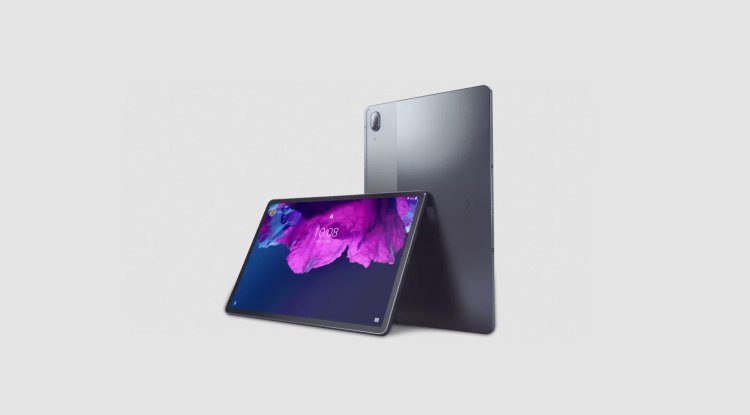 Photo Credits: Lenovo/Promo
| | |
| --- | --- |
| Processor | Qualcom Snapdragon 730G Octa-Core Processor (8 x Kryo 470 CPU, up to 2.2 GHz) |
| Operating System | Android 10 |
| Display | 11.5" WQXGA (2560 x 1600) OLED, touchscreen, 350 nits |
| Memory | Up to 6GB uMCP |
| Battery | Up to 15 hours video playback/normal productivity use*Up to 8 hours web browsing*All battery life claims are approximate. Actual battery performance will vary and depend on numerous factors including product configuration and usage, software, operating conditions, wireless functionality, power management settings, screen brightness and other factors. The maximum capacity of the battery will naturally decrease with time and usage. |
| Storage | 128GB |
| Speakers | 4 x JBL speakersDolby Atmos |
| Mics | Dual mic arraySmart Voice mid-field digital signal processor (Google Assistant) |
| Camera | Rear: 13MP autofocus + 5MP fixed focusFront: 8MP fixed focus + 8MP fixed focus |
| Dimensions (H x W x D) | 5.8mm x 264.28mm x 171.4mm / 0.22" x 10.4" x 6.74" |
| Weight | Starting at 485g / 1.06lbs (Without Keyboard) |
| Sensors | Accelerometer sensorHall sensorE-compassAmbient L-sensorGyroscopeTOF sensorVibrator |
| Color | Slate Grey |
| Connectivity | WiFi 802.11AC (2 X 2), 2.4GHz & 5GHz dual bandBluetooth 5.0WiFi DirectWiFi DisplayGLONASS |
| Security | Fingerprint readerFace unlock |
| Buttons, Ports & Slots | Volume up / down4-point Pogo pin keyboard connectorPower button + fingerprint loginUSB 3.2 Type-CMicro SD SlotUSB port transfer speeds are approximate and depend on many factors, such as processing capability of host/peripheral devices, file attributes, system configuration and operating environments; actual speeds will vary and may be less than expected. |
| Software | Microsoft OfficeOneNoteNetflixDolby Atmos Dolby Vision Google SuitesGmail SuitesGoogle Kids Space |
| Certifications | TÜV Rheinland Full Care Display-certified |
Plus keyboard, stand and pen
There are market leaders in this segment, but for a solid tablet, you will often have to spend significantly more than for a solid mobile phone. The main "trick" is in the sale of tablets and all supplements separately. While the tablet itself is great for multimedia consumption and gaming, any more serious work will still require extras. Lenovo offers a solid Lenovo Tab P11 Pro in one package, along with all the accessories you need to be able to become productive immediately. So in addition to the tablet itself, you also get a holder/mask that magnetically grips the back of the tablet and has a hinge in the middle so that the tablet can stand up, a practical must-have accessory if you do not intend to hold the tablet in your hands. The second accessory also magnetically connects to the tablet (tablet bottom) and is a physical keyboard along with the trackpad. When you're done using it, simply fold it over the screen, and the tablet will lock and the screen will be protected from scratches. The third accessory is a pen with one extra tip that you no longer have to leave prints on the screen and is much easier to use when the keyboard is connected and the tablet is tilted with a back cover. So for a mid-range price you get a tablet that already has all the necessary accessories so you can actually work on it and be productive. Of course, playing is automatically taken for granted.
Metal and glass
Let's start with the external appearance. The front of the tablet is of course complete in glass, but keep in mind that it is "standard" glass, and the drop of the tablet as well as scratching can leave consequences on it, that is, it is slightly more sensitive than branded resistant glasses. The edges around the screen are, we would say modern thin, ideally, you can hold the tablet in your hands without touching the contents of the screen. By holding the tablet horizontally, you will come across two clearly visible cameras at the top edge, as well as a pair of less visible sensors. One of these cameras is the Selfie camera, while the other is infrared and is used exclusively to unlock tablets when you choose face recognition. Other sensors check room lighting and other details as standard.
At the back, you have a standard 13 MP camera that will not impress with its quality, but it is always at hand if needed. The other 5 MP camera has an ultra-wide viewing angle and has transient quality only in broad daylight. The selfie camera in the front is the one in the middle, and has 8 MP, and can record in FullHD resolution, ideal for video calls. We can even call it solid even in moderate light conditions. The second selfie camera is infrared and is used to unlock tablets by face recognition.
The case of the tablet is made of aluminum, and simply put, it gives a premium look to the tablet, as well as a firm feeling when held in the hand. The edges of the tablet have something on each side, so let's start by holding it horizontally with the camera up. At the bottom edge, we come across pogo pins that are used to communicate with the keyboard. The left and right sides of the pins have small slots, they additionally hold the keyboard so that it does not slip, while the tablet is firmly held by magnets inside the very bottom edge of the tablet. The right edge has a USB-C slot for data transfer and charging, and on each side of the slot, we have holes on the edges that hide two speakers. Left edge also has more holes with two additional speakers, and the tablet has a total of four speakers. The left edge of the tablet has a lock button at the top, which is located so that it is flush with the case, and you need to get used to pressing it. It is flat because it also functions as a fingerprint sensor. Because of the small surface area of ​​the sensor, it is not as fast and accurate as those on mobile phones, and it will hit in approximately 80-90% of cases. Near this button, on the top edge of the tablet, we have two more, standard for volume control. We are left with the background of the tablets. Lenovo has decided to break the monotony a bit, and you can notice different shades of gray that separate the top fifth of the tablet, where you will also find cameras. The tablet comes with two cameras and a flash which is very useful especially if you need to take pictures of documents in low light conditions.
The screen is 50% tablet
When we look at tablets, we believe that the most important thing is to have a solid screen first, and a responsive system is also important, but it comes second. This tablet meets both specifications. It has a high brightness OLED screen (up to 500 nits) and a high resolution of 1600 x 2560 pixels. The screen has a solid 11.5 inches diagonal which make working on it a pleasure. The screen also supports the HDR10 standard as well as Dolby Vision. Lenovo has enriched the customization options in the settings, and under the display settings, in addition to, of course, night mode, you can also customize the color display. By default, "OLED" mode is included, which, so to speak, enriches the colors of the content on the screen. Other options are the DCI-P3 standard and the sRGB display. Of course, what you will notice when choosing them is that they generally reduce saturation if you want a more realistic display of multimedia. In addition, you can separately select the warmth of the display from warm over neutral to cool white. The screen runs at 60 Hz, and we have to emphasize the detail that the finer text might seem blurry, blurry than you would expect from a high-resolution screen. This is because the OLED display uses a Pentile pixel layout rather than the standard RGB style. While this pixel layout has its advantages in power consumption, tiny sharp edges like those in the text will look blurry. Of course, on the other hand, it is OLED technology, and you will see the benefits of OLED when you first turn on the tablet when only the logo lights up and the environment remains deep black. Watching your multimedia content is a real pleasure, but keep in mind that because of the 16:10 screen ratio it will be in most content and black edges. Games, especially those with a lot of colors, are far more attractive to watch on a screen like this.
Speaking of internal specifications, the tablet uses Qualcomm's Snapdragon 730G processor. It consists of two Kryo Gold cores, and six weaker Kryo Silver cores. We also have an Adreno 618 GPU. It is a mid-range SoC that will provide superbly smooth control of tablets through menus and most applications, while the graphics component will run all games, only the most demanding will have to be graphically weakened to be able to play them without stopping. With the SoC, you get 6 GB of RAM and 128 GB of internal memory. When using the system, even when we intentionally loaded it, we did not notice any significant heating of the case, and we can say that you will not have problems with heating from prolonged use. We also emphasize that the tablet supports MicroSD cards, and when installing the card you can decide whether you intend to use it for applications and not remove it to expand the internal memory, and you can also install applications on it. All of this is powered by an 8,600 mAh battery that will take up to 12 hours on a single charge to watch multimedia, surf the Internet or write if the low screen brightness is used. The tablet also comes with a "fast" 20 W charger. Given the size of the battery, it turns out that the tablet takes about two and a half hours to charge. Let's also mention that this tablet supports GPS and compass functions and can also be used for navigation.
Speaking of multimedia and video, the tablet supports Google's Widevine lvl1, which means you'll be able to stream up to FullHD resolution on your tablet from all popular streaming services like Netflix and HBO, if your Internet speed allows. Note that the tablet has a total of four speakers, two on each side when turned horizontally, and the signature goes to JBL. The speakers have impressive volume and offer very clear sound, but by default, they lack deep tones due to lack of space.
Finally, as we mentioned the add-ons, the tablet supports several standard Styluses and almost all older versions of its own offer. Model you get uses two buttons on the side, charges via the USB-C slot, and the tablet recognizes it at a height of about one centimeter from the screen when preventing other touches is activated so you can rest your hand on the tablet while writing or drawing. Pen is also a big plus to help navigate when the tablet is leaning. The backrest itself is part of a two-part mask that is held firmly by a magnet. The back has a solid hinge that will hold it at an angle you set. On the outside, it has an attractive textile pattern that will prevent scratching of tablets, but also other surfaces in the house. The keyboard that protects the front of the tablet has the same external pattern. The keyboard itself has navigation buttons adapted to Android that can be grasped quickly, while the rest of the layout is standard. Below the keyboard is a small touchpad, but we think most will use alternative methods of clicking on the screen. The keyboard is of course a bit shallower than those on laptops, but typing is comfortable, but the condition is that you still have slightly smaller hands for easier work.