Microsoft Surface Duo 2 survived endurance test
Microsoft launched the Surface Duo 2 phone back in September, and the device arrived with several improvements over the first-generation Surface Duo.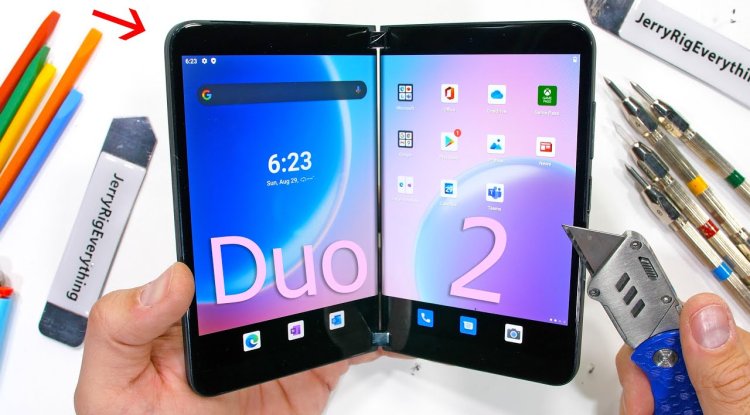 Photo Credits: JerryRigEverything
YouTuber JerryRigEverything has released a video endurance test that highlights the features of the device. The video shows how the Surface Duo 2 goes through some rigorous tests, which have become Zack Nelson's usual routine after all.
The new Microsoft smartphone has a folding screen although its design does not seem to differ from the folding devices we have seen such as the Galaxy Fold 3. The Surface Duo 2 has two screens separated by a hinge and frames, but none of the screens can be folded.
Hinges are still a delicate part of folding phones and the Surface Duo 2 has gone through some tough tests in that regard. The two screens can withstand a direct flame from a lighter without any visible damage.
The phone is also well equipped against bending, although the part opposite the hinges is prone to bending, which is a disadvantage, ie it is structurally quite strong but still has disadvantages. The sides of the Surface Duo 2 are plastic, which makes the device prone to scratches.
However, its screens are covered with Gorilla Glass Victus, which we saw scratch only at level 6 on the Mohs hardness scale (ordinary metal keys can't do anything to it)
Microsoft will hope that the Surface Duo 2 will get better reception than its predecessor. However, it remains to be seen how it will compete with leading models such as the Galaxy Z Fold 3 and Galaxy Z Flip 3. As things stand now, potential users are at least confident in some level of robustness for the Surface Duo 2.
https://www.youtube.com/watch?v=mLt7JRCS1po
What is your opinion on this, do you see yourself as a user of this model?
Write to us in the comments.