Mini's Aceman concept shows how the brand sees the future
The car, called the MINI Concept Aceman, is presented as a vision of the near future of the British brand owned by BMW and is positioned between the Mini Cooper and the Countryman in size.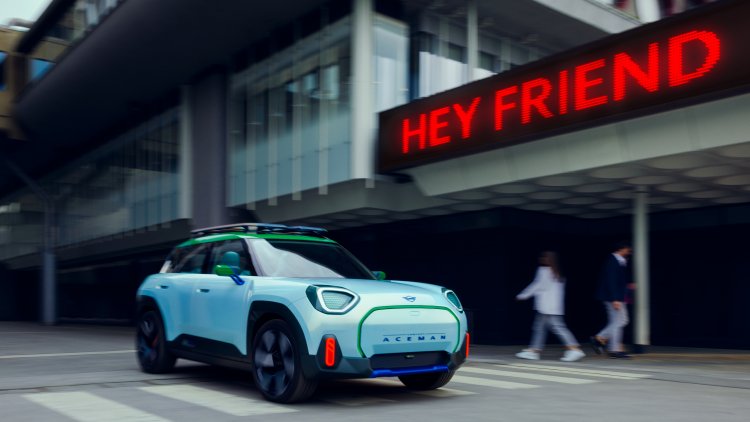 Photo Credits: BMWGroup/Promo
Electrification and redesign are currently the focus of the car brand Mini, which now shows with its Aceman concept how its vehicles should look in the near future. The presented MINI Concept Aceman will be the first fully electric crossover offered by this brand, refined with a new design, advanced digital capabilities, and the fact that it will be completely devoid of natural leather and chrome.
Aceman was conceived as a crossover in the segment of small premium cars, which would be placed in the range between Mini Cooper and Countryman. In terms of design, it follows the new direction set by the company, which is described as "Charismatic Simplicity", which should describe a simple but memorable and recognizable design, also connected to the brand's heritage.
The same minimalist design approach will be applied both inside and out. It will be complemented by recycled interior materials, vivid colors, and is full of contrast, as well as a large central OLED screen for controlling digital functions. The company says that the entire package will be rounded off with unique driving sounds that will be emitted in the cabin, for a complete experience.
Electrification of the drive will provide a spacious cabin, greater comfort, versatility, and space for luggage. In the Aceman, which comes primarily with four doors, there is room for five passengers, and there is also a spacious separate luggage compartment. The concept is 4.55 meters long, 1.99 meters wide, and 1.59 meters high. The contours of the design are additionally emphasized with luminous LED elements and a recognizable light signature.
The light effects will let you know, for example, that the car has "noticed" you, so it will illuminate the person approaching it, and when it is unlocked, it will also create a "light show" - the famous flag of the United Kingdom will be displayed on the front grill.
Post by Bryan C.