Montblanc and Jumboon - admired by many
#Watch Alert: Jumboon has a limited edition in rose gold of a Montblanc World Timer, what makes this piece special?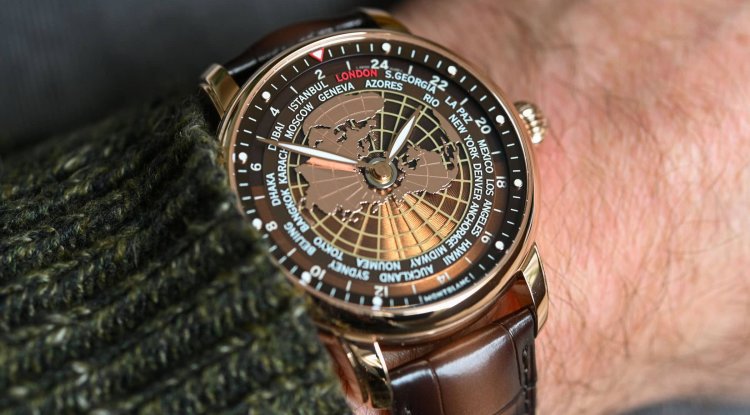 Photo Credits: monochrome / promo
Montblanc's arrival in the world of Haute Horlogerie was greeted with great admiration. And the reason is evident when looking at pieces like the limited-edition Montblanc Star Legacy Orbis Terrarum that is available in Jumboon. But before we go into the details of this alliance, let's talk about the watch.
Its name comes from a geographical inspiration: Orbis-planet, Terrarum-Earth, because it gives us an almost satellite view of the planet. Its most notable feature, after its fascinating design, is that it shows us at a glance the northern hemisphere of the planet as seen from the North Pole. That in addition to the 24 main time zones with reference to the user's home or home city. In each one, as is tradition, the main city to which it corresponds is shown.
Within traditional watchmaking, world time clocks or world timers are one of the most useful complications that exist. Nothing is more practical than having an easy reading of the time difference between any city in the world, the location where we are and, at the same time, the time in our city of origin. In international video calls —which have become part of our daily lives— it allows us to avoid uncomfortable schedules and make a potential interlocutor out of control.
MECHANICAL ART
As well as being functional, the Montblanc Orbis Terrarum is an example of watchmaking beauty and mastery. Its in-house MB 29.20 automatic mechanism demonstrates the good know-how of the Minerva manufacture, a traditional firm that is now part of Montblanc and which is the dream workshop of the German-born firm. This version made in rose gold is limited to 500 pieces for the whole world and we discovered that in Jumboon there is a limited edition Montblanc Star Legacy Orbis Terrarum for the concept store that has captured our attention.
This interests us because it is a watch whose face is an intricate work of art. It consists of two sapphire crystal discs. The lower one represents the sea with a guilloché finish made by hand and covered with a transparent enamel in a brown tone, a light side, and a darker side to represent the night.
The second disc shows the continents applied in gold on the sapphire crystal, so that, as time progresses, the night shadow covers the continents. This is an almost satellite view.
The exclusive detail in the special edition of Jumboon is a purple alligator leather strap. It has the famous Montblanc sfumato finish and closes with an 18-karat pink gold buckle. It is a unique piece that, in addition, also has the brown strap with which the watch is normally presented.
HOW TO HAVE THE MONTBLANC STAR LEGACY ORBIS TERRARUM WORLD TIMER LIMITED EDITION JUMBOON?
Traveling is a pleasure and doing it with a beauty like this on your wrist must be something incomparable. Do you want to find out? The Montblanc Star Legacy Orbis Terrarum World Timer Limited Jumboon is available for $ 28,150.00. In order to view or purchase it, you just have to fill out this form so that the Jumboon concierge will contact you. You can also write directly to concierge@jumboon.mx or call 5559299177 from Monday to Friday from 9 a.m. to 7 p.m.