Motorola Defy (2021) Review: Almost Unbreakable
Snapdragon 662, 4GB of RAM and 64GB of expandable data memory. Adreno 642 does the graphic part of the story. 5000 mAh here provides an easy two days of work.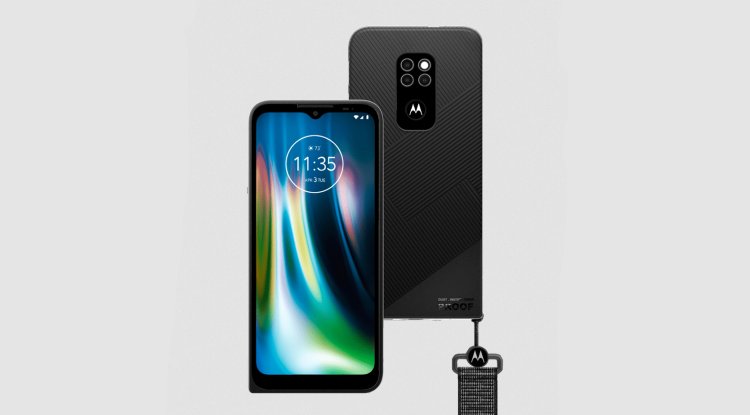 Photo Credits: Motorola/Promo
DESIGN AND ERGONOMICS
Motorola Defy differs from most typical smartphones today in its size, weight and even unusual shape. The screen frame is also quite thick in today's terms. It differs from most others in the category of robust smartphones by its considerable elegance, as it is not too bulky or large. It actually looks like a standard smartphone wrapped in a durable protection mask.
You can't help but notice the asymmetry in the rounded corners of the Motorola Defy. This lower left is the only one sharp, but there is a reason for that. It offers a place to pull the laces, which you will receive in the package with the device. It's that short string around the wrist.
The next thing you'll notice is a lot of space around the screen, which otherwise measures 6.5 inches diagonally. If it filled the entire front, it would cost 7 inches, it seems to me. This space around the screen additionally protects it from falling and meeting concrete and other cruel surfaces. Otherwise, the front is protected by the most modern Gorilla Glass Victus.
The selfie camera is located a notch in the screen, and higher up the very top edge is the call handset. To the left at the top is an LED light, which I noticed only when charging, not when there were notifications.
The robust and rough rubbery polycarbonate spills over the edges over the edges, so Defy is not a slippery phone in her hand. On the left is a drawer for two nano-SIM cards or a combination of nano-SIM + microSD cards.
On the opposite, we have three buttons: Power, the one for volume control and the third which is programmable but located too high. Upstairs are the secondary microphone and 3.5mm audio jack, and downstairs is the USB C, a single speaker and main microphone. On the back with a ribbed pattern are three cameras and an LED flash with a moto logo that is also a fingerprint reader. It's nice that the cameras don't stick out at all.
Defy is without a doubt a big and heavy phone. Not exactly for one-handed handling or for the front pocket of tight jeans. It doesn't have to be. With its robust character and IP68 and MIL-SPEC 810H certificates, Defy defies water, dust and harsh environments.
It will survive a fall from a height of 1.8 m on a rough hard surface. It's something that some fancy glass phone can't boast of.
SCREEN
The screen is by no means one of the strongest assets of this phone or the reason why you should choose it. Again, it will be good enough for the target clientele, although in my opinion it failed with the intensity of the lighting, which is not exactly for a sunny day on the construction site.
It is an IPS LCD in HD + resolution with a standard 60Hz refresh rate. The frame is, as I said, very thick, especially up and down, and although there was room for a selfie camera even higher, it tears off another small piece in the middle.
The color display is quite washed out and fades even at the slightest slope. Only 270 pixels per square inch testify that it is not an embodiment of sharpness.
It does not support the Always ON display, but the Ambient display, which briefly switches on to move the device and reveals the time, battery percentage and notification icon.
The Motorola Defy screen will therefore be used for everything that the smartphone screen serves, but not very nice and attractive. His biggest asset is actually that Gorilla Glass Victus protection against cracking and scratching.
CAMERA
In the category of robust phones, it is not realistic to expect some strong focus on cameras. So he's not here on Motoroly Defy either. It is equipped with an 8MP selfie camera on the front, which will take very decent selfies in the daytime, even those with portraits with a blurred background. It also records 1080p video.
There are three cameras in the back, but you can only count on the main one equipped with a 48MP sensor. Still, he takes decent photos and videos up to 1080p 60fps during the day. In night conditions, Night shooting mode will help a bit and get a little more detail, but you have to have a steady hand or support. There is no OIS. It also has a 2MP depth sensor and a 2MP macro camera.
In addition to automatic, manual and portrait shooting modes, Night, Cinemagraph for creating gifs, Cutout cutting a person from the background and the like are also offered.
PERFORMANCE AND BATTERY
Snapdragon 662, 4GB of RAM and 64GB of expandable data memory. Adreno 642 does the graphic part of the story. The interface is decently smooth, the animations aren't exactly fluid, and it's generally an impression of restraint and delayed reaction to what you're looking for. The fingerprint reader is on the back below that Moto logo. It works reliably although the unlocking process is slower than you would like.
Two SIM cards are supported if you opt-out of expanding the internal memory. Given that, they really should have offered 128GB of memory, not this basic 64GB. 4G networks are supported, not 5G. It has NFC for contactless payment with Google Pay service.
The phone is big, so the battery is big, and the autonomy is great. 5000 mAh here provides an easy two days of autonomy with over 8 hours of on-screen display. Charging is via a 20W charger in the package and is relatively slow. It takes up to 100% on this charger in about two and a half hours, and in half an hour it goes up to 30%.