NAS - Synology DS1621 + review
The brain of this disk station is AMD Ryzen V1500B processor with four cores clocked at 2.2 GHz. 4 GB of ECC DDR4 memory expand to 32 GB (2 x 16 GB).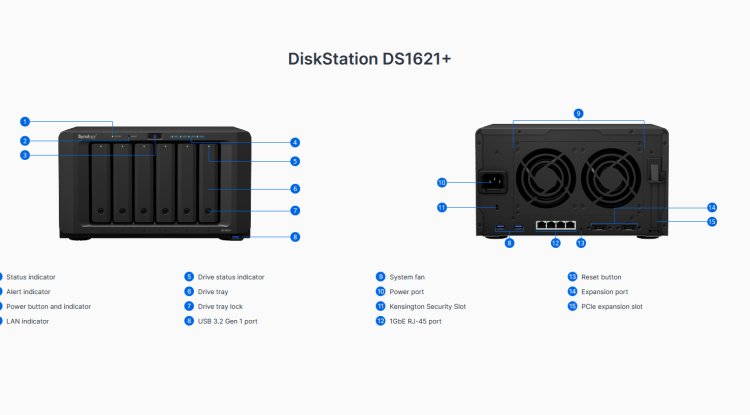 Photo Credits: Synology/Promo
Data, backup, cloud services
The new Synology has a quad-core AMD processor, ECC memory expandable up to 32 GB, slots for two M.2 disks and much more, making it a useful tool for a wider range of services. Rare are those who do not value their data. If you've ever lost photos when your cell phone suddenly stopped working, now be sure to use cloud backup, at least the free one on Google.
This NAS will store and protect your data if you use it properly, but it can also serve more demanding users who will use it to collaborate on various projects and do not want to depend on external third-party services.
It is convenient to use Synology DS1621 + to share files within and between teams as it allows access to data wherever you are. Then you can access the data from home if you have switched to "remote work" which is becoming an increasingly popular method of work. However, they are most commonly used to store video from surveillance cameras. A license to use one camera comes with the device, and if you want to use it for several cameras, you need to purchase licenses for each camera.
Hardware
The brain of this disk station is AMD Ryzen V1500B processor with four cores clocked at 2.2 GHz. It comes with 4 GB of ECC DDR4 memory which you can expand to a total of 32 GB with two 16 GB modules.
You can expand its functionality with 25 Gb/s or 10 Gb/s network E-PCI cards. It is possible to connect up to two DX517 drives for additional disks, which allows you to have a total of 16 disks.
Whether you are using a NAS for video editing or other disk-intensive operations, you will benefit from installing M.2 SSD to cache files that you need to access quickly. You can also install additional M.2 drives on the previously mentioned 10 Gb/s E-PCI card if you have chosen the version that has space for their installation. With 4 built-in 1 Gb s network ports and 3 USB 3.2 ports, this is a really versatile device.
Magic number 6
With 6 built-in disk slots built-in, you need to consider what type of file system you want to use. If you have disks of different sizes that you want to put in the NAS, it is good to choose the SHR or SHR-2 option. With SHR file systems, you can start from a single disk and expand them as needed.
If you have two disks of the same size, it is a good idea to place them in a RAID 1 configuration, which will ensure an identical copy of the data on both disks. This way you have protected data if one of the disks fails, and you have 4 places left for, say, RAID 5 or RAID 6 configuration.
Option 2 + 4, with the installation of Disk Station operating system on the first two disks in RAID 1 and RAID 6 fields, and for greater data protection, would be our preferred option for archiving data on the remaining 4 disks, while RAID 5 field would be used if necessary more storage space and slightly faster access to data compared to RAID 6 fields, but this would give fewer data security because RAID 5 allows failure on only one disk, while in RAID 6 file system we still have tolerance on two disks.
The main advantages
Whichever service you opt for from a handful of options like backups, web servers, virtual machines, or file sharing, Synology NAS will not disappoint you. Its latest DSM 7 operating system, like earlier versions, is a significantly better option than those used by other NAS devices. In addition to looking nice, the DSM 7 is fully functional, and with the Active Insight mobile or web application, you will know about all the important activities of your NAS. This critical and less critical event alert system is great if you have multiple NAS devices and do not need to log in to the administration of each NAS to check their status.