Philips 65OLED986 Review: TV, at its peak.
TV Philips 65OLED986 is a top model that impresses. 65OLED986 relies on the Mediatek chip 5895 (1.8 GHz quad-core A73) and 3 GB RAM.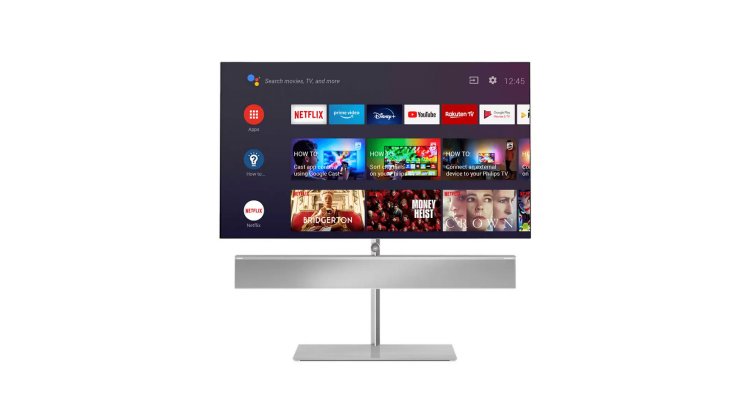 Photo Credits: Philips/Promo
Philips is a specialist in image processing and always has an exclusive ace up its sleeve with Ambilight. TV Philips 65OLED986 is a top model that impresses with first-class workmanship and genuine HiFi sound from B&W.
When it comes to modern living room entertainment, people are talking more and more often about the "experience factor" and "immersion". Instead of being bombarded with information, TV series and films as in the past, the viewer should now be drawn into the dream world, he must be downright blown away by an unparalleled fascination. Well, you don't have to overdo it and turn a cozy movie night with chips and beer into an interactive slaughterhouse, but the current TV technology stands for superior quality that transports picture and sound content more realistically into the living room than ever before was possible.
Thanks to HDR technology, a large living room TV is qualitatively superior to most cinemas in terms of picture reproduction, but when it comes to sound, you still need a discrete Atmos setup to be able to keep up with movie theaters. This is where the fun ends with most installation plans, and you are limited to meager TV sound, ideally supported by a compact soundbar.
However, integrated TV sound often sounds unbearably blaring or hollow because of the cost-cutting measures of recent years. Skilled DSP algorithms surprisingly straighten out the worst mistakes in cheap chassis, but this is never possible without affecting the phase, impulse behavior or dynamics. And then when you listen, you sense that something is wrong.
Hardly any TV manufacturer can afford to simply use really high-quality loudspeakers because it is expensive on the one hand and takes up space on the other. Philips has been going the audiophile route in its top-of-the-line OLED TVs for some time, years ago seeking collaboration with respected audio developers Bowers & Wilkins. We could now enjoy the latest fruits of this cooperation in the 65OLED986, the most sophisticated TV offspring of the Philips lines.
As soon as you unpack it, it becomes clear that this is a very special television. It is extremely rare to get your hands on so much heavy, chrome-plated and polished metal in TV sets - beautiful and really classy.
Of course, not the entire display or the soundbar is milled from the solid, but the proportion of natural, high-quality materials is particularly high here. The 986 is only available in 65", and it comes with a massive stand and the aforementioned large soundbar from B&W, which cannot be bought separately. It can be hung on a wall because the stable strut is divided.
Some cables can be unobtrusively routed to the rear through covers on the TV and cut-outs in the base. The soundbar is connected to the TV chassis via a small multiple plugs, and the hardware setup is complete.
Then comes Android 10. The first time you switch it on, the setup of the operating system, network, channel search and AV integration takes place as usual. Years ago, Philips decided to jump on the Android bandwagon and now, after some tweaking, the system is running smoothly – including dozens of extensions that Philips programmed for their own hardware. According to AIDA64, the 65OLED986 relies on the Mediatek chip 5895 (1.8 GHz quad-core A73) and 3 GB RAM.
Of the 16 GB ROM recommended by Philips, only a small two gigabytes were free after a firmware update and installation of all our favorite apps (5 GB maximum available). With a large number of apps, Philips can fully score. Even some services that Android doesn't provide natively are integrated as "Philips TV Collection". The current highlight is the first implementation of the HD+ operator app on an Android device.
The functionality of this operator app was previously known by Panasonic and Samsung, but it has now been ported to Android for the first time by Philips. As is well known, the integration of the TV into the Google environment of our laboratory was easy during installation. Saying "Find my device" briefly into the mobile phone, the OLED TV is recognized with just a few clicks, WLAN access is revealed, accounts are set up, general terms and conditions are approved and data is transferred. So far nothing new.
It's practical that you now have the entire Google universe at hand, including powerful voice control, Chrome Cast, thousands of apps, screen mirroring (Miracast) through to Bluetooth control and remote games. The TV reacts rudimentarily to our smart speaker, but we prefer the microphone integrated in the remote control to search for streaming content and TV programs or to control the SmartHome.
Facelift
First of all, the OLED panel, which offers increased brilliance with a comparable color space, and the HDMI chips are state-of-the-art. Two out of four inputs offer the full bandwidth of the 2.1 standard, or 48 Gbit/s FRL. This promises 120 Hz@4K for gamers, with the first tests showing a halved line resolution, as was also the case with Sony and Panasonic before the respective firmware updates. ALLM and VRR are built in in the form of Freesync Premium.
Of course, hard gamers like it colorful, preferably in neon colors, and it should be noted here that Ambilight massively increases the gaming immersion factor mentioned at the beginning. Due to the high 4K resolution, people like to sit close to the large-screen TV, so they already have a gigantic field of view anyway. But if the entire field of vision in the dark room is then flooded with crass color effects, then you really enjoy it and you quickly lose touch with reality.
You really have to be careful here. Everyone can adjust the four-sided Ambilight of this TV in such a way that it consistently delivers positive effects for the emotional world. Incidentally, the same applies to the picture quality of films and TV shows. Philips is now known for not only having one film mode correctly preset. Where the other factory settings appear absolutely unacceptable in the case of competitors, Philips works out some advantages with certain content in "Standard" or "Lively". Of course we want to look like a "filmmaker", carry out an isf calibration directly or try out the connection to our Calman color measurement system, which is now available.
If you are familiar with it, you can adapt dynamic functions, color adjustments and motion compensation to the respective film material. Philips calls the latest variant of its image processor "P5 Dual Picture Engine with AI". Thanks to in-house development, the brand can set itself apart from the competition when it comes to image matching, error correction and fine-tuning.
In a demo menu with DualScreen, you can see how attributes of the source material are analyzed and the appropriate improvements are coordinated. Overall, there are really tons of options that can entertain you for weeks, but you quickly lose yourself in the impassable jungle of menus when looking for the right entries.
https://www.youtube.com/watch?v=oS1moXE8QeQ&ab_channel=PhilipsTV%26Sound