NFT Biggest Secret: Who loves NFT?
Many NFTs are sold with the implicit promise of being an investment - those offered by Legend or Coachella are presented as souvenirs...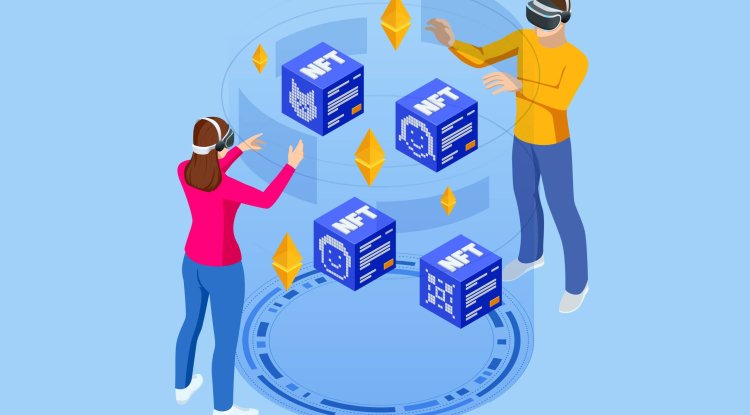 Photo Credits: DepositPhotos
Although we can always receive deeper analyzes of each of these two groups and the differences in their many subgroups, it is much easier to see their general reaction to everything related to the blockchain.
NFT in gaming and music
Gamers, other than those who play games that earn cryptocurrencies like Axie Infinity, typically show contempt for cryptocurrencies in their community. One of the most common scenarios in recent months is that a manufacturer announces the integration of NFT into its games and a week, two later gives up because it provokes the anger of customers, or gamers.
The most recent example is, EA whose director Andrew Wilson said three months ago that NFTs and blockchain gaming are the 'future of the industry. Last week, during a revenue announcement, he turned the rhetoric 180 degrees and mentioned that EA 'does not insist on crypto projects'.
Wilson's comments came relatively shortly after Team17 - the company responsible for the $75 million Worms franchise - abandoned plans for NFT called MetaWorms. After the fans got mad, the company had no choice.
Scenarios like these have become part of everyday life.
If you think that contempt for the greed of game makers only covers companies like EA, Activision and Riot, you are mistaken. Troy Baker, one of the most beloved voice actors in gaming, failed to push through his NFT project. He announced a partnership with VoiceVerse, a startup that does 'voice NFTs' that contains a 'unique artificial intelligence generated sound map'. Baker, expecting an avalanche of insults on Twitter, wrote: 'You can hate or create - which is your choice?' Fans seem to have chosen this first and after 13,000 furious tweets forced Baker to leave the project.
The key to (un)popularity
If we dig through social networks, we will come across a few basic topics. One of them is that gamers and developers are constantly fighting over the monetization of video games - players traditionally want to pay once for a game and play it forever while heel manufacturers try to figure out ways to extort as much money from one product. This experimentation includes 'exclusive content', subscriptions, microtransactions and random rewards in loot boxes. All such attempts so far, without exception, have met with negative reactions.
The reason gamers don't like things like this is them not contributing to fun in any way, but making games more expensive. After Ubisoft announced it would integrate NFT into Ghost Recon Breakpoint, one of their online shooters, gamers went crazy again. The idea of ​​NFT as items collected in games, digital cosmetics like special jackets, hats, or weapon colors is one thing, but realistically it's easy to imagine a manufacturer at some point defending access to certain 'premium' parts of the game just because the buyer does not have a specific NFT.
If we add this to the usual plethora of concerns about crypto technology (pollution, fraud, etc.), it's much clearer why gamers don't like crypto technology - it's a force that will turn the gaming industry into something less affordable and definitely less fun.
This brings us to the world of music, where the reaction to crypto technology has been much milder - even somewhat non-existent. Most popular R&B singer John Legend - who has 21 million listeners a month on Spotify, 13.8 million followers on Twitter and a new platform for NFT - has signed a contract with Chris Lin, head of Taiwan's digital music service called KKBOX.
As well as twin co-founders Kevin Lin and Matt Cheng to start investment firm Cherubic Ventures. A platform called OurSong allows musicians to monetize work through NFT, and they, in this case, serve as digital certificates of authenticity.
Legend will lead the company's department to attract and engage upcoming artists and their fans. To date, he has posted no tweets about the platform, but he mentioned another NFT-related project, and the reactions have been positive. Some people have announced they will stop following him, while others have written that NFTs are a nice thing.
Another good example is the popular Coachella festival, whose owner AEG has announced an auction to offer ten-lifetime tickets as part of its entry into the NFT field. Some of Coachella's NFTs can be swapped for real items, such as posters and photo albums.
In the music case industry, digital goods offer a better experience in the analog world. Coachella announced her entry into NFT on Twitter last week and met with a very moderate number of negative reactions - much less than with the average gaming company. Their plan is moving forward, and reactions range from enthusiasm to indifference.
So what is the difference between gaming NFT and music NFT and what causes the different reactions?
Live entertainment has always been associated with the collection of souvenirs - either as clothing or posters. Many NFT are sold with the implicit promise of being an investment - those offered by Legend or Coachella are presented as souvenirs.
The concept of souvenirs and analog collectibles is not foreign in the world of gaming, but it does not come close to that of the world of music, like T-shirts from concerts. Gaming souvenirs, posters or figurines exist independently of the game (except with Nintendo's Amiibo) and have no impact on the fun of the game.
Musical NFT can be presented much better as something that helps artists. Music publishers are known for taking large shares of a musician's earnings, and investing in NFT that is directly related to a favorite artist means direct support that many fans appreciate. This is confirmed by the extremely negative reactions to the Hit Peace project, which aimed to sell NFT songs without the approval of the musicians.
Video game makers, meanwhile, have become big profitable companies whose relationship with fans is complicated - Verge compares the situation to negotiations with a kidnapper. No one who sells gaming NFT is pretending that this is a move that makes charitable contributions to development teams.
NFT in music projects are entirely optional, and in games, they are an obstacle to enjoying entertainment. Imagine a gamer facing a future where the game has to deal with people who have paid to be better than him or have different levels of access to game content thanks to NFT.
Why is this important?
Music NFT show signs of practical application - such as festival tickets, digital posters, or rebellion against publishers. The world that enthusiasts call Web 3.0 is still chaotic for several reasons, but there is something that characterizes fans, and that is that they tell us what they want from the blockchain - as well as things they don't want.