Palit lists Gamerock models on website
Apart from the Geforce RTX 3050, the last graphics card launches from Nvidia were all late and didn't run according to the known scheme.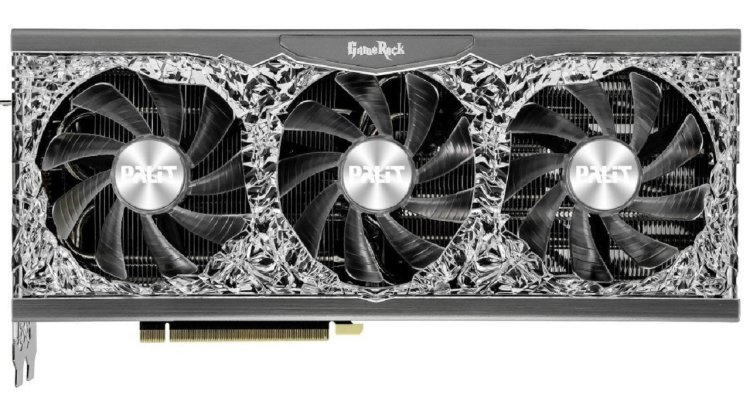 Photo Credits: Palit / Promo
Apart from the Geforce RTX 3050, the last graphics card launches from Nvidia were all late and didn't run according to the known scheme, which meant that some tests and drivers were only available after the actual release. The Geforce RTX 3090 Ti, the new flagship, on the other hand, was simply postponed indefinitely. In the following, using Palit as an example, read why an imminent launch is nevertheless very likely.
Nvidia's Geforce RTX 3090 Ti is said to succeed the Geforce RTX 3090 as the flagship and should be on the market as early as January. Due to problems with the BIOS or the hardware, production was stopped for a short time. At that time, some leakers suspected that the GDDR6X memory with 21 Gbps caused errors and that the RTX 3090 Ti should therefore only be launched in small numbers as a feasibility study.
https://twitter.com/momomo_us/status/1490032726996512768?ref_src=twsrc%5Etfw%7Ctwcamp%5Etweetembed%7Ctwterm%5E1490032726996512768%7Ctwgr%5E%7Ctwcon%5Es1_&ref_url=https%3A%2F%2Fwww.pcgameshardware.de%2FGrafikkarten-Grafikkarte-97980%2FNews%2Frtx-3090-ti-palit-listet-game-rock-modelle-auf-webseite-1388684%2F
Now the board partner Palit has made a mistake that speaks for an early launch of the RTX 3090 Ti. The manufacturer has published its top models in the form of the Palit Geforce RTX 3090 Ti Game Rock and Game Rock OC on the company's Turkish website. With a boost clock of 1,890 MHz, the OC version has over 30 MHz more core clock than the FE model and also brings a TDP of 460 watts, which corresponds to an increase of 10 watts.
Palit is not the only manufacturer that already has information about the RTX 3090 Ti. Vince Lucido, an extreme overclocker at EVGA, has already published pictures of the upcoming 3090 Ti Kingpin, and top models from Asus, Gigabyte, and MSI have already been leaked. The first listings see the card at prices over $ 4600, although it is still unclear which RRP Nvidia wants to set the Geforce RTX 3090 Ti. Despite everything, Nvidia still hasn't announced a new release date for the RTX 3090 Ti after postponing the launch from January 27th.
In other news, Dying Light 2 is one of the most important games scheduled for the first quarter of this year, particularly from a technological standpoint, because, as we have previously stated, it will feature ray tracing applied to both lighting and reflections, as well as shadows. This implies it will join a select group of titles that make advanced use of this technology, a group that includes titles like Control, Metro Exodus Enhanced Edition, and Cyberpunk 2077.
Hopefully, that ray tracing implementation will result in a significant performance hit, but luckily, we can compensate for that with DLSS, as Techland has confirmed that Dying Light 2 will support said image intelligent reconstruction and rescaling technology. I'm looking forward to giving you a technical assessment of Dying Light 2 next week, and I'll be playing it on both the GeForce RTX 3080 Ti and the GeForce RTX 3050.