PANERAI Luminor - everything you need in a watch
This is roughly how my comments on Panerai would have sounded 5 years ago, when this "Swiss" brand, originally from Florence, appeared every day on forums.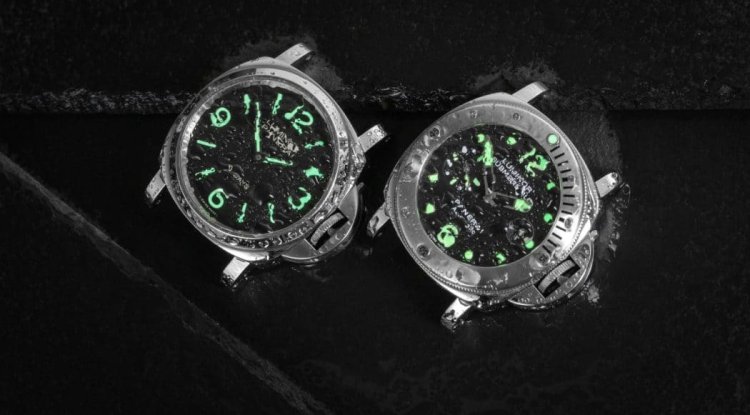 Photo Credits:  Panerai
"Too big, too expensive, too not for me"
This is roughly how my comments on Panerai would have sounded 5 or more years ago, when this "Swiss" brand, originally from Florence, appeared every day on forums.
Ever since I first saw Panerai on forums and blogs, I've never felt any attraction to the name, the design, the insane obsession of Panerists who spent days debating various topics between miniature differences in 'sandwich' dials or endless shades of brown belts that fit on their watches.
I never understood that. Because when you take a closer look at the older catalogs from that "golden" era (there late 90 'and early 2000') when the most common Panerai PAM (short for Panerai Model) Base model had the status of today's Rolex Daytona or Pepsi, they were all actually…. the same!
I set myself the task if I would ever get a Panerai that it must necessarily have the following characteristics: manual winding, Bettarini housing 44mm, Base (without secondary), and Unitas mechanism.
The years go by, Panerai is gone. " If anything comes along, if not, it doesn't matter " always boiled in my head. And from the clear sky, my friend with the PAM560, Luminor, which satisfies in all respects but has an in-house mechanism, flew in. " Okay," I say to myself, anyway it's the Panerai phase you have to go through, and if I try it for a couple of months what bad can happen?! It so happened that no other watch was on hand for the next 5 months!
Let's be realistic, there are basically two models: the Radiomir and the Luminor defined by that legendary crescent on the side of the case that serves as crown protection. And there are about thirty… at least. Sandwich dial there, secondary there, Maiale logo on the dial, brushed crown guard, polished case… although there are about thirty of them, they are all completely identical from a distance of a meter.
From time to time, I would even visit the forum to see what the situation is on the front regarding the procurement of individual models. Waiting lists were then measured in months for even the cheapest Base models, and if you were interested in some limited model, you would be waiting for an answer as well as trying to order Daytona these days (read: You shall not pass).
And Panerists, probably a category of collectors who are more obsessed than members of the Omega Speedmaster and Rolex Daytona clan (as impossible as it may sound) are particularly obsessed with collecting belts, something I didn't realize at all until recently.
I remember a long time ago when I watched an auction in which the main theme was Panerai Pre-V models (Panerai models before the acquisition of Vendome, today Richemont Group), then a wet dream of every collector. And I remember the Panerists forum members literally paying a few thousand dollars each for the original Pre-V leather strap, even though they have an identical strap with an identical buckle from the same era in their collection of a hundred straps.
And I stayed with my opinion for a while longer, all the way to one of our many GTGs. Fantastic team, great food, and a mountain of various clocks on the table. And look, Panerai on the pile. For some reason, I didn't pay attention to it from the beginning, but as the number of tried and tested watches became smaller and smaller, it was its turn.
" Hmm, well this doesn't look bad on hand at all " is not a comment I expected to think but it happened. I can't say it was the moment when the watch literally sold me out, but I realized that it's actually a lot more appealing than I originally thought and that it's so… simple. In fact, the criticism that in a way always repulsed me at Panerai, its raw simplicity, in the end, attracted me the most. Hours and minutes, everything you will ever need in class, are there. On a huge dial, with an impossible amount of illumination. But I knew it couldn't be any Panerai for me.
Although all Panerai Luminor ( hand wind ) models are identical on paper, there are very subtle differences between them that are not even visible to the naked eye. Feel these little things when the watch is on hand.
For example, as Panerai developed the P.5000 mechanism with eight days of power reserve to be as thin as possible compared to previous Unitas mechanisms, so they left the room to condition the case and case back. The glass is no longer curved but completely flat, and the bracelet is felt both in the weight and on the sides of the not-so-small case. That is why the watch sits incredibly comfortably on a hand with a very low center of gravity, which contributes greatly given its external dimensions.
Panerai Luminor is one of those watches that pamper a person, especially with a power reserve of eight days (which very often for some reason can enter the tenth day). First of all, setting the clock for a very effective gear transmission can be done in literally ten seconds, winding the power reserve from a few days in twenty seconds and since there is no date to pay attention to, just close the lever on the side and the watch is waterproof up to 300m. There is no crown thread, no caution to accidentally screw the crown wrong and potentially do damage to that fine thread. Click and the clock is ready.
The dial is what defines Panerai. I do not want to go into purism and what is considered the original Panerai model, but I think we can all agree that the famous 3/6/9/12 layout with the "Luminor Panerai" inscription is a classic of this manufacturer. The design of the dial, with its raw simplicity, has become such a recognizable element (including the protection of the crown) that it can certainly be assigned a cult status.
And the funniest thing about the whole story is this: I don't like polished watches but by no means. I don't like the fingerprints on them, the hairlines, and the fact that everything is vividly reflected from them when I photograph them. However, the biggest surprise I've experienced with this model is the thing I've ridiculed for years: yes, the fact that the straps are actually the most important thing with this watch. It's amazing how much you can apply the look of the watch by changing a plain piece of ammo leather measuring 24 / 24mm to 24/22mm with a finer brushed finish. In a few minutes of working with a screwdriver, you transform a watch that acted like an everyday beater into a finer sports watch suitable for sightseeing in Florence.
In my head it was this, an ideal Panerai that satisfies absolutely every detail and that can change from day to day.
https://www.youtube.com/watch?v=GV8SPBWW5bo