Pulsar PCMK TKL keyboard barebone review
On Pulsar PCMK TKL barebone keyboard you can find a total of 87 switches that are hot-swappable which means you can take them out at any time...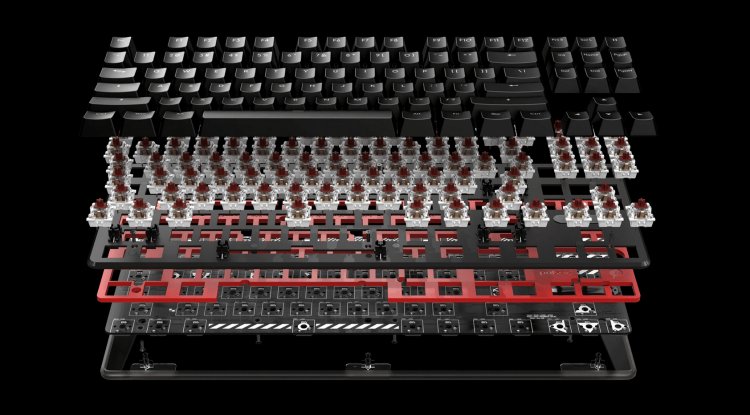 Photo Credits: Pulsar/Promo
Model: Pulsar PCML TKL keyboard barebone
Company: Pulsar
Switch type: Kailh Box Black
Interface: USB-C na USB-A 2.0
Dimensions and weight: 355 × 127 × 22 cm, 498 g
Other: Full per key RGB, 16,8 million colors
A wealth of choices
An interesting concept of a barebones keyboard that allows the use of removable switches and keys results in a very high-quality product that offers you maximum flexibility, and will potentially be interesting to gamers, but also to all other users.
Pulsar is a fairly new and unknown company based in Korea. It was founded last year and is primarily engaged in the production of gaming peripherals. However, their approach, especially when it comes to gaming keyboards, is different compared to other manufacturers of similar gaming peripherals. Pulsar keyboards are maximally adaptable in terms of the possibility of using different switches and covers of the keys themselves. How does all this work in practice?
Create your keyboard
Pulsar PCMK TKL barebone keyboard has custom corresponding switches and key covers. Here barebones are marked only by the basic part of the keyboard, the stand with the associated electronics. With this stand, you can use any 3-pin or 5-pin mechanical switches, for example Gateron, Kailh, Cherry MX or some other switches.
This Pulsar version of the barebone keyboard relies on a compact tenkeyless design without numeric keys. All this brings very compact dimensions, so this barebone keyboard takes up very little space on the desktop. The quality of workmanship is very good with a metal upper surface and a lower part made of transparent plastic, which allows insight into the interior. The keyboard is available in black and white, and we had a white version that looks very effective in combination with black keys. Pulsar states that they use a high-density polymer to dampen noise and vibration.
Furthermore, on this barebone keyboard, we find room for a total of 87 switches that are hot-swappable, which means you can take them out at any time and replace them even while the keyboard is in operation. A special tool for removing keys and switches comes with the keyboard in the package. With this keyboard, Pulsar sent us a set of 90 Kailh Box Black mechanical switches, as well as a set of covers or the keys themselves. Here we especially emphasize that the switches and key covers are sold separately, so they do not come bundled with this barebone keyboard, so this should definitely be kept in mind. This way you have maximum freedom to use the desired mechanical switches and key covers.
Choose your switch
Since we got these switches and keys in special packages, it was necessary to roll up our sleeves and install one switch at a time and the key cover on the main part of the keyboard. After that, we got a fully functional gaming keyboard with effective RGB lighting. Each of the switches comes with per-key RGB lighting, and the Pulsar logo on the right side of the keyboard is also illuminated. The result is extremely attractive in terms of design, but also very respectable in terms of performance.
Kailh Box Black switches are very similar to the linear Red switches that gamers love because of their responsiveness. The black version requires a slightly higher pressure force, and the feel when typing is noticeably better. In addition, these switches are quite quiet. The key covers are also very well made with good robustness and comfortable ergonomics. The keys are big enough and very comfortable to use. Keep in mind that this is all our subjective impression. The whole point of this barebone keyboard is the freedom to select the desired switches and the appropriate keys.
This do-it-yourself approach allows you to use any mechanical switches, but ultimately also means that you will have slightly higher costs. When we add it all up, the price of such a personalized gaming keyboard is still slightly higher than the price of a regular keyboard. Furthermore, we recommend special care when installing, removing and reinstalling the switch as the pins are very easy to bend and damage. Finally, we must emphasize that such a complex Pulsar keyboard left a great impression, both aesthetically and in terms of performance.