Samsung Galaxy A32 5G Review - Affordable
Samsung has done a good thing with this device. For an affordable price you will get a modern smartphone and Samsung Galaxy A32 5G looks really nice.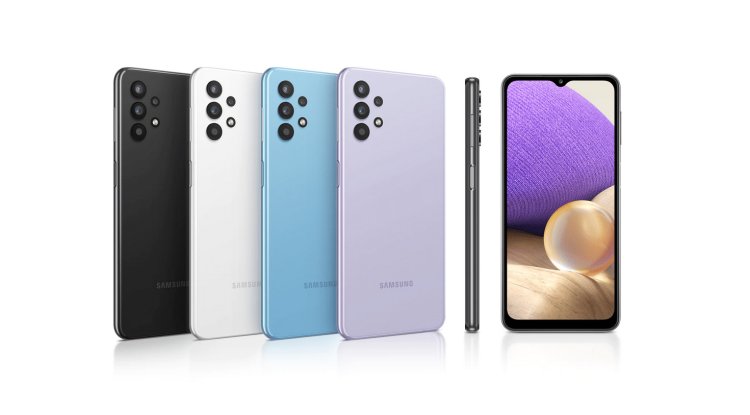 Photo Credits: Samsung/Promo
Samsung has done a good thing with this device. For an affordable price you will get a modern smartphone, very good specifications Samsung Galaxy A32 5G!
Design and appearance
At first glance, the Galaxy A32 5G looks really nice. Three vertical camera lenses, along with a macro camera and flash, form a subtle camera module on the back of the phone. With a glossy plastic case, the A32 is very attractive to fingerprints, which requires frequent cleaning to look sharp.
The screen occupies most of the front of the Galaxy A32. However, the chunky lower and upper frames confuse any illusion that it is an edge-to-edge screen. The front camera is located in a small teardrop-shaped space, located at the top of the screen. This is a bit "outdated", as today a large number of smartphones use selfie cameras inside the hole or "punch-hole" design.
The power button A32 also contains a fingerprint sensor, which worked enough. Sometimes I had trouble positioning my left index finger properly, but the phone recognized my right thumb quite a bit each time. What I definitely liked was the 3.5mm headphone jack, which is something that is slowly but surely being squeezed out by many smartphone manufacturers.
Screen quality
We no longer see a lot of phones with TFT LCD, but Samsung has opted for this option to lower the price of the Galaxy A32 5G. Definitely the image quality is far from the company's Super AMOLED panel, and at 720p, the sharpness of the screen will not delight you. It is a medium 6.5" screen, which will show the best color quality at best, especially if we compare this screen with the average Super AMOLED.
Watching videos on the Galaxy A32 is not the best experience, while for example, its competitor, the OnePlus Nord N200 5G has a decent screen, which did a much better job with colors, viewing angles and deeper blacks. Holding both phones next to each other shows visible differences between the TFT and IPS LCD panels. The screens on both phones can go up to 90Hz. This higher frame rate means that scrolling through applications will be smoother. Games that support high refresh rates will also theoretically look better, if the Galaxy A32 could gather the power it would need for such a task.
In terms of brightness, the Galaxy A32 scored a maximum of 485 nits in testing (with the Nord N200 seeing a lower 415 nits).
Quality camera
The Galaxy A32 5G uses four cameras: a 48 MP main camera, an 8 MP ultra-wide-angle camera, a 5 MP macro lens and a 2 MP depth sensor. As you might expect only the main and ultra-wide angle cameras are very good; the latter two do not seem to add anything.
Samsung likes oversaturation on its more expensive phones, but that tendency isn't as visible in A32 photos. This could be because the processor does not have the power to perform all the post-processing performed by more advanced Galaxy phones. In outdoor photography, the Galaxy A32 5G took well-balanced photos. The colors are rich, the exposure is good considering how sunny the scene was, and the picture is generally more vivid.
In interiors, the Galaxy A32 5G also provides very good photos. What is quite noticeable is that the phone had some problems with soft focus, which made the final images look blurry in some places. But all in all, photos in good lighting conditions Galaxy A32 5G with its main cameras provides very good photo quality. The Galaxy A32 5G had problems with portraits. He struggled not only with the light coming from the right side of the image, but also with the precision of the colors. The blur radius, however, is quite artistic, so we wonder if the only problem here is the A32's inability to cope with poorer lighting conditions.
Samsung includes night mode on the Galaxy A32 5G and that's not a bad thing. Unfortunately, that's not good either, far from Google's "Night Night" on Pixel 4a. Compared to the OnePlus phone, the Galaxy A32 gave a much brighter picture.
It should also be said that the Galaxy A32 5G has a 13 MP front camera. This camera is all in all OK quality, nothing special. Selfie photos will be rich enough in detail and will be used for the purposes of "instagramming" and other types of enjoyment of your own photos.
Device performance
Phones with MediaTek processors are usually not as high quality and powerful as Dimensity, Exynos or Snapdragon processors for Android smartphones. The Galaxy A32 5G uses a Dimensity 720 system on a chip paired with 4GB RAM.
Compared to today's norm, it can't be said that this phone is powerful, but this chip keeps up with some of Qualcomm's lower-end offerings, such as the Snapdragon 480 5G. In everyday use, the Dimensity 720 works well enough, but anything that is more intense than browsing social media and checking your messages requires more effort and you will notice a slowdown.
Playing games can sometimes be tiring on the A32, especially if you need to drop graphics settings to get any reasonable performance. Less demanding games will be fine, but anything that requires a lot of resources, like Call of Duty Mobile, will lead to a lot of effort and it is obvious that the device will suffer. All in all, if you want to play games, be prepared to compromise.
Battery Life and Charging Options
One of the biggest advantages of the Galaxy A32 5G is certainly its battery life. With a 5,000 mAh battery, the phone will stay on for a very long time, given the refresh rate of 90 Hz. It's always nice to see when phones last longer than 10 hours, which we would consider average for today's smartphones. But with the Galaxy A32 5G this goes even further, which is definitely a big plus.
One of the great ways to test battery life is by loading mobile pages at a brightness of 150 nits, until the battery is discharged. In adaptive mode, where the screen moves up and down depending on the content you consume, the A32 worked for 11 hours and 39 minutes. And in 60Hz mode, the phone lasted longer; as much as 12 hours and 22 minutes, which is very good.
It is not unusual to see that on more affordable, smartphones, one of the biggest advantages of the device is the battery. It's similar here. If battery life is one of your most important features on your smartphone, and you still want to have a smartphone from a reputable manufacturer, then the Galaxy A32 5G could break through to the very top of your choices.
Software Features
Another plus for the Galaxy A32 5G, the software on this phone is practically the same as you will find on the Galaxy S21. To agree with that, Samsung has promised three years of Android updates and four years of security patches. This is definitely a huge plus in this category of smartphones.
Samsung's One UI 3.1 looks very different from Google's vision, but you might like it. Samsung even gives you the ability to choose which bloatware you want to install during setup, which is better than getting bloatware without a choice. You choose what you want, and we know that choice is always a plus. The software on the A32 has nothing else special, which is fine. Samsung has done a good job of making the One UI very easy to use, with smooth animations, nice transitions and a host of things hidden in the settings.