Steam Deck: AMD and Valve have been working on the hardware for years
In a blog post, AMD gives us an insight into the creation of Valve's Steam Deck. Allegedly, the two companies have been working towards bringing a handheld console for PC games to the market for several years.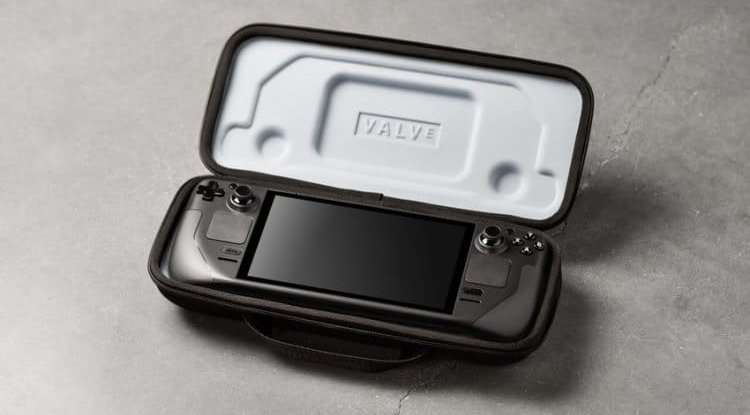 Photo Credits: valve / promo
"A whole new category for PC gaming" - that's what AMD and Valve have created with the Steam Deck, according to a blog post. But until the time came and the hardware was implemented, it probably took a few years of planning:
In a multi-year design and co-development phase with Valve, we were able to combine their incredible library and gaming expertise with an individual APU from AMD, which makes the Zen 2 CPU core and the RDNA 2 graphics architecture possible, a combination which can only be found in gaming consoles today.
In order to make the handheld console particularly energy-efficient, the processor was specially adapted for handheld gaming. This should guarantee a decent battery life with a stable gaming experience.
AMD is proud of its own solutions
Of course, the Steam Deck is not the first portable PC console, but according to AMD, there has never been such a combination of efficiency and performance. This is also evident in the first hands-on tests. What AMD is certainly right about is the console's suitability for mass use compared to similar devices from other manufacturers. Valve will probably not reach the sales figures of the Nintendo Switch, but the success of the Steam Deck seems to be inevitable before the launch.
According to AMD, gamers should be able to play their large library of Steam titles anywhere. But we now know that not all games will be compatible with the handheld console. Although the hardware is basically able to handle all Steam games published to date, problems can arise with the software solution. Valve has therefore introduced four categories that show us whether a title is compatible with the Steam Deck and whether we still need to make adjustments.
By: Amber V. - Zexron