Testing the Cooler Master Masterbox NR200P MAX
Cooler Master Masterbox NR200P MAX has a built-in SFF 850W power supply, pre-installed 280mm AiO water cooling system, added PCIe 4.0 adapter.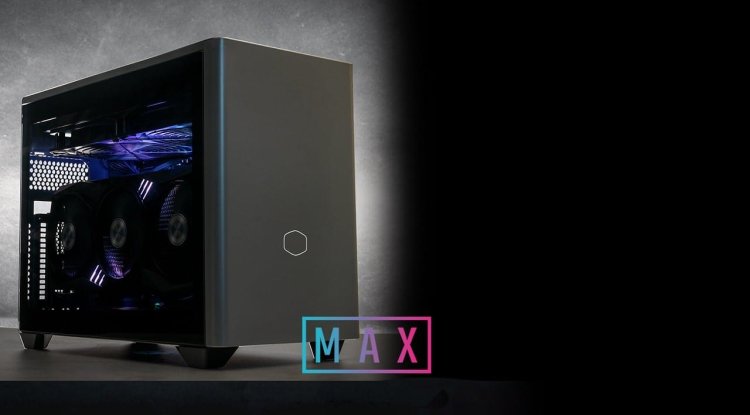 Photo Credits: Cooler master / promo
Cooler Master Masterbox NR200P MAX is a better version of one of the most popular mini ITX models Masterbox NR200P. Built-in SFF 850W power supply, pre-installed 280mm AiO water cooling system, added PCIe 4.0 adapter for vertical graphics card mounting, so from now on you can install far stronger and more powerful hardware without worrying about whether a small power supply will have enough power and will cooler can cool the processor.
There is almost no one among us who would not want a small and powerful computer. There are more and more fans of mini PCs, but their wishes are mostly a combination of demands and compromises. We need nice, small, and well-ventilated housing with a flawless interior layout. Well, honestly, we haven't seen that before, even though we've been dealing with housings for a long time. At least not until today.
Personally, we are one of those who would make PC explosive performances in a small package, but there is always some limitation and we slowly started to raise our hands in the hope that we will assemble what we want. Today, quite unexpectedly, we were given the opportunity. Introducing the MasterBox NR200P - a case that could become synonymous with small and powerful computers.
Design and features
And you probably already know that marketing song well about how engineers listened to the requests of users and the community about what kind of housing they would like and the changes they expect. Even after the first meeting and the opening of the side page, it would turn out that little of that is true. With such hope, we received the box with the Master Box NR200.
The recent MasterCase H100 has garnered our sympathies but has realistically had its drawbacks. However, the MasterBox NR200 is a serious turnaround for the better in the case of small and compact enclosures. The first meeting has already brought a surprise.  We got the MasterBox NR200 in a "P" variant with the option of a transparent glass side, a PCIe x16 Riser cable for vertical mounting of the graphics card, and two SickleFlow fans. However, at first glance and touch, we could not miss the feeling that this is an unusually high-quality Cooler Master case. The MasterBox NR200 is definitely a premium body and quality in line with the current best models from the miniITX and SFX segments. Materials, solutions, design, accessories ... everything is in one word the way a demanding user expects. We definitely liked it and we would like Cooler Master to continue this practice on other models on offer. The front is made of solid flat metal profile with oval edges, which hides additional space for cabling behind the mask, and also serves well for ventilation. At the top is a control panel with a hexagonal power button and an LED ring of work activity, a pair of first-generation USB-A 3.2 connectors, and a 3.5mm microphone and headphone jack.
The sides open simply and easily, without any screws and excessive force, but only with a slight pull of the fingertip thanks to the "Pin-to-Clip" mechanism - we wonder how no one came up with the idea to use this solution before? Both sides are perforated with mesh filters, as is the top panel which provides a position for 12cm diameter double fans covered with Fine Mesh mesh. The MasterBox NR200P is simply made to blow in all directions, with a particularly forced effect of natural circulation - it draws in cold air from below and expels warm air from above. Thus, the positions of additional fans are foreseen, which should further accelerate this natural effect. Depending on the configuration, a pair of 12s can be installed on the bottom or top panel or even better in both positions. For the most part, this move dictates the type of cooling solution on the graphics card. When you release the panel, the cage skeleton will appear, revealing the modular nature of the Master Box NR 200. It allows you to access practically all parts from almost every side, which is very important for cable routing. On the other hand, the small dimensions eliminate the need to use some additional transverse elements to stiffen the chassis, so the whole cell is maximally "open". On the back, there is a kind of frame for mounting the motherboard with 4 screws and a special part with an SFX power bracket. 
Here we have to draw your attention to the excellent Cooler Master V850 fully modular SFX power supply that we received for testing with this case. One of the best from the new wave of these small power supplies, a fairly large output power of 850W and Gold 80 Plus certified. We especially liked the fan with a large usable area, which is a real rarity with such small power supplies. It fits perfectly in the provided cage and additionally uses a double velcro system to better arrange the thick power cables. They are otherwise unexpectedly rigid for such small dimensions and the need to constantly change their path of guidance through limited space. We like the position of the cage, which is neither up nor down, so it leaves free space both at the top and bottom of the case. The SFX format is a complete hit for small-volume enclosures, which in the case of this MB NR200 model is 18 liters. Otherwise, the case is 36 cm long, 18.5 wide, and 27 cm high, as if you cut a classic mini-tower in half. It accepts classic air coolers with a body maximum height of 15.5 cm and graphics cards with a length of 33 cm. In the first version, we decided to install a 240mm AiO water cooling system on the side carrier and a graphics card in the standard position. This configuration is almost ideal because the GPU and CPU parts are separated into two parts, so there is almost no heat transfer effect. The turbine fan on the graphics card takes air from the bottom and blows it out through the air tunnel of the cooling system, while the 240mm AiO introduces fresh air from the side and drags it over the radiator while the heated air blows out two 120mm vents at the top at 1.2m / s. So, the configuration in which the graphics card is down and the CPU is up. 
Another option is the vertical position of the GPU when you want to highlight your configuration and then you need to use one of the CPU coolers with a thin body to practically get extra space for a graphics card and "riser" cable. Of course, in that case, use the glass side, and it is desirable to install two on the bottom in addition to the top 12 because in this case there is plenty of free space and it would be desirable to speed up the circulation of fresh air in the upper parts. a. The biggest challenge when assembling a configuration in such a small housing is wiring and finding the ideal path. If you have a short fuse and you are not used to constantly coming back and cutting newly collected cables and ties, do not get caught up in this business. Simply leave it to someone else who has nerves for the job in question, otherwise, you will give birth to a bear. But all that work definitely pays off, once you put everything in its place, the result is seen, heard, and felt in the work. We used a Gigabyte B550 Aorus mini ITX board, a Ryzen 5 5600X with 32GB of dual-channel RAM at 3600 CL16 settings. One M.2 PCIe x4 SSD of 1 TB and Radeon RX 5700XT. The case even accepts two 3.5 "hard disk drives, but honestly, there is no place for them here anymore. In such situations, M.2 SSD devices are used and possibly an option for a maximum of three 2.5 "devices.
After assembling and commissioning, we immediately felt the air flowing through the entire housing. This was confirmed by the measured values. At a distance of 1m, the computer was almost silent with the measured 32dB of noise during the intensive load of the central processor in Blender rendering. The credit for this quiet character goes to the excellent Sickle Flow fans that come with the case. We have hardly seen a better 12, with the exception of the standard good Noctua models. The processor temperature ranged from 32 to a maximum of 54 degrees Celsius, which is a great result considering the fire behavior of the R5 3600X predecessor in similar conditions. CPU consumption did not exceed 80W during multi-hour load. In graphically demanding situations such as GPU accelerated applications and games,
Final impressions
And in the end, we are really happy. Finally, one mini ITX case that the manufacturer has dedicated itself to in order to offer a lot of really useful options for finding the optimal setup. You can switch a small power supply to the front position right in front of the front cover and thus free up space for smaller micro ATX motherboards, move the graphics card up and down with many positions for fans, coolers, water cooling systems. Access is as free as possible, so you can knit cables with ties at will. 
We almost didn't bother with the final result, which left us with a really full heart for what we achieved in the end. Although we were a bit skeptical at first, the Cooler Master Master Box NR200 delighted us with its capabilities and performance. The price is not outrageously high considering what it provides for around $ 130. This is definitely a mini ITX case with better performance than most mini tower models, which is why we are very pleased to award it the Editors Choice Award. Better mini ITX case at the moment, hard to find! 
Advantages:
Functional design
Excellent ventilation of the interior
Flexible and numerous installation options
Side transparent page- Excellent Sickle Flow 120mm fans
The riser adapter comes in a package
Position for SFX power supply with velcro straps
Vertical GPU installation option
Disadvantages:
You can buy this product on Newegg for $ 130.