The Corsair iCUE 5000T - Case with many LEDs
The case, attract attention with rich LED backlighting - inside there are as many as 208 individually addressed RGB LEDs.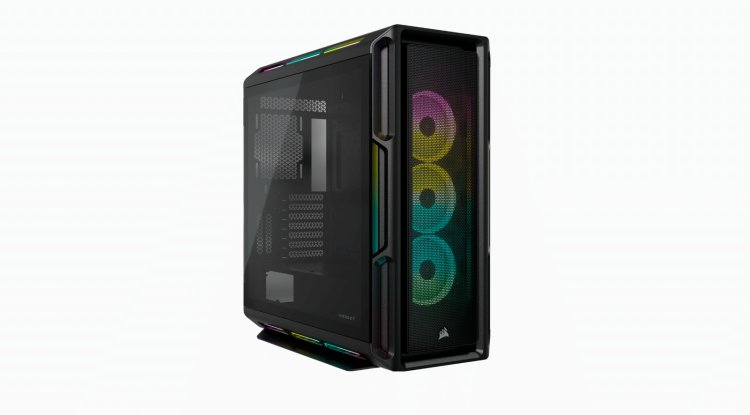 Photo Credits: Corsair/Promo
The computer case is in a way an exhibit of the computer. One should definitely admire its interesting appearance. Corsair, however, "went wild" and prepared a model with a record number of LEDs.
About the case
The iCUE 5000T RGB model has an interesting, minimalist design enthusiasts will surely like. The case, however, should attract attention with rich LED backlighting. Inside there are as many as 208 individually addressed RGB LEDs, thanks to which you can create a unique computer.
The manufacturer used strips to illuminate equipment on three sides (160 LEDs in total) and three Corsair LL120 RGB fans (48 LEDs in total). The backlight is connected to the iCUE Commander Core XT controller, thanks to which you can customize the effects to your liking. It is possible to connect more LED strips and / or fans.
The Corsair iCUE 5000T RGB starts from the groundwork set by the 5000X in terms of internal capacity, so internal measurements and distribution will be virtually the same. Great space for cables and the main cabin that will support large cooling elements.
But the exterior is full of innovations in terms of aesthetics, starting with the ski-type legs. Especially the two swing doors that now exist for access to the interior. Integrating RGB strips into each of the corners will give the finishing touch to your gaming aesthetics. Chassis dimensions are 560 mm high, 251 mm wide and 530 mm deep, noticeably wider than the 5000X version.
The inside of the case
An inside is a place for a powerful computer with an ATX motherboard and a strong graphics card (here the possibility of vertical mounting is provided, but the necessary adapter must be purchased separately). In addition, four 2.5 "and two 2.5" or 3.5 "discs are available.
The components also cool efficiently. Standard equipment includes the three mentioned fans, but if necessary, you can add another one or try to install efficient liquid cooling (with two 360 mm coolers). Ventilation is also affected by removable mesh panels - top, which guarantee intensive airflow in each complex set. A special RapidRoute scheduling system makes it easier to lay cables.
Corsair iCUE 5000T RGB body specification
| | |
| --- | --- |
| type: | Mid Tower |
| I / O connectors on the case: | 4k USB 3.2 Gen1, 1k USB 3.2 Gen2, 2k audio |
| Supported motherboards: | mini-ITX, mATX, ATX |
| Expansion card slots: | 7 + 2 |
| Disc slots: | 4k 2.5 inches, 2k 2.5 / 3.5 inches |
| Places for fans: | |
| Front: | 3k 120 mm or 2k 140 mm |
| Top: | 3k 120 mm or 2k 140 mm |
| Side: | 3x 120 mm |
| Rear: | 1k 120 mm |
| Additionally: | iCUE Commander Core XT controller, 3k LL120 RGB fan |
| Dimensions: | 528.5 x 559.6 x 251.2 mm |
| Weight: | 14.53 kg |
You can watch a video with a presentation of the experience
https://www.youtube.com/watch?v=pEHOrJ3_Ans&ab_channel=CORSAIR