THE DARK SIDE OF THE FORCE
Chronoswiss SkelTec Pitch Black is completely stained black and maintains the collection's light and minimalist architecture.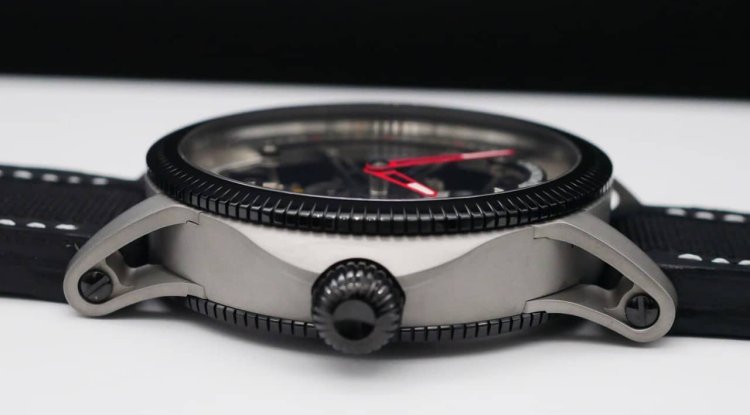 Photo Credits: escapementmagazine.com / promo
"The art of the skeleton" returns from the Lucerna atelier. The Chronoswiss SkelTec collection was born last year and is already starting to offer a range of interesting pieces. Chronoswiss SkelTec Pitch Black is completely stained black. Oliver Ebstein already experimented with that same color this year in a very attractive new version of the Open Gear Resec. We are facing the dark side of the watchmaking force.
It maintains the collection's light and minimalist architecture. A solid case that integrates its components well, such as the crown and lugs, with a movement that is itself a caliber and a dial. The C.304 caliber (manual) design maintains its cross-shaped structural pillars and holds the minute ring in the air.
And on that same circular support, the barrel is also held at 12 o'clock and the balance and spiral assembly at 6 o'clock. The gear train of the hour and minute functions is fully visible on the left side of the dial. It is a one-piece manufacturing movement with the skeletonized barrel itself and the fully open balance wheel.
PITCH BLACK
On an aesthetic level, this new Chronoswiss SkelTec Pitch Black stands out for its monochromatic black color. Except for some metallic components. It is a steel watch, but with black DLC treatment. The skeleton of the dial features a galvanized black with a matte finish. And its fluted bezel has a sandblasted finish that is also matte. The monocolor philosophy itself, obviously, is inclined to wear the piece with a black strap that combines calfskin and textile as those already used by other variants of the SkelTec family. "This watch is really on the dark side," says Mike Panziera, designer of Chronoswiss.
A solid and modern sculptural exercise. The caliber of this piece has 166 components and the case is made up of 51 organically assembled parts. Chronoswiss SkelTec Pitch Black is a constructively very striking piece that reaches 45 mm in diameter and exhibits its inner universe in a completely transparent and shameless way thanks to a domed sapphire crystal with anti-reflective treatment on both sides.
"It is a fundamental design principle. When a large amount of surrounding material is removed, what remains takes over the main role, " says Panziera. "Obviously, SkelTec is a contemporary interpretation of skeletonization, all the excesses have already been removed on the drawing board." It is the dark side of the strength of a Swiss atelier that lives the best creative moment in its recent history.